Last updated: April 12, 2019 – Pagination: Where would we be without it? If you're running an eCommerce site of virtually any size, you almost certainly use pagination to organize your products. From eCommerce giants like Amazon and eBay to smaller niche brands, pagination is an essential component for both user experience and for search engines.
Aside from eCommerce, pagination is used in a variety of ways to help users navigate large amounts of data on a website and to help search engines better understand those sites. Examples where pagination is used include:
Resource sites

Various industry or niche information
Technical documentation, press releases, industry articles, how-to guides, etc.

Directory sites

The good kind, with useful information
Business directories, professional directories, etc.

Blogs

Good blogs have regular and fresh content
Lots of content requires paginated pages to help organize the information
If you're not quite sure what pagination is, it's basically a connected series of pages with similar products or information, grouped together for ease of navigation.
For example, there may be 1,000 different men's jeans in a category. Rather than displaying a long list of 1,000 products on a single page, pagination breaks them up into a series of numbered pages containing maybe 25 or 50 products each.
Pagination and Search Engines
In March 2019 Google's John Muller announced that Google no longer took rel=prev/next tags into account. In fact, it appears that Google hasn't taken these tags into account for, "a number of years" (source). Prior to this revelation, to ensure that search engines could properly crawl through to discover your product display pages (PDPs) and other high-quality content, you needed correct canonicalization and rel=prev/next tags set up to coordinate with each other. On March 19 here's what John Muller said about rel=prev/next tags:



This begs the question; do we really need to worry about pagination at all? The answer is yes, but now it's simpler since there's no need to implement the rel=prev/next tags. When it comes to pagination and search engines, it's important to get canonicalization and a few other technical details right. Small to mid-size companies may have thousands of products or pages, and enterprise giants often have millions.
Now, the most important element to ensuring search engines like Google can crawl your paginated pages, is to ensure that your paginated links render in HTML, rather than using a JavaScript implementation. Search engines are getting smarter about crawling pages rendered with JavaScript, but they have room for improvement. Having plain HTML links in your rendered page is a best practice for good SEO.
Another important element to consider with paginated pages and in particular with faceted navigation, is URL proliferation and crawl bloat. When a website offers filters for a product set for example, each filter has the potential to create a new unique URL and when filters can be combined a virtually limitless URL space can exist.
An excellent way to combat this URL proliferation is by using an AJAX solution. An AJAX enabled navigation allows for product filters to exist, but new URLs are not created for each filter selection. Rather, selected filters simply bring the filtered products back to the user view on the same URL. It's faster for users and better for search engine crawlers.
Here's a handy list of best practices for pagination and SEO, which I'll cover in more detail below:
Canonicalization
Rel=Prev/Next tags (Now deprecated for Google, but possibly important for search engines like Bing.)
HTML links and search engine crawl path
JavaScript
Root Page Canonical or Self-Canonical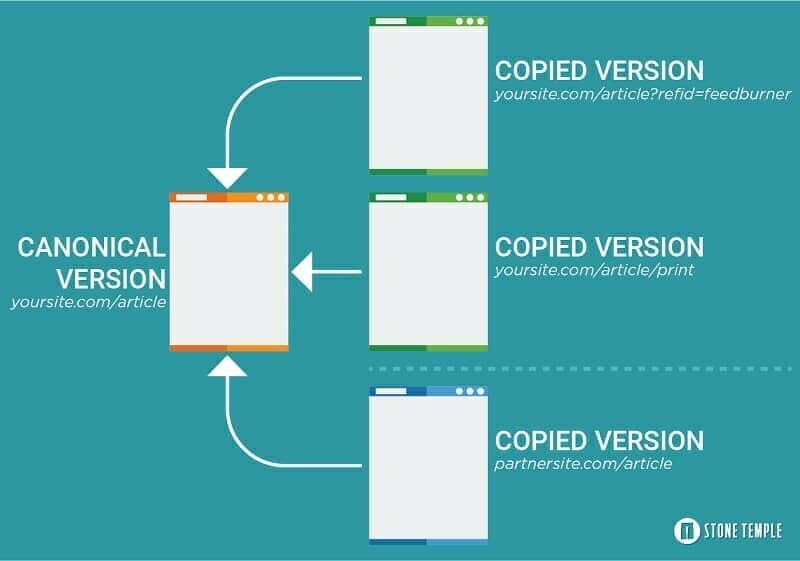 Here's how your canonical tags should look:
Root paginated page (the first page in your paginated series)

<link rel="canonical" href="https://www.domain.com/category"/>
Second page in the series (first after the root)

<link rel="canonical" href=" https://www.domain.com/category?page=2″/>
Continue the above pattern of canonical links on each page in your paginated series. Whether you have just two pages or 200, this simple pattern will help search engines like Google better understand your paginated pages.
Adding a canonical tag to your paginated pages is basically telling Google, "Hey, all these similar-looking pages are actually unique and valuable."
Keep in mind that your paginated pages need to be unique and valuable, with unique products and/or content on each page. You shouldn't have pages and pages of virtually identical content with minor variations and expect Google to index (let alone rank) those pages.
Rel=Prev/Next Tags No Longer Needed for Google
However, Bing may still make use of these tags. In addition, the use of these tags is still considered a standard by the W3C (source).
The next step in pagination and canonicalization is the use of rel=prev/next tags. Google initiated the use of these tags back in 2011, "to indicate the relationship between component URLs in a paginated series." The purpose of these tags is to help search engines better understand your paginated series of pages. The proper way to implement rel=prev/next tags is like this:
One tag on the root page, pointing to the next page in series

<link rel="next" href=" https://www.domain.com/category?page=2″/>

Two tags on page 2

<link rel="prev" href=" https://www.domain.com/category"/>
<link rel="next" href=" https://www.domain.com/category?page=3″/>

Two tags on page 3

<link rel="prev" href=" https://www.domain.com/category?page=2″/>
<link rel="next" href=" https://www.domain.com/category?page=4″/>

Repeat the process of implementing a rel="prev" pointing to the prior page in the sequence and rel="next" pointing to the next page in the sequence until the second-to-last page.
One tag on the last page in your paginated series

<link rel="prev" href=" https://www.domain.com/category?page=N"/>, where you replace the "N" with the page number for the second-to-last page in the sequence.
Be sure that on page 1, your rel=next tag points to page 2, and that on page 2, you have both a rel=next tag for page 3 and another rel=prev tag pointing back to page 1. This pattern of having both rel=next and rel=prev tags continues until the final page in your series, which only has a single rel=prev tag on it, pointing to your next-to-last page.
Another factor to consider is the robustness of your mobile site. To be sure your m-dot (m.mydomain.com) mobile implementation is fully crawlable, your rel=prev/next tags should be available on the m-dot version of your site as well.
Combine Pagination with Canonical and Rel= Tags
For the greatest opportunity to get your pages crawled and indexed in search engines like Bing, you should combine the use of pagination with canonical and the rel=prev/next tags. It's critical that these tags work together, and that they aren't in conflict.
As mentioned earlier, don't put a canonical link back to your root page on all your paginated pages, because this would essentially tell the search engines that there's only one page it should concern itself with. Even if you're adding the correct rel=next/prev tags, but you're getting the canonical link wrong, search engines will likely have trouble, because the tags would send conflicting signals.
Here's what a correct implementation should look like: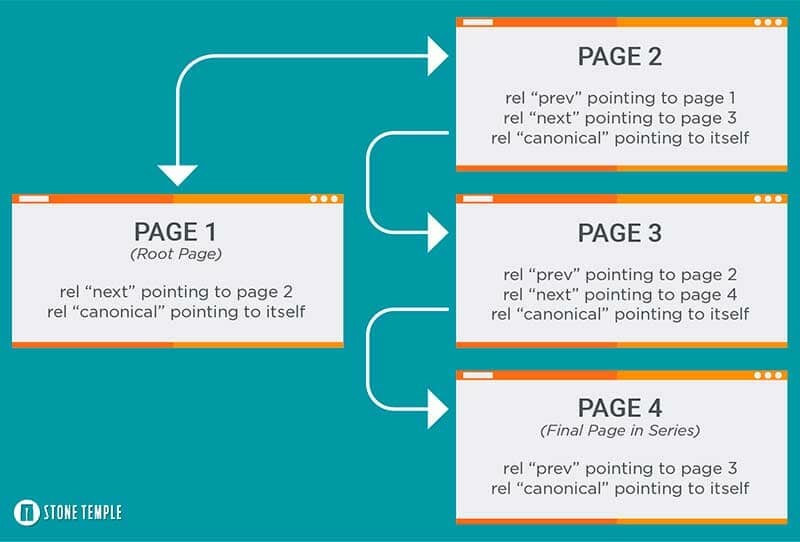 Each page has a self-referencing canonical tag, and each page also has the appropriate rel=prev/next tags setup.
If you're not concerned with traffic from search engines other than Google there's probably no need to implement them. If you already have them setup correctly, you could leave them. However, if you're unsure of the implementation then removing the rel=prev/next tags is probably a good idea.
What About Infinite Scroll?
In the last few years, infinite scroll techniques have allowed users to scroll through lists of information without needing to click through to the next page. This technique can work well from a user perspective, but it does require added consideration to ensure search engines like Google can access all the available pages.
To help developers and webmasters better understand an SEO-friendly infinite scroll implementation, Google's Webmaster Central Blog published Infinite scroll search-friendly recommendations in 2014. John Mueller also put together this demo of how infinite scroll should be set up, so that Google can crawl and index your content.
JavaScript
JavaScript provides useful technology for the web, but it does present challenges for search engines. The basic consideration is a clean crawl path in prerendered HTML, which search engine crawlers can easily follow.
To a certain extent, Google does parse JavaScript. So, if JavaScript is used to inject paginated links as HTML into your page, that's okay. However, what Google will not do is take any action that requires user input. This means that if your pagination setup requires any user interaction for the links to be generated, Google will not "see" any pages beyond page 1 of your series.
Another consideration with JavaScript is the time it takes for Google to index content which requires JS to render. Consider these comments from John Muller, "When Google crawls and indexes content it does two passes. The first pass looks at HTML only. Then, sometime later, it'll do a second pass looking at the whole site. Mueller says there is "no fixed timeframe" between the first and second pass. In some cases it can happen quickly, in other cases it can take a matter of days or weeks." (source)
Taking weeks to get your content indexed is likely not a risk you want to take, so be sure your HTML is presented fully rendered and that you're not relying on JavaScript to render important content. If your site is heavily reliant on JavaScript, consider options like prerender.io which allows you to render JS on the server and still present plain HTML to users and search engines.
Make Sure It Works
Once you have taken all the technical aspects of SEO-friendly pagination into consideration, review your setup. Check Google Search Console to make sure Google is indexing the pages in your paginated lists. Manually click through your paginated links, checking that they work and render properly in HTML, with the appropriate canonical tags setup.
There are quite a few details you'll need to get right, but once you do, your webpages will stand a much better chance of being fully indexed and ranked properly to drive traffic for years to come