In a recent Perficient webinar, Driving Digital Transformation with Oracle Procurement Cloud, attendees were treated to a 30+ minute live demo highlighting requisitions, receipts, costing, and the underlying configurations that make it all work. If you didn't get a chance to attend this event, feel free to enjoy the on-demand event when convenient for you, no registration required!
In this blog post, I'll share the some of the key questions asked by attendees and answered by Matt Makowsky, Director ERP Cloud at Perficient.
What were the biggest challenges in implementing the purchasing process?
Everything in cloud is pretty new. To me, it's almost more difficult when you are familiar with how things are done in Oracle E-Business Suite (EBS). You have to know what you are looking for. Everything moves centralized into the subledger accounting definitions. For example, when you are setting up inventory organizations we used to put all GL codes directly on the inventory org and into sub-inventory orgs, but in the cloud, it's all customized. It's all subledger accounting rules, it's all a mapping rule. In the demo, when I was in Procurement and looking at the transaction account rules, you really have to go through all your mapping sets to define your accounting for each one and make sure you don't miss one. If you miss one, you're going to get an error in the application somewhere along the way. In the cloud, you can define for an expense accrual account that for all organizations it should go to one accrual account. In EBS, that used to be defined in Purchasing or financial options or somewhere in the receiving options of an inventory org. That is now all done in the cloud, so understanding where everything moved to was a hurdle.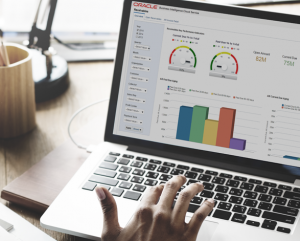 Explore key considerations, integrating the cloud with legacy applications and challenges of current cloud implementations.
Is this the standard UI?
What you see in the demo has been customized to a certain degree. For example, you can change the color scheme, add your logo, decided where the banner sits, etc.
Does Procurement Cloud support punchout, for example to Staples?
Yes, you can define punchouts to Staples or Office Depot, any of the standard Oracle punchouts. You'd be looking directly into their catalogs. It's the same flow, you create the requisition and the purchase order. The onus is on Staples to maintain those catalogs for you.
Can we have multiple level approval process by cost center or by budget?
Yes, the approval rules are as flexible as they ever were. There are probably more seeded out of the box. You can do many different levels. You can route it by the cost center, or purchasing category, or both.