I'm going to make a bold statement: Force.com Communities are a soon to be a thing of the past. With Winter '17 bringing the final missing features to the Community Builder templates, it's time to rethink the reasons why you said no to the Community Builder a few months back, and revisit templates. We've built dozens of Force.com Communities over the last 3 years (and many more portals and Force.com sites before Salesforce Communities was released in Summer '13), but I'm not at all sad to say goodbye to them at all because the Community Builder is now officially a superior way to create and manage your community.
The Advantages of Using Community Builder
I spend a lot of my time on sales calls with customers who are determining how they want to build their online community. A year ago, when Community Builder went GA in Winter '16 release, I could only really recommend using the Community Builder to customers looking to launch public knowledge bases, self-service or engagement-centric communities with somewhat flexible branding requirements. The minute the community needed to have pixel-perfect branding designed by an agency, or bring in any Salesforce object other than cases, we had to use Visualforce. Major brands like Nokia and Ancestry.com were early adopters of this new technology, finding that it significantly accelerated speed-to-market for a self-service community solution, and lowered the long-term maintenance. Some customers joke that we're being put out of a job since they need less of our help after go live, but personally, I think we are able to add more value helping our customers with more strategic Salesforce initiatives rather than helping with ongoing support. So those of us who architect the communities are actually thrilled to see this change since it means we focus on more interesting work.
As a plethora of new features were rolled out in the Spring '16 and Summer '16 release, my tone towards templates evolved as the tool did, and I was able to recommend the Community Builder to more customers. New features allowed users to leverage almost any Salesforce object that you wanted in the community and return it in search results. If we could not do something using the native Lightning components that Salesforce offered, we found using custom Lightning components was the perfect solution. Yes, there were some caveats (e.g. branding still was limited), but there was a lot you got with it natively like CMS-functionality, mobile-responsive templates and a library of pre-built Lightning components that you could drag-and-drop in place, so customers were willing to accept those limitations.
The Future of Community Cloud for Customers
As a well-respected solution provider and Community Cloud Ambassador, I'm privileged to work directly with product management getting clear visibility to the product road map to understand where future investments in Community Cloud will be (hint: it's focused around the Community Builder). This allows me to use the 80:20 rule with customers who are on the fence. "The Community Builder templates have 80% of what you need today and the 20% you want is coming. And did I mention that building this in the Community Builder is going to be a small fraction of what you would pay for us to build it in Visualforce?" As you might imagine, this gets a lot of customers attention.
Thanks to all the investments that Salesforce has made in templates, it has been months since we sold a Force.com Community project. This summer, we have been working on two partner community projects that used the Community Builder, something that would not have been possible before the Summer '16 release. However, there has been something missing for our customers that they agreed to go live without, reports and dashboards, because this are being delivered just a few weeks after they go live in the Winter '17 release. Dashboards in Force.com communities were not designed for mobile, but in templates, they work beautifully.
While mobile-responsive reports and dashboards are great, I think the biggest feature in the Winter '17 release is the ability to brand your community exactly how you want it with a Custom Theme Layout. What this basically means is that you now can build that pixel-perfect, agency-designed community that reflects your brand and doesn't feel exactly like all of the other templates built on the Napili template (which, as a side note, has been renamed in Winter '17 as the "Customer Service template"). This is truly the nail in the coffin for Force.com Communities, because now you can basically build a fully mobile-responsive community that reflects your brand perfectly, pull in any data that you want from Salesforce and build it faster than you can in a Force.com Community.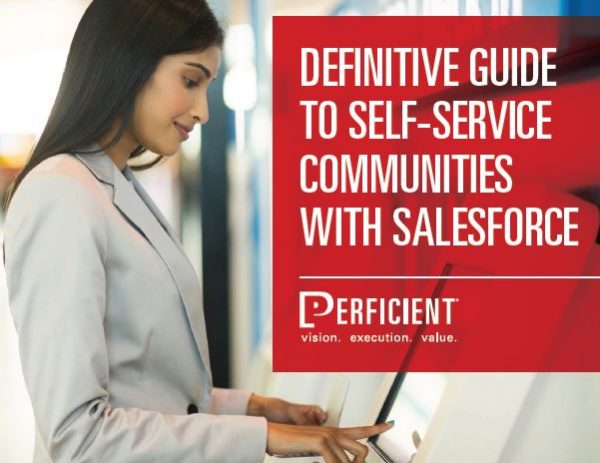 Want to learn more about building a self-service community for your customers using Salesforce? Download our new guide below to explore the core elements of creating an exceptional customer service experience using Community Cloud.
Save
Save