The introduction of Identification of Medicinal Products (IDMP), as developed by the International Organization for Standardization (ISO), marks the next phase of evolution for the European drug dictionary project under Article 57.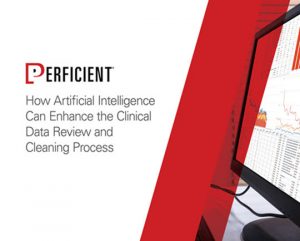 This guide analyzes how artificial intelligence – including machine learning – can be used by pharmaceutical and medical device companies to improve the clinical data review and cleansing process.
The European Medicines Agency (EMA) will issue guidance based on five documents published by the ISO, which will require life sciences companies to use a "set of common global standards for data elements, formats, and terminologies for the unique identification and exchange of information on medicines."
Complying with IDMP represents a massive increase in scope and complexity, in addition to previous iterations. The EMA has divided the timeline for meeting the new requirements into several phases, making this a multi-year project.
Join Perficient's expert in IDMP and the EudraVigilance Medicinal Product Dictionary, Mark Thackstone, as he reviews everything you need to know in order to successfully comply with IDMP by the fast-approaching deadline:
Latest information and timelines
Steps to take meet regulatory requirements
Challenges and factors to consider
What IDMP means in the real world of a typical pharma company