The Big Picture:
IBM has released Content Manager 8.5, CM8, (formerly DB2 Content Manager). This update brings a number of long awaited features and modifications to IBM's home-grown ECM platform. It also brings some feature and component deprecations. I'm going to highlight three major improvements and then discuss the impact of some major feature deprecations. The changes IBM has made will improve resilience, speed build out and enable governance.
These are the highlights:
The Improvements

Migrator and Replicator Improvements
Installation and Configuration Improvements
Retention Policy Feature

The Deprecations

The C++ API

Net Search Extender
eClient, WEBi and Client for Windows
Keep reading after the break for more details…

The Improvements:
The Resource Manager has been updated to improve the migration and replication substantially. First, there is now an option for synchronous replication, where content is simultaneously written to multiple Resource Managers in a single operation. This allows replication to be used to create a fully resilient content repository, and to reduce wait times for remote users viewing new content. Second, Replication policies will now cover documents migrated from other Resource Managers. Previously, if a document was migrated into a replicated Resource Manager, the migrated document would not be eligible for replication. Now, these documents are replicated after migration, improving system resilience and document retrieval times.
Do you remember the old installation process? Not counting Fix Packs, to install a Library Server, Resource Manager, the APIs and Web Services on a single server took 2 install wizards and 2 configuration wizards, all Install Shields. Once you add Fix Packs, Clustering and a front end application (eClient, WEBi or Navigator) you would need to walk through ten to fifteen Install Shield wizards to build an environment!
IBM has now given us a much better way. First, most of the long deprecated features of II4C have been fully removed, and all remaining II4C features have been merged into the main installer. Second, the main installer only unpacks files to a "repository directory", there's no need to set any options other than this staging location in this Install Anywhere wizard. Third, the configuration tools have been reimagined as the Eclipse based Configuration Manager (similar to P8 or Navigator). This tool is the big winner in terms of saving time and energy. It allows you to run the installer on 1 machine and deploy and configure features on all of the machines in your environment.* Setup a profile to deploy files to the secondary nodes in a cluster, and a second deploy and configure on the primary node. Use this tool to distribute the latest updates to the System Administration Client to all admin workstations in one operation.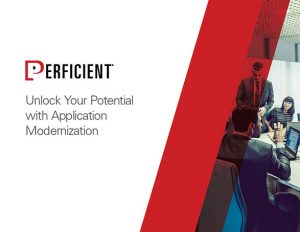 Application modernization is a growing area of focus for enterprises. If you're considering this path to cloud adoption, this guide explores considerations for the best approach – cloud native or legacy migration – and more.
This change will accelerate installations and upgrades by allowing central deployment of features and components to all servers in all environments.
The last major improvement is in Retention Management. Previously, it was difficult to enforce retention on Items. There was no inbuilt means for putting documents on hold, there was no clear means to mark objects for deletion or trigger a disposition workflow and there was no easy means of allowing outside events to trigger retention periods. This functionality was possible with the IBM Records Manager for Content Manager and the Records Manager Enabler, but the old tools were resource intensive and proprietary. The new features allow you to create Retention Policies in your data model that can be mapped to Item Types. The retention policy defines if there is an event trigger, if an outside application is managing the retention, how long to hold the document after creation or the trigger and what to do when the document expires. These policies are enforced by the Library Server.
*If all machines are running the same Operating System as the main machine.
The Deprecations:
IBM has deprecated or removed a number of features in this go around, I want to highlight just a few key items: APIs, Net Search Extender, User Interfaces, and Integration.
The entire C++ API with this release. It is still available for now, but it is officially time to start moving away from C++ thick clients. This change is part of a general modernization of the CM8 platform. User Exits will still be deployed as DLLs on the library server. In addition, the independent Information Integrator for Content package has been removed, all remaining features of that package are now included in the main Content Manager package.
Net Search Extender has been deprecated in DB2, in favor of the new DB2 Text Search technology and migration of indexes has been provided for by CM8 and DB2. While Net Search Extender is still available with DB2 10.1, it may be completely dropped in future releases of DB2.
The User Interface deprecations are going to have the broadest impact. eClient, WEBi and the Client for Windows are all deprecated with V8.5. They have not included a new release of any of these features with this release; however, V8.4.3 versions of these components will work with a V8.5 system (given the latest APIs). IBM has indicated that this sort of mixed configuration will be supported through at least September 2015.
A number of integration products have also been deprecated. Content Manager Services for Lotus Quickr, Lotus Mashup Center and ECM Widgets, Image Plus and VI400, and Advanced (MQ) Workflow. Lotus Quickr has been replaced by IBM Connections, which provides the same functionality and can be integrated with Content Manager. Lotus Mashup Center is unsupported and has been replaced by Web Sphere Business Space. ECM Widgets functionality can be achieved with Content Navigator.
The Big Conclusion:
Why should you upgrade?
IBM has taken huge strides forward with this release to modernize the Content Manager platform. Deprecating outdated, outmoded clients, in favor of the sleek and functional Content Navigator is critical to the long term utility of the platform. Navigator provides easier ways to give Business Users the functionality they need, in a modern manner. The latest, greatest User Interface, requires an up-to-date platform to support it, and the improved administration tools will make management a breeze.