We are excited to share the news that Perficient has been named a 2023 Top Workplaces winner in the Dallas-Fort Worth region, thanks to the company culture that we have cultivated. This recognition is awarded by The Dallas Morning News in partnership with Energage and is primarily based on feedback from our employees, which makes it even more meaningful.
Giving Back to Our Community
Our Dallas location fosters a welcoming community through colleague appreciation, local market engagement, and cultural events. This team provides excellent opportunities for collaboration and a rewarding workplace environment.
Perficient is deeply involved in the communities where we're located. Our Dallas office is highly engaged locally, whether they're fighting hunger with Feed the City or mentoring high school students in AI. This past September was Hunger Action Month (HAM), and in addition to donating non-perishable food items, the Dallas team helped make 3,628 meals with Feed the City. The team also hosted a school supply drive for Bright Academy in Frisco.
Our Dallas team is committed to providing opportunities to advance STEM education in the metropolitan area. We have collaborated with the Mark Cuban Foundation over the past few years to offer high school students Artificial Intelligence (AI) Bootcamps. These bootcamps are free for the students and introduce AI through educational seminars, interactive lessons, and lab exercises. Our local colleagues are invited to contribute their expertise and volunteer for sessions to make a difference in these students' lives.
Furthering our support of STEM education, Perficient's Bright Paths Program launched a training camp in Dallas this year. The Bright Paths Program is a coding bootcamp and software engineering program designed to equip students from underrepresented communities with the skills to start their journey toward a career in technology. We have been thrilled to offer our full support to the program as we strive to expand our company's reach in the Dallas-Fort Worth community.
Our work with the Dallas Mavericks is a significant part of our office culture in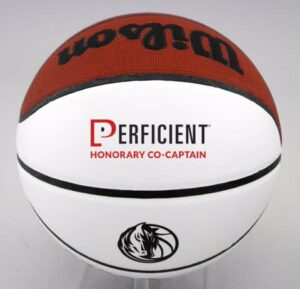 Dallas. We formed a partnership with the NBA franchise back in 2019. The partnership with the team includes courtside and digital signage, along with home game tickets throughout the season. Several of our colleagues in the Dallas area are enthusiastic fans of the Mavericks so getting to team up with them is a wonderful perk every year.
Check out some of the other events our team has supported in 2023 including sponsoring the Dallas Business Journal's Women in Tech Awards and a panel discussion on the hot topic of Generative AI.
Celebrating Our People
The Dallas team clearly has a lot going on outside of the office, but there is still no shortage of internal culture events for this group. The team is always looking for something fun to do as a team to add some excitement to their busy schedules. They hold monthly town hall meetings to discuss company updates, highlight colleagues, showcase client projects, recent wins and successes, and more. The town halls always have a food theme, the most recent one being hot dog-themed to celebrate the Texas Rangers being in the World Series! They also hosted a costume contest to get in the Halloween spirit!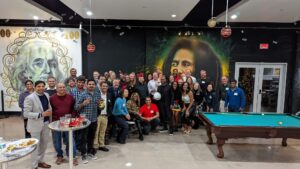 Erin Moloney, Dallas' Area Vice President, has been at Perficient for 14 years. During that time, she has been recognized for "Excellence in Leadership" by Consulting Magazine and has been heavily involved in Perficient's global Women in Tech employee resource group. In her role, she leads Perficient's efforts in expanding our presence in the DFW market and serving our local clients with excellence.
"It is such an honor to be recognized as a Top Workplace in Dallas. We will continue to strive towards creating a workplace where a diversity of experiences and perspectives is welcomed, colleagues can feel a sense of belonging and purpose, and career growth opportunities abound for every Perficient colleague in this rapidly growing DFW area. I am excited about the future, and I'm committed to continuing to build a thriving, supportive, and inclusive work environment for all our employees. Winning this award is a testament to the hard work and dedication of our team, and we are grateful for the recognition."

– Erin Moloney, Area Vice President
Our Dallas office is home to a truly exceptional team, and we are proud to be called a 2023 Top Workplace. This win is another accomplishment we can add to our expanding list, which can be found in full on our awards and recognitions page. We're excited to see what's next for this group!
JOIN AN AWARD-WINNING WORKPLACE
At Perficient, we continually look for ways to champion and challenge our talented workforce with interesting projects for high-profile clients, encourage personal and professional growth through training and mentoring, and celebrate our people-oriented culture and the innovative ways they serve Perficient and the community.
Visit our Careers page to see career opportunities and more!
Go inside Life at Perficient and connect with us on LinkedIn, YouTube, Twitter, and Instagram.