Perficient Celebrates the Graduation of Our Sixth Bright Paths Program Cohort
Perficient's Bright Paths Program in Dallas recently concluded, and we are proud to announce the graduation of 26 dedicated students from the program!
The Bright Paths Program is designed to advance STEM education and career opportunities for underrepresented constituencies and communities, working towards closing the gap in the technology industry. The latest program featured our first cohort in the Dallas area. During the coding boot camp, students completed software engineering coursework, learned about the consulting business, and connected with Perficient colleague mentors.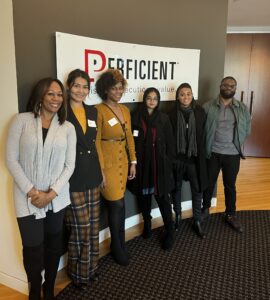 In partnership with Strayer University's Hackbright Academy and DevMountain, this fully-funded coding boot camp gives students the opportunity to learn the necessary skills to prepare for careers in the tech field upon completing the program, such as entry-level software engineers and quality assurance (QA) testers. Qualified graduates are offered a job at Perficient, where new Perficient colleagues will have the opportunity to partner with the world's largest enterprises and biggest brands. Since launching the Bright Paths Program in 2020, more than 150 students have graduated from the program with the vast majority joining Perficient.
The program is structured into two parts with the first eight weeks focused on building foundational coding skills. During the second eight weeks, students pick a specialization and work on their capstone project. This gives students the opportunity to develop a web application using all the skills they have acquired throughout the program.
The graduates' presented their applications during the recent graduation ceremony in three breakout tracks:
JavaScript Web Development (JS & React)
Java Software Engineering (Java)
Data Analytics (Python)
Each student demonstrated their capstone project to their peers, Perficient leaders and colleagues, Bright Paths alumni, and even friends and family attending the virtual graduation ceremony. Projects ranged from a plant nursery application, to a data analysis of world happiness, an application to coordinate and style socks and shoes, and everything in between.
The graduation ceremony was the culmination of the students' hard work and dedication throughout the program. Graduates were celebrated for their impressive innovation and creativity with inspiring speeches and a certificate presentation where each graduate was individually recognized. Spirits were high as everyone came together to celebrate their achievements and cheer each other on.
Students came from different backgrounds with personal experiences that motivated them throughout the program. Each of these ambitious individuals demonstrated curiosity, innovation, and ingenuity throughout their time in the program.
Recent Bright Paths graduate, Asel Williams, reflects on her time in the program:
"Bright Paths has broadened my horizons, and now I am able to plan, design, build, test, and deploy web applications independently. Acquiring this knowledge feels like having a superpower, which has helped boost my self-confidence! Thanks to Perficient, I am now able to develop full-stack applications. I am very grateful for this investment in my future."
Perficient Colleagues Volunteer to Mentor Bright Paths Students
As students progressed through the program, they received the support of a Perficient mentor. With a one-to-one mentor and mentee match, students had the opportunity to choose their mentor. Mentor sessions occurred weekly through virtual meetings to provide guidance for work readiness, interview prep, and career transition advice.
READ MORE: Perficient Colleagues Make a Difference as Mentors
Having a mentor who is already a Perficient colleague introduced students to the organization and everything that being a consultant entails. Mentors offered tips for success for their future as a developer in the consulting world. They also provided encouragement and support through every step of the program.
Nykema Parker, senior project manager at Perficient and co-lead of the Bright Paths Dallas cohort said:
"Leading the Bright Paths Program in Dallas has been one of the most rewarding contributions of my career. Our mission is to expand the expertise of each colleague and create more opportunities for career growth in the communities where we live and work."
Launching the Bright Paths Program on a National Scale
Perficient recently announced two upcoming national coding boot camps across the U.S. The first cohort begins in April, and the second will begin in June. Applications are still open for the second cohort, and anyone interested can visit the Bright Paths Program landing page to learn more about the program and apply.
Perficient is committed to making a meaningful difference in our local and global communities. We can't wait to see how our Bright Paths graduates in Dallas grow their careers in the tech industry and beyond!
---
At Perficient, we continually look for ways to champion and challenge our talented workforce with interesting projects for high-profile clients, encourage personal and professional growth through training and mentoring, and celebrate our people-oriented culture and the innovative ways they serve Perficient and the community.
Visit our Careers page to see career opportunities and more!
Go inside Life at Perficient and connect with us on LinkedIn, YouTube, Twitter,  TikTok, and Instagram.