The SCOPE Summit for Clinical Ops Executives is an annual conference to drive collaboration and innovation in the clinical research community. I attended the 14th annual SCOPE Summit on February 6-9 of 2023 to connect with my colleagues and other industry experts about what technology advancements are driving growth in the life sciences industry. Here are the three takeaways, I derived from the conference:
1.

Digital Measures and the U

se of

AI/ML
One theme of discussion at this conference was around using artificial intelligence and machine learning to:
Accelerate study setup

Generate content

Drive automation
Experts discussed approaches to start digitizing protocol and creating CSRs from the digitized protocol using AI/ML programs.
Another approach demonstrated how to use modern tools to collect visit data. For example, it explored how to record a video to send to your doctor to review progress of neurological diseases and how to design trials that can support both decentralized visits and site visits. This would give life sciences organizations the ability to significantly enhance trial progress and identify safety and efficacy issues in an expedited manner. 
2. Pharma Companies are Taking a Leadership Role in Developing New Technologies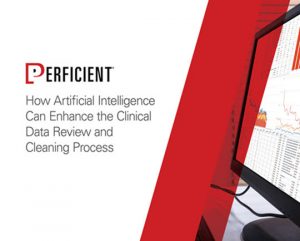 This guide analyzes how artificial intelligence – including machine learning – can be used by pharmaceutical and medical device companies to improve the clinical data review and cleansing process.
Previously, it was standard for technology vendors and IT companies to lead the development of new technologies in the life sciences industry. These organizations would be responsible for identifying potential advancements and capabilities. Based on the conversations that took place at this conference, it is clear that pharma companies are starting to take a more active role.
Pharma companies are leading and delivering solutions, and they want findings and results to be open source. They are telling the technology vendors what they need and how they want to develop it.
They are realizing the importance of including business users from the beginning of the development process, and they are seeing the value of change management.
3. Acceleration and Collaboration in Life Sciences
The pandemic has completely changed the life sciences industry. The industry has dramatically accelerated. Life sciences is no longer an industry that is slow to change.
Post-pandemic life sciences organizations are getting ahead of the curve. They are open to new ideas. They are even open to collaborating with other pharma companies. Life sciences leaders at SCOPE were discussing how they can collaborate on training their AI/ML models and data models so multiple companies can use similar machine learning models. Each organization wouldn't have to spend time training their own AI/ML models.
Collaboration in the life sciences industry is increasing exponentially.
Decentralized trials and digital measures are transforming how we collect information and data. With such rapid change, it's an exciting time to be in the life sciences industry, and I expect to see 10 times as much technological advancement at the next conference.
Life Sciences Leaders Turn to Us
Life sciences organizations' ability to accelerate transformation is crucial to succeeding in a highly competitive, highly regulated, and quickly-evolving landscape. Life Sciences leaders rely on us for strategic, industry, and technical expertise to achieve their missions in a technologically advancing industry. Our thought leaders are here to support you in achieving business goals and solving your most complex challenges. 
Our Life Sciences practice has a global footprint, with locations across the globe to meet your skill and budget needs at the right time and in the right place. We work seamlessly with our domain experts across Perficient to best execute for our clients' outcomes. Our comprehensive end-to-end support keeps your organization efficiently moving forward. Extend your capacity with our expert solutions and add day-to-day value where you need it most. 
Have questions? Contact us to discuss your organization's specific needs.