In April 2022, Perficient announced a multi-year, multi-faceted partnership with Major League Soccer's Atlanta United franchise. The partnership includes a variety of marketing and corporate engagement benefits, a standout being the Coin Toss Kid opportunity. Atlanta United's Coin Toss Kid provides a nominated child the chance to interact with players and flip the game coin to kick off a match. For the October 9th game, we partnered with CURE Childhood Cancer to utilize this opportunity and make the dreams of two incredibly deserving Atlanta United fans a reality.
A Partnership with an Impact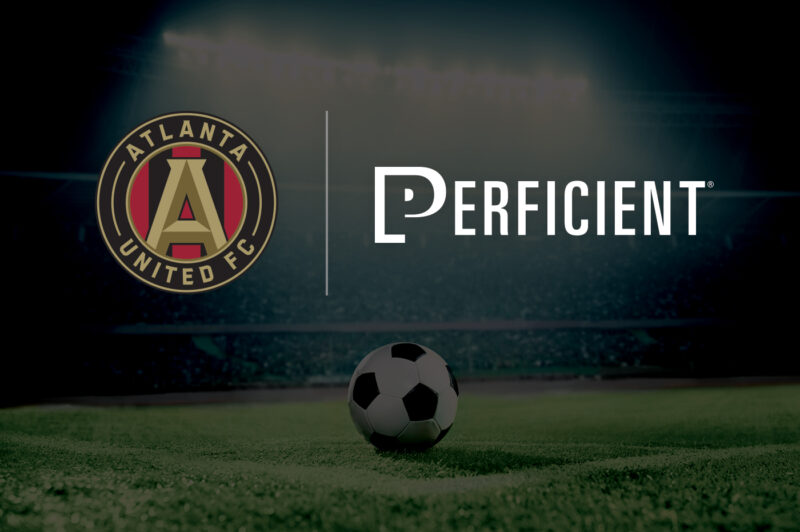 Perficient wanted to do something unique with the four club-level seats and Coin Toss Kid tickets included with our partnership for the last Atlanta United home game of the season. A local colleague suggested we reach out to Atlanta-based CURE Childhood Cancer to see if they had any patients with a love for MLS soccer.
Founded in 1975, CURE Childhood Cancer is an organization dedicated to conquering childhood cancer through funding targeted research while supporting patients and their families. With cancer as the second leading cause of death in children, CURE dedicates more than $4.7 million annually to targeted research aimed at curing cancers that affect children. Through innovative programming, CURE Childhood Cancer also provides crisis-oriented support to patients and their families, addressing their most critical and urgent needs.
We reached out with the request and turns out…CURE has two HUGE Atlanta United fans who were available and excited to use the tickets. Read on below for the stories of two incredible kids, their support systems, and the impact a simple Perficient/CURE partnership idea can have.
Megan
13-year-old Megan, who is/was a patient at Children's Healthcare of Atlanta, was quick to raise her hand to be the Coin Toss Kid for the October 9th Atlanta United game. She recently had a bone marrow transplant and was in the hospital for more than 100 days but was just now feeling well enough to get out. As a huge Atlanta United fan, she was thrilled to have this special opportunity after many difficult months and could not wait to cheer on her favorite team.
Prior to kick-off, Megan joined several Atlanta United team members on the field for a quick meet and greet before performing the coin toss like a pro. She and her family were then taken to their seats where they were surprised with a multitude of team merchandise and an incredible view of the field. The Atlanta United reps went above and beyond to ensure that Megan and her family created a memory that will last a lifetime.
Thank you so much for thinking of Megan for the opportunity for the coin toss at the Atlanta United Game. Everything was perfect and we had an amazing time and Megan hasn't stopped smiling. Felt wonderful to do something 'normal' again!!
– Colleen, Megan's mother
Pablo
Perficient's partnership with the team also includes four club-level seats to each home game – for the October 9th game these seats were given to an 18-year-old CURE child named Pablo. Pablo was diagnosed with cancer on July 1st and has quite a bit of treatment still ahead in his journey. He is also a dedicated Atlanta United fan and gladly accepted the tickets, bringing his three best friends with him to the game. The trio has been by Pablo's side throughout his treatment so far, showing inspiring support when they shaved their heads with Pablo at the beginning of his journey. The group was also able to enjoy seats with an unbeatable view of the field and each was gifted some surprise team gear to make the day even better.
A Positive Outlook
The impact of this event is immeasurable, and Perficient is so grateful to Atlanta United and CURE for making this vision a reality. The joy and excitement that these two kids exuded throughout the day was contagious, and we can't wait to see them at some Atlanta United games next season! As our CURE contacts told us, keeping up the spirits of kids like Megan and Pablo is so important to their long-term recovery, and this soccer game was an incredible way to aid in that process.
If you are interested in supporting CURE to help kids like Megan and Pablo, visit their website for more information on involvement opportunities and donations.
---
At Perficient, we continually look for ways to champion and challenge our talented workforce with interesting projects for high-profile clients, encourage personal and professional growth through training and mentoring, and celebrate our people-oriented culture and the innovative ways they serve Perficient and the community.
Visit our Careers page to see career opportunities and more!
Go inside Life at Perficient and connect with us on LinkedIn, YouTube, Twitter, and Instagram.