Oracle's EPM September release contains three key updates. These three updates impact Smart View users, customers using Data Management, and those using journals within Financial Consolidation and Close. Continue reading below for explanations of each!
Smart View – Drill to All Levels in Base
A new option named "Drill to All Levels in Base" within Application Settings permits users to drill down beyond shared members; essentially this allows for drilling into the base hierarchy members beneath the shared member. This is a great enhancement for users who frequently need to drill into the details of shared members. This new option is available for Financial Consolidation and Close, Planning, Planning Modules, and Tax Reporting applications.
Please keep in mind that in order to use the new feature, the Smart View Ad Hoc Behavior option must be set to Standard. Additionally, the multi-member zoom feature is not supported when using the new option.
Enabling the option is simple:
Within the application, click Application and then Settings.
In Allow Drill Down on Shared Members in Ad Hoc, select Yes.
Select the Drill to All Levels in Base check box.
Click Save.
Data Management – Export & Import Capabilities Expanded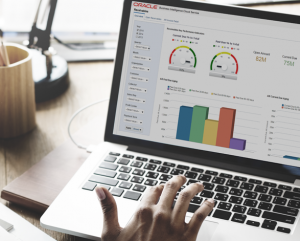 Explore key considerations, integrating the cloud with legacy applications and challenges of current cloud implementations.
Customers using Data Management within Account Reconciliation, Financial Consolidation and Close, Planning, Planning Modules, Tax Reporting, Profitability and Cost Management can now easily backup setup and historical data. The new Export/Import option provide the ability to:
Backup historical data within the tables
Migrate imported data to test a target instance
Include the staging data in their daily backup procedures
The export process performs an export of all data tables to a .CSV file. The data is exported by POV and zipped. The export also includes all setup and data artifacts within Data Management:
Application
Source System
Period Mapping
Category Mapping
Logic Group
Check group
Integration

Location
Import Format (Dimension Maps)
Data Rule
Data Load Mapping (Member Maps)

Batch Definition
System Setting
Application Setting
User Setting
Security Setting
The export supports: All, Setup only, All – incremental, and incremental modes. The incremental mode process exports only new or changed data based on the POV since the last snapshot was exported. The output is stored in outbox/<filename>.zip.
The import process resembles a "restore" type of process — it does not perform any merge operation. The existing data is first cleared in the target application, and then data is imported from the files. Please note the process requires the filename with the full path of the Data Management root folder (for example: inbox/<filename>.zip, or inbox/mybackup/<filename>.zip). If no path is specified, the process assumes the file is in the Data Management root folder.
The new processes can be found in System Maintenance Tasks: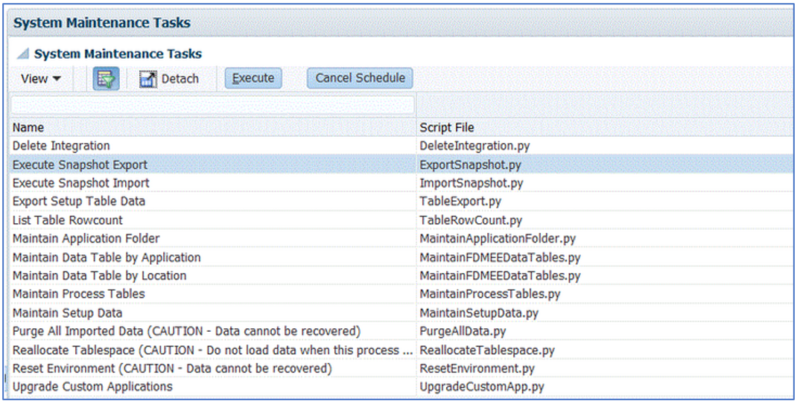 More information on the export/import options can be found here.
Financial Consolidation and Close Journal Audit Enhancement
Tracking who inputs data into financial applications is key best practice for all organizations to follow. Oracle's FCC offering aligns directly with this concept, regardless of changes to the user's role/username. Creation, submission, approval and posting are all journal activities which now will not lose the username information when the "Preserve Journal User Names" option is enabled.
More information on how to enable this feature can be found here.