It is common for enterprises to approach automation through a technology lens like robotic process automation (RPA) and then report they are "fully automated." These organizations sought a specific solution and, in most cases, are stretching the technology beyond its intended purpose.
Intelligent automation is not accomplished by a single technology working independently, but rather through a combination of insights and technologies acting in concert. While partial automation can be achieved through traditional digital process automation (DPA) platforms or process orchestration, intelligent automation occurs at the intersection of process mining, DPA, RPA, and AI. Without all components, processes will not be fully optimized or achieve maximum automation efficiencies.
What Is Robotic Process Automation (RPA)?
RPA utilizes software layered with AI and ML capabilities to handle high-volume, repeatable tasks previously performed by humans.
Five core tenants of RPA drive human-system interactions:
optical character recognition (OCR),
legacy application integration,
web scraping,
desktop recording,
and API connectors.
These tenants provide robotic solutions for repetitive daily tasks. You can integrate your legacy applications with RPA, which adds value to your organization by providing cost savings and quicker time to market.
While healthcare organizations are bullish on RPA's potential, many struggle internally to scale programs beyond pilot projects. For that reason, a growing number of healthcare leaders are partnering with intelligent automation experts like Perficient that also offer deep healthcare expertise.
4 Use Cases for RPA in Healthcare
Optimize the digital data landscape. Patient data is being digitized across multiple systems. As new systems of record are introduced, this data needs to be accurately migrated. Patient data must also be accurately recorded and often duplicated across applications. RPA can ensure records are always correct and up to date.
Streamline the revenue cycle (U.S. providers). Inefficient claims management from data issues, like missing patient information, costs hospitals millions of dollars a year in the U.S. in denial write-offs. RPA can minimize that risk through improved data management and accurate, proactive account updates.
Improve decision-making with accurate utilization management. Effective utilization management helps manage healthcare costs, so streamlined patient care decision-making is critical. Intelligent automation can increase the accuracy and speed of case assessment and decision-making.
Streamline patient screening and diagnostics for improved outcomes. Hospital test facilities can utilize RPA to increase accuracy, efficiency, and productivity to help improve patient outcomes and mitigate risk.
Our new guide The Healthcare Executive's Guide to Intelligent Automation explores the following topics:
How RPA intersects with other automation and intelligence technologies
Ways that automation drives efficiency and value in healthcare
Key automation trends and drivers of adoption
Core elements of a successful automation strategy
Best practices and steps to get started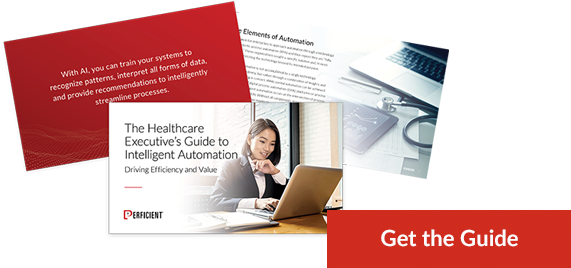 Why Perficient
We blend healthcare and automation expertise to help you build stronger teams and establish optimal processes. Our experts will help you identify how work is performed today and how you can optimize for tomorrow.
We work with partners that address the key elements of intelligent automation with their best-in-class product offerings. Your needs are unique, and we can help you determine the product or system for your particular use case. We also provide readiness evaluations, business case development, implementation and migration services, and rapid development and pilots.
We are recognized by Modern Healthcare as a key healthcare consulting leader. Additionally, Perficient was cited as a "Contender" in The Forrester Wave™: Digital Process Automation Service Providers, Q3 2020 report.