The season of giving is in full swing, and Perficient employees around the world are participating in unique and impactful ways. A group of colleagues in our Chicago office came together throughout December to donate to and support the Greater Chicago Food Depository in the spirit of Perficient's "Make a December Difference" kindness campaign. The impact they made through this simple act is significant, and their passion for giving to others in this time of hardship is inspiring.
"Making a December Difference" in the Local Chicago Community
Our "Make a December Difference Campaign" kicked off in mid-December when Perficient gave all 4,500 of their employees across the world $100 in their paycheck. Each person was asked to use that money to pay it forward toward a cause that is most meaningful to them. Colleagues rallied around this campaign and immediately began donating their given money. Some donated individually and some donated in collaboration with other team members.
In our Chicago office, fifteen people worked together to help out the Greater Chicago Food Depository by pooling their donations. This organization has importance to them as they have done successful food drives for this organization in the past.
Hosting a Virtual Food Drive
During most holiday seasons, the team volunteers at this food depository to connect with their community and make a positive impact on those in need. Since they were unable to help out in person due to the ongoing pandemic, they decided to host a virtual drive instead. The Chicago Service Committee organized the drive and invited team members to give monetary donations. They also encouraged colleagues to put their December Difference money towards the drive if they had not yet chosen a cause. Each donation would help bring food, dignity, and hope to the needy across Chicago and Cook County.
BONUS: Perficient Team Connects Over Sustainability Virtually
Working with the Greater Chicago Food Depository  to Produce an Inspiring Result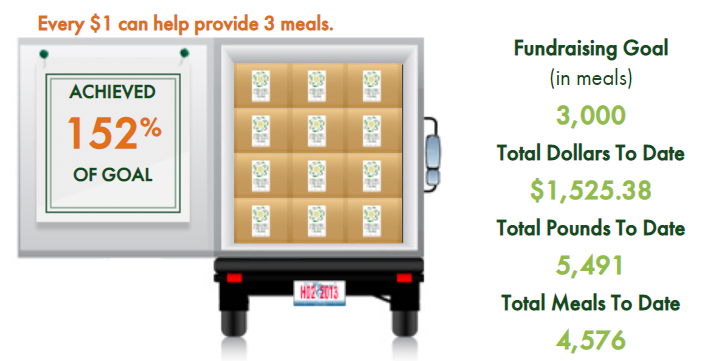 The virtual food drive ran from December 1st through December 15th and raised a total of $1,525.38. Thanks to the Food Depository's buying power, every $1 helps provide 3 meals for those in need.
As a result, our Chicago team's donation provided a whopping 4,576 meals to those struggling in the Chicago community!
This year has been especially tough for a lot of people in this area. The pandemic has created an increase in unemployment and food insecurity, and as a result, one in seven people in the county are experiencing food insecurity this year. Our Chicago team was excited to lend a helping hand.
"We are fortunate to be in a position to help those people and are so appreciative of Perficient for giving us the additional resources to do so with the Make a December Difference campaign," shared Katie Witham, Technical Consultant.
Living the Perficient Values
This virtual food drive is just one example of the amazing actions our Perficient team has enacted during the "Make a December Difference" campaign. Colleagues around the world have been participating in unique ways. Individuals in our Chennai and Bangalore offices pooled money to buy a dialysis machine for a local center, while others have chosen to give at the local level and support causes closer to home.
The impact this campaign has had around the world is inspiring and uplifting.  We are proud of our employees for living the Perficient values in all that they do.
Now, how will you make a December Difference?
---
Perficient are big believers in giving back to the communities in which we live and work, and we have the opportunity to empower our colleagues to pay it forward and spread some much-needed joy. It's our hope that these single acts of giving and gratitude leave individual marks on the communities in which we live and work. Together, we have an opportunity to make a global impact.
Learn more about the "Make a December Difference" campaign of kindness
Follow our "Make a December Difference" story at Life at Perficient and connect with us on LinkedIn, YouTube, Twitter, and Instagram. Visit our Careers page to see career opportunities and more!