As a global company, 2020 has allowed us to collaborate with each other in new ways, fueling team spirit, connection, and community. Because of our colleagues' dedication and commitment to one another, our clients, and our business, we are able to create an opportunity to pay it forward.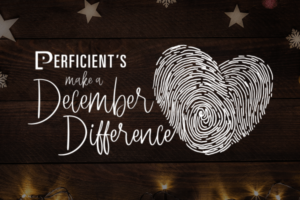 During our "Make a December Difference" campaign, each of our 4,500 employees across the world received $100 to pay it forward toward the charity, fund, community, or cause that is most meaningful to them.
Our colleagues enthusiastically responded to this kindness campaign, applying their funds to a variety of causes and bringing support and happiness to others all around the globe.
Below is just a sample of the thousands of incredible stories our colleagues have shared. We encourage you to check out the organizations our colleagues donated to (linked below).
Making a December Difference in Ontario

Frank Preston, Adobe senior technical architect, and his family gave back to local children while teaching valuable life lessons.
"I have been with Perficient for six months now and I was so excited to hear about this program. After talking it over with my wife, we truly wanted to help in our direct community and we saw this as an opportunity to give our boys a bit of a life lesson.
We live in a small town not far from Ottawa, Ontario Canada. This year was very difficult for many families with young children so we chose the Renfrew Foodbank's Angel Tree Program to donate to. We had our boys select presents for kids that reflected their own age. They enjoyed the idea so much they even added some of their own allowance money to ensure that we got the right gifts.
They were very proud to drop these gifts at the foodbank and proclaimed that "they and daddy's company made this happen." I was beaming with my own pride in my boys and company.
We truly appreciate the generosity of Perficient in providing us the opportunity to give a little happiness to four children that will provide a small sense of normalcy as well as a wonderful and exciting experience for my boys."
— Frank Preston, Adobe Senior Technical Architect
Making a December Difference in Toronto
LoraLee Pond, solution architect, graciously showed support for suicide prevention, and Mwafaq Hajali, lead technical consultant, thoughtfully donated to the ISNA Canada Food Bank.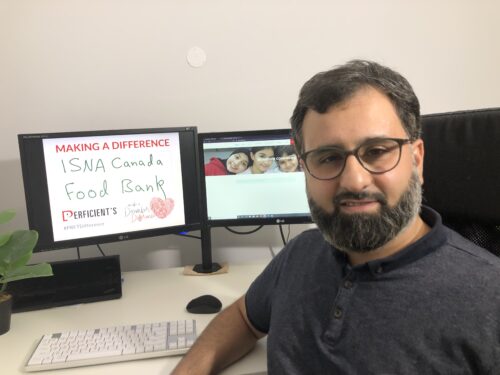 Making a December Difference in Bangalore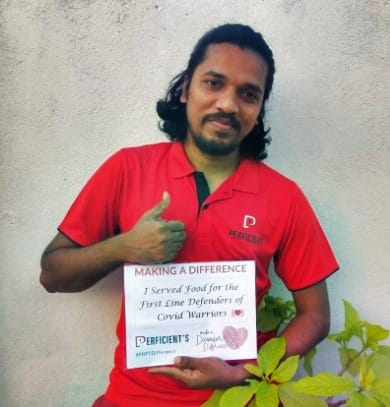 Manikandan Rajasekara, associate technical consultant, found joy in his own heart by giving back to frontline municipal workers.
"I wish to share my story and hope this act of kindness be spread all over the world.
Our company has initiated a 'Campaign of Kindness' this month. In this pandemic situation of Covid-19, the front-line warriors like doctors, police, and municipal workers need to be saluted. Among them, the doctors and police are self-sufficient with their salary but the municipal workers, in spite of their low salary, marched towards cleaning our streets and towns, even in the midst of corona. I felt they had to be honored.
Therefore, I decided to serve them a meal for a day. I felt happy when I saw their happiness while I provided their food by going around the town. I wish to continue such an act every month to my possible extent. I wish #PRFTDifference will create positiveness and hope in the future of many.
I thank the team behind this 'Campaign of Kindness' for kindling this thought within me. You guys made me realize that a small gesture of giving created huge happiness in others' hearts. I'm really proud to be a part of Perficient who brought millions of smiles during this tough time."
— Manikandan Rajasekara, Associate Technical Consultant
This slideshow requires JavaScript.
Making a December Difference in Nagpur
Zeeshan Ahmad, technical consultant, generously paid for rent and medicine for an elderly lady, and Deepika Janiyani, senior technical consultant, chose to pool her donation with her colleagues to make an even greater impact.
With Christmas around the corner and Santa being under quarantine this year @Perficient decided to make each of its employee a Santa Clause for some one or the other by the "Perficient's Make a December Difference" campaign.Thanks #Perficient#lifeatperficient #prftdifference pic.twitter.com/5tG9LmNRNI— Deepika Janiyani (@deepikajaniyani) December 24, 2020
Making a December Difference in Chennai 
Karthika Palanichamy, technical consultant, added his donation towards the cost of procuring and setting up the dialysis unit at Rotary Club-Operated Free Dialysis Center to support India's growing demand for dialysis. India is growing at a rate of 31%, compared to 6% in the US and 8% in the rest of the world.
This dialysis machine will provide life-saving treatment for about 3,600 patients each a year and has a lifespan of ten years — meaning 36,000 poor patients are cared for totally free of cost!
THAT'S NOT ALL: See all the unique ways colleagues gave back to causes specific to India
View this post on Instagram
Making a December Difference in Serbia
Miroslav Maric, lead technical consultant, considerately donated to Children's Village, and Nikola Pantović, associate business consultant, supported first responders through Red Cross Serbia.
Making a December Difference in Colombia
Hogly Leonardo Rubio Tarazona, software developer, cooked a meal for 100 Venezuelans looking for a better life in Colombia, and Jonathan Hernández Zapata, software developer, delivered pet food to "Grato" Animal Shelter.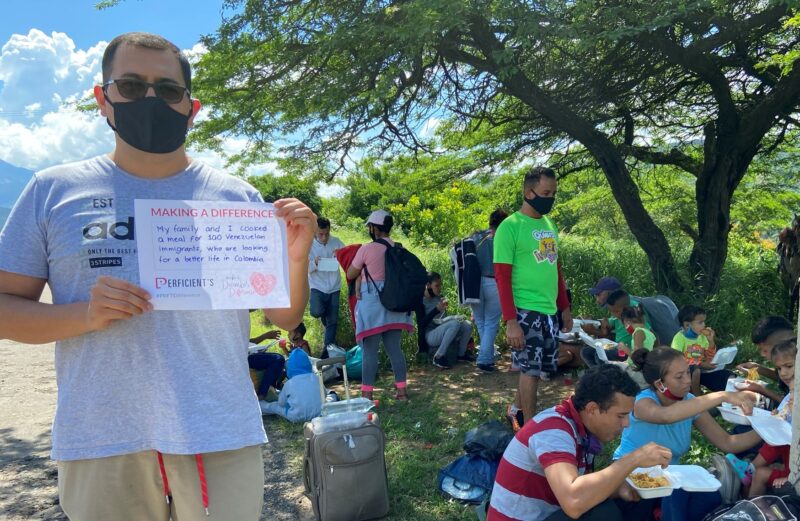 #PRFTDifference 🏢 I donated to Fundación Hablemos Por Ellos, a beautiful place in Medellín – Colombia 🇨🇴. There are many wonderful animals 🐶 🐱 🐎 🐷 🐰. Thank you @Perficient @PSLCorp for give us a Happy Christmas 🎅 🌟 ⛄ 🎄 🎁. pic.twitter.com/JozGoeeSrn— David Bedoya (@dbedoyah) December 4, 2020
Making a December Difference in Our Hometown, St. Louis, MO
Sandy Crutchley, senior accountant, chose to continue a St. Louis office tradition by contributing meals to all three St. Louis Ronald McDonald House Charities.
"As you know, the St. Louis office has been preparing meals for the various Ronald McDonald houses over the past twelve years. During COVID, the Ronald McDonald houses have not allowed volunteers to meal prep on-premises, but have allowed volunteers to provide delivered meals from restaurants.
Myself, along with Leo Speno, senior accounting analyst, and Pam Zhu, senior accountant, combined our "Make a December Difference" funds to purchase meals from Del Pietro's, Hacienda, and Billy G's to provide dinner to all three local St. Louis Ronald McDonald houses one night!
Combining our funds allowed us to not only support all three Ronald McDonald houses, but it also lets us support local, family-owned St. Louis county restaurants. A win-win for everyone involved! This program was such a blessing to be able to pay it forward in a big way."
— Sandy Crutchley, Senior Accountant
Natalie Dresner, marketing coordinator, partnered with Sweet Celebrations STL to give gifts to a child currently living in a local homeless shelter, and Ann Higby, marketing manager, celebrated the twentieth anniversary of Lift for Life Academy to "Make a December Difference."
View this post on Instagram
View this post on Instagram
Making a Difference Around the World
The stories of our colleagues around the world and the goodwill they are creating reminds us that in 2020, a difficult year for so many, that the best way to put a smile on your own face is to put one on someone else's. If you need some ideas about how to do that, you can search the hashtag #PRFTDifference across social media to see more selfless examples of our colleagues' creativity and generosity.
It's our hope that these single acts of giving and gratitude leave individual marks on the communities in which we live and work. Like the ripple effect from a drop of water, let's inspire others to make a difference and pay it forward. Together, we have an opportunity to make a global impact.
Now, how will you "Make a December Difference?"
---
Perficient are big believers in giving back to the communities in which we live and work, and we have the opportunity to empower our colleagues to pay it forward and spread some much-needed joy. It's our hope that these single acts of giving and gratitude leave individual marks on the communities in which we live and work. Together, we have an opportunity to make a global impact.
Learn more about the "Make a December Difference" campaign of kindness
Follow our "Make a December Difference" story at Life at Perficient and connect with us on LinkedIn, YouTube, Twitter, and Instagram. Visit our Careers page to see career opportunities and more!