This blog series covers three management consulting solutions I learned from coaches in my life. I apply these solutions to my work life in management consulting. Previously I discussed engagement, and how to inspire your team. This entry explores the benefit of giving the inexperienced folks a shot.
Millions of kids play high school sports in the United States. Sports are challenging, fun and a great way to get more connected to your school and community.
In high school lacrosse, for example, a team plays roughly 15 games. These games have a length of 48 minutes each with 10 players on the field. This means that there are 7200 minutes for players to be on the field. This is enough time for EVERYONE to get meaningful minutes.
How does a coach make sure everyone gets on the field?
One of my son's soccer coaches had a large roster of very deserving players who all wanted playing time. The coach knew he couldn't couldn't coach and manage playing time during games. So he asked me to keep track of the team's stats.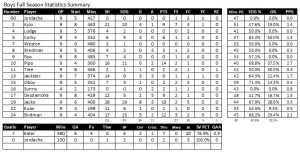 I created a neat spreadsheet (because that is what I do!) that kept track of each player's time on the field among other things and provided that to the coach weekly, so he could ensure every player got at least 50% playing time over the course of the season. Conversely, I have seen coaches that are afraid to play more inexperienced players in what I think is a plan to avoid potential failure.
However, if you don't play your more inexperienced players, it causes problems down the line when your experienced players move on and you are left with a group of ALL inexperienced players. I have realized that you can't allow fear to dictate how you play (or work) and you need to allow people to fail.
Failure can be some of the best training!
Personally, I have learned a lot from my failures throughout my career. When I first started in Management Consulting, I worked on a project with a huge broadband cable provider. My project lead gave me a critical portion of a presentation to our client, who was a company executive.
Although the slides in the presentation were solid, I stumbled through my portion of the presentation. It certainly was not my finest hour as a presenter. But, the project lead pulled me aside, gave me feedback and we created a plan to ensure I would be better prepared for the next presentation to our clients.
Since then, whenever I have a presentation in front of important clients, project sponsors, stakeholders, executives, or even my team, I rehearse. I practice my portion out loud, prior to the meeting.
SIDE NOTE: to coaches who might be reading this – this lesson applies ESPECIALLY for end of year banquets. I can't tell you how many times I have been to a team banquet and the coaches haven't practiced their remarks prior to giving them in front of administrators, the team, and all their parents! What a disaster!
Do you have an opportunity to allow a more inexperienced team member to get in the game?
What is one lesson that you have learned from failure that you apply in your work life?