Outside of work, it's obvious that we have become a digital society. We use mobile devices to guide us through rush hour traffic, to find a great new spot for lunch, to research recipes for dinner, to do our shopping, to track our exercise, to entertain our children (and ourselves!), to connect with friends and family, and to wake us up the next morning to do it all over again.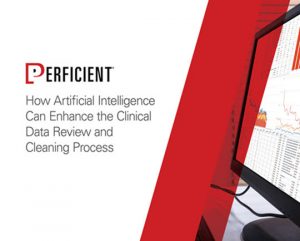 This guide analyzes how artificial intelligence – including machine learning – can be used by pharmaceutical and medical device companies to improve the clinical data review and cleansing process.
What might be less obvious is that the way we operate outside of work is no different than the way our customers operate. Our own expectations for finding information and interacting with businesses are exactly the same as our customers'. This is why businesses across all industries – including life sciences – are now going through what's known as "digital transformation."
While it means different things to different people, digital transformation is a movement. According to the research firm Altimeter, the definition of digital transformation boils down to this:
"The realignment of, or new investment in, technology and business models to more effectively engage digital customers at every touchpoint in the customer experience lifecycle."
Digital transformation doesn't just mean investing in technology or churning out an app or two. It means cultivating and maintaining a company culture focused on stakeholders' experiences, be they patients, investigators, customers, employees, research partners, or even regulatory agencies.
Organizations that have undergone digital transformation have not just digitized their offerings, they've integrated digital into their overall business strategy.