It's common knowledge that having a clinical trial management system (CTMS) streamlines and simplifies the running of clinical trials, and that Oracle's Siebel Clinical (Siebel CTMS) is arguably the best out there. But, as a Clinical Research Associate (CRA), do you know exactly how it could make YOUR work life easier? If not, read on. 
CRAs are like the life force of a study. You perform the day-in, day-out tasks that keep each study moving forward. You get each site up and running, keep track of what's happening as the sites progress, and tie up any loose ends when each site completes the study.
And, you probably do a lot of that using multiple spreadsheets. Site contact logs? Enrollment logs, anyone? As a CRA, you have (at least) two critical jobs: Keeping a current list of who's involved in the study at each site, and processing subjects as they move through the study (which, of course, drives the payments process).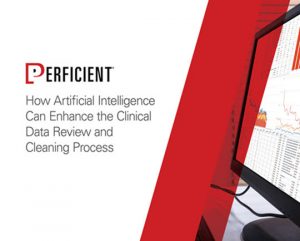 This guide analyzes how artificial intelligence – including machine learning – can be used by pharmaceutical and medical device companies to improve the clinical data review and cleansing process.
Siebel CTMS makes it easy breezy to maintain the site contact log. In fact, you don't even have to do ANY data entry for this – you just search for the name you need and assign that person a role at the site from a pre-populated dropdown list. The data entry of the names, organizations, and addresses is all done by your Clinical Administrator. All YOU do is associate a person to a site (i.e., search and select).
More importantly, Siebel CTMS makes the subject tracking process like a trip to Disneyworld. How? With a magical button, of course. Entering a new subject takes just a few seconds, and scheduling their screening, enrollment, and end-of-study visits literally happens with the click of a button.
This scheduling button is TRULY magical. When clicked, it creates a record for every anticipated visit for the subject, along with an anticipated occurrence date and the expected site payment amount for the visit. (To see this magical button in action, check out this short video.)
Maintaining subject statuses is also a piece of cake, and the way Siebel CTMS handles this preserves the complete history of the subject – no previous statuses are overwritten. The system even offers full-color graphs related to subject enrollment that can be rendered as PDF reports to make Study Managers and Program Managers happy.
In addition to all of those beautiful site contact log and subject enrollment management features, Siebel CTMS includes modules for tracking site documents, tasks, and correspondence. On top of that, Perficient's Siebel CTMS accelerator, ASCEND, includes additional modules for tracking site supplies, subject adverse events, site and subject protocol deviations, and site action items.
Goodbye, multiple spreadsheets! I'll have all of MY clinical trial information centralized, thank you.
To learn more about Siebel CTMS or Perficient's ASCEND CTMS, contact us. To make life even easier, integrate Siebel CTMS with your EDC system.