It is almost always advantageous to be able to "make sure" your Cognos TM1 environment is "ready for use" after a server restart. For example, you may want to:
Create a backup
Load the latest sales data
Initialize security
Etc.
Hopefully, you know what a TM1 chore is ("a chore is a set of tasks that can be executed in sequence that are typically TurboIntegrator processes) and understand that, as an administrator, you could login to TM1 and manually execute a chore or process, but there is a better way.
Let TM1 Server do it!
To have the TM1 server execute a chore immediately after (every time) it starts up, you can leverage a TM1 configuration file parameter to designate a chore as a "startup chore". This is similar to w MS Windows service that is set to "automatic" (most likely like your machines TM1 servers):
To indicate that your chore should be run when the server starts up, you go into the (TM1s.cfg) configuration file and add the parameter: StartupChores.
You simply list your chore (or chores separated by a colon, for example:
StartupChores=ChoreName1:ChoreName2:ChoreName3:ChoreNameN
Don't worry too much about adding this to the configuration; if this parameter is not specified, then no Chores will be run, and if the chore name specified does not match an existing Chore then an error is written to the server log, and TM1 tries to execution the next chore indicated (if no valid chores are found, the server will simply start/become available as normal).
These chores will run before the server starts up (technically, the server is "up", just not "available" to any user yet):
Startup chores run before user logins are accepted and before any other chores begin processing.
Here is my example: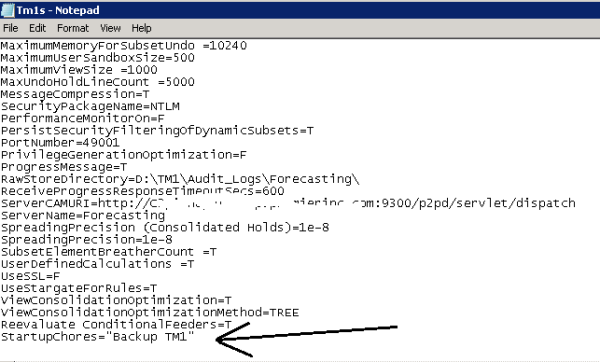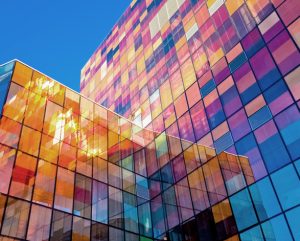 With some guidance, you can craft a data platform that is right for your organization's needs and gets the most return from your data capital.
Once I restarted my server, I checked my server log and verified that the chore (Backup TM1) did in fact execute: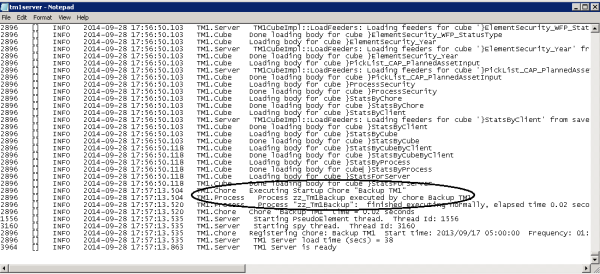 Note:
Since Startup chores are run before any logins are allowed, you'll have trouble trying to monitor the Startup chores with tools like TM1Top or even Operations Console – and therefore there is no way to cancel a Startup chore with the exception of killing the server process.
Startup!