You are probably already aware that features such as Multi-Currency, Person Accounts and Territory Management must be enabled via request to Salesforce Customer Support.  You "Open a Case" via the Salesforce Help & Training Portal, signoff on the conditions and/or consequences of the feature enablement, and voilà…you have a new feature enabled in your Salesforce org!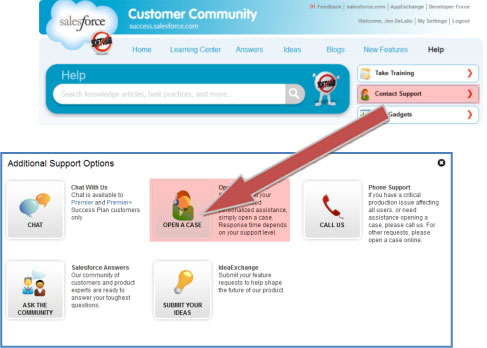 That said, I would venture to guess that you are not aware of just how many features you can request!  The list is L-O-N-G.
Some of these items are ready-to-use; just ask Salesforce to enable them and you're off and running.  This level of flexibility helps to provide Salesforce Users with additional "out-of-box" functionality leaving Salesforce Admins with more time to work on enhancements that do require configuration or custom development. (Example: 10 MB Attachments)
Other types of features open doors to capabilities of Salesforce that can be leveraged in configuration or custom development.  (Example: Email Relaying)
Whether you hit the ground running with a new ready-to-use feature, or enable a feature that allows you to build something faster and better, the bottom line is that functionality becomes easier to implement, which is a win-win for Admins and users alike.
Let's review some of the less known features you can request for enablement.
See the full list documented by Salesforce and the editions in which they are available[1].
Login Access Policy: Administrators Can Login as Any User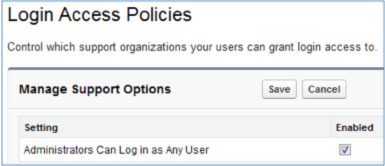 Grant Login Access is an extremely useful feature whereby a User can permit their Administrator to login as them, thereby permitting security issue troubleshooting, etc.  Via request to Salesforce Support, the ability to turn on Grant Login Access across the board can be turned on by the System Admin – a tremendous time saver!
10 MB Attachment Limitation
Salesforce "Attachments" permit a maximum file size of 5 MB.
If you frequently hit this limit with files in the 5-10 MB range, you can request that Salesforce increase the limit to 10MB!
Email Relaying
Standard Salesforce email functionality routes outbound emails from Salesforce through the Salesforce SMTP servers.  Often companies (for compliance and/or deliverability purposes) wish to route emails sent from Salesforce through their own servers.  Activation of Email Relaying will expose an administrative settings screen that will allow you to enter the necessary parameters pertaining to your company's preferences and email environment in order to send out Salesforce emails via your company's infrastructure.
---
[1] Some items previously requiring request are now available as settings that can be changed without explicit request from Salesforce.  Data Export Service, Single-Sign On and Sandboxes are a few examples.