So far in our 6-part blog series explaining the intricacies of TRACE, we have defined TRACE reporting, detailed the prep work to be done in order to effectively report TRACE transactions, and reviewed considerations for alternative trading systems. Now, for part 4 of the series, we will delve into the details of when and by whom transactions should be reported.
All broker-dealers who are FINRA member firms have an obligation to report transactions in TRACE-eligible securities under an SEC-approved set of rules. In transactions between two FINRA members, both members are required to submit a trade report to TRACE. In transactions involving a FINRA member and a nonmember, including a customer (a broker-dealer that is not a FINRA member), the member shall submit a trade report to TRACE.
The general rule is that both parties to a transaction in a TRACE-eligible security must report the transaction in TRACE "as soon as practicable" but no later than 15 minutes after the time of execution and during TRACE system hours. Transactions that are not reported within the specified timeframe are classified as late (FINRA TRACE reporting requirements always reference Eastern Time). This includes implementing and operating computer systems that commence the trade reporting process at the time of execution without delay. FINRA and the SEC take a dim view of brokers purposely withholding trade reports (e.g., by programming systems to delay reporting until the end of the reporting period.
TRACE time reporting requirements have numerous intricacies based on the security, the issuance status of the security, and the time of day reporting occurs. The following tables, starting with the most basic – U.S. Treasury Securities – provide reporting deadlines for the various TRACE-eligible securities that must be reported. Note that the definition of treasuries for this reporting and regulations example does include principal-only (PO) and interest only (IO) Separate Trading of Registered Interest and Principal Securities (STRIPS).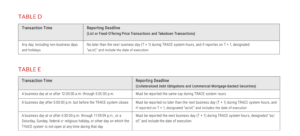 ***
Our financial services team can help your company understand and comply with TRACE. Our colleagues are well-versed not just in the requirements but also the technology and processes required to ensure financial institutions remain compliant with one of the most fluid, time-dependent, and onerous processes required by federal banking regulators.
Interested in learning more? I've created a guide, The What, Why, and How of TRACE Reporting Compliance, that outlines the intricacies, rules, and regulations surrounding TRACE. You can download it here.