As new non-COVID-related clinical trials proliferate, the need for effective global decentralized CT management is becoming even more apparent. What is needed, says Dr. Harsha Rajasimha of Perficient's life sciences technology partner Jeeva Informatics, is to expand the capabilities of validated and human-centric digital technology.
Clinical trials in certain common serious diseases are on track for their first year-over-year increase since the outbreak of the COVID-19 pandemic. Among areas slated for significantly increased testing are diabetes, hypertension, and respiratory tract infection.
Along with these activities will come a marked increase in decentralized clinical trial design, expected to increase 28% this year over 2021. By joining forces to enable the increased growth of decentralized studies, technology companies are transforming the face of medical research. The remotely managed, decentralized clinical trial is the wave of the future.
One reason for this is the ongoing lack of diversity among patients participating in traditionally structured clinical trials. Historically, clinical trials have tended to take place in close proximity to major medical research organizations; some 50% of FDA trials are conducted in one to two percent of all US zip codes, leading to under-representation of members of racial or ethnic minorities. The solution is to allow socio-economically and geographically diverse patients to participate in clinical trials independent of their location via a modular and flexible bring-your-own-device solution.
There has been a growing awareness of the need for decentralized clinical trials for some time. A few years back, for example, the National Academies of Sciences convened a forum on transforming clinical trials through technology. Various speakers took note that:
The traditional research model requires a massive investment of resources before acquiring any feedback on study viability.
New technology such as wearable devices, remote monitoring, and virtual clinical visits could make Clinical Trials more patient-focused.
Social media offer increased opportunities for patient engagement.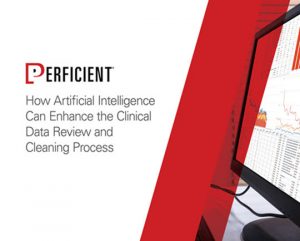 This guide analyzes how artificial intelligence – including machine learning – can be used by pharmaceutical and medical device companies to improve the clinical data review and cleansing process.
For decentralized clinical trials to work effectively, however, it is necessary for the various technologies involved to work together effectively. Companies like Jeeva Informatics are developing the next generation of virtual platform technology that gives sponsors and CROs greater flexibility with a modular eClinical platform for global trial operations.
Diversity Gaps & Other Clinical Trial Lessons Learned
Over the course of the COVID-19 pandemic, it has become clear in a number of ways that remote access to clinical trials is essential.
The pandemic has made many prospective enrollees unable or unwilling to travel to a hospital or other major medical facility to participate in a new drug study.
A large percentage of CTs will experience delays, costing the developers as much as $1 million per day.
Traditional trials have led to a serious lack of diversity.
The accelerated process used for COVID-19 trials has conclusively demonstrated both the need for and the efficacy of decentralized clinical trials.
Technology platforms partnered with a systems integrator can accelerate data collection and provide both better integration of the disparate software and data systems involved and platform-level unification of the entire CT process. What is needed is the ability to knit patient outcomes—from virtually any device—into an integrated 360-degree view.
In fact, the last few years have seen an enormous increase in how technology is applied to clinical trials. The use of Artificial Intelligence technology in matching patients to clinical trials, in diagnostic devices, the proliferation of smartphone use in clinical data-capture, cloud services to store and access to Electronic Medical Records and many more examples have led to one inescapable conclusion: clinical trials can now be conducted entirely in a virtual format. There are many challenges still to conquer, but eliminating the need for in-person interaction coupled with real-time access to data are encouraging news for the future of clinical trials.
On one level, a clinical trial is a one-off project—a test of the response of X subjects to Y treatment. On another level, however, it needs to be a comprehensive digital data collection and processing platform.
Being a part of the Amazon Partner Network (APN) and a Perficient partner enables Jeeva Informatics to achieve both data collection and process unification, thus delivering dramatic improvements in cost- and performance-effectiveness to the sponsors of clinical trials.
"Our life sciences and healthcare clients count on Perficient's deep industry and technology know-how to accelerate innovation, elevate health, and minimize risk," said Santosh Nair, vice president, Perficient. "Our integration and strategy expertise paired with Jeeva's breakthrough eClinical Cloud™ platform will power more patient-centric trials, equipping clinical researchers, hospital sites, academic medical centers, CROs, and biopharmaceutical sponsors to accelerate patient enrollment and introduce more life-enhancing products to market."
LEARN MORE: Diversity, Equity & Inclusion (DE&I) in Healthcare
Jeeva x Perficient: Driving Integrated, Efficient Clinical Trials
The personal experience of losing a child born with a rare disease and a brother with a chronic disease became the springboard for Dr. Harsha Rajasimha to apply his years of postdoctoral training at NIH and FDA to accelerating therapies for rare and common conditions. He knew that technology in itself is not the limiting factor and that patient-centered design guided by stakeholder needs and regulatory requirements would guide their continuous learning digital platform. By digitizing and automating manual repetitive tasks and reducing the logistical burdens on patients and study teams by over 70%, Jeeva accelerates the process of bringing new medicines or vaccines to patients who need them by over 3x faster. The Virginia-based company's modular software-as-a-service platform is fully scalable and facilitates patient enrollment, engagement, and evidence generation in clinical trials on any browser-enabled mobile device.
Learn more about Perficient's expertise in life sciences, and contact us to learn how we can power your clinical trials with the Jeeva Informatics platform.