Managed service offerings (MSO) is the department in an organization responsible for all application support activities. These support engineers work on various technologies, take care of the numerous support issues, and provide resolutions.
Here's why support analysts are important members of any business.
The Role of the Application Support Analyst
Support analysts fix the application and system issues that interrupt the expected behavior of an application with a critical business impact. They handle the production or live issues that need immediate action and are abstract and creative thinkers who thrive on tackling difficult challenges.
These analysts need to work with cross-functional teams to handle multiple technology-based projects simultaneously. They must come up with plans designed to help avoid issues, which involves regularly evaluating the current state of the application, identifying aspects to improve, and recommending changes to facilitate those improvements. They are responsible for day-to-day maintenance, change requests, and keeping detailed records of the application's performance and shortcomings to review and analyze further.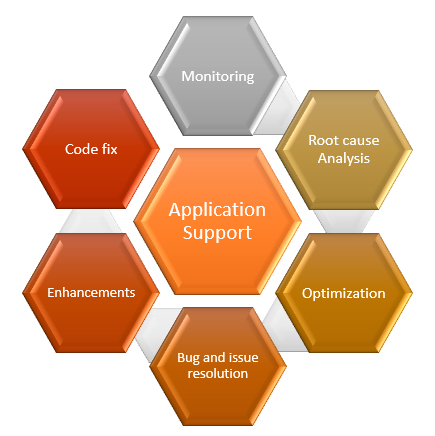 The Necessity of Tiered Support
Tiered support refers to the way that a support center is organized to handle incoming support issues in the most effective and efficient manner possible. Tiered support will result in a significant number of benefits to the support organization:
Handle and resolve most issues through first-line support, resulting in optimized resolution times
Optimize performance with respect to achieving KPIs such as average response time, resolution time, user satisfaction level, the average cost per incident/request, etc.
Maximize customer satisfaction levels through faster average response and faster resolution time performance
Performance Measurement and Metrics
The performance of this tiered support is monitored and measured continuously. Typically, MSO tracks and reviews weekly report on the following deliverables:
Incident, problem, and change management
SLA compliance based on incident priority
Scheduled and proactive maintenances
Value addition
Support is divided into three layers:
Level 1:
Triaging
Monitoring
Resolution as per KB
Level 2:
Root cause analysis
Scheduled maintenance activities
Level 3: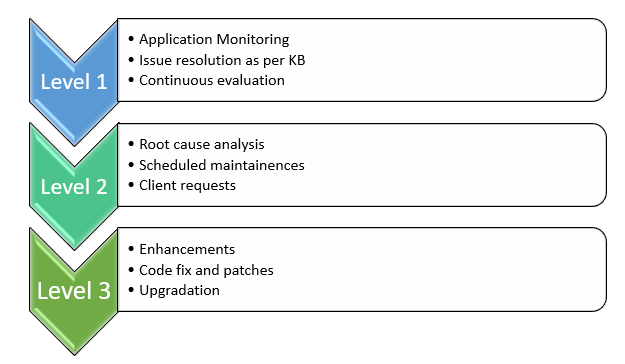 A support system orbits around a 3-tiered support system:
Tier 1:
A tier 1 support or level 1 (L1) support person is responsible for basic customer issues. The L1 support analyst tasks typically include:
Triaging – The logging, prioritization, tracking, and routing of incidents reported by customers.
Monitoring the alerts and notifying the concerned team – A process of requests received from monitoring systems or client representatives. This may require forwarding to level 2 and level 3 support engineers based on the nature of the issue.
Database monitoring – Monitoring availability of the database, events like DB availability, instance availability and space availability, and all database-related activities.
Accountable for performance-related system and application issues – High CPU/memory/disc utilization, application performance, and application and query tuning. According to project requirements, L1 support analysts need to gather customer information and determine the issue by analyzing the symptoms, and they can handle incidents referring to the knowledge base for each respective project, technology, and application.
Personnel at this level have the required understanding of the application but may not always have the ability to solve complex issues. Nevertheless, the goal of the L1 support analyst is to handle every incident reported to MSO before taking the issue to the next level.
Tier 2:
Tier 2 or level 2 (L2) support engineers are responsible for assisting tier 1 personnel in solving basic technical issues, investigating elevated issues by confirming the validity of the incident, and finding solutions related to these more complex issues. They do this by:
Looking for known solutions related to these complex issues
Understanding the accomplished tasks by the L1 personnel before troubleshooting
Refer to runbook to resolve the issue as needed
Primary responsibilities include:
All the scheduled administrative activities for systems and applications.
Providing the root cause of the issue
Coordinating with any other support group or dependency group based on the analysis and role of services managed by those groups
Tier 3:
Tier 3 or level 3 (L3) is the uppermost level of support accountable for resolving the most difficult issues.
It is synonymous with back-end support, high-end support, and many other titles denoting expert-level analysis and troubleshooting. The L3 group participates in the following:
Operations management, prioritization, and minor enhancements/fixes planning
Problem management and stability analysis
Identifying, defining, and configuring scheduled tasks for applications and underlying systems
Identifying issues in advance and looking for continuous service improvements
These individuals are subject matter experts (SMEs) in their fields and responsible for the research and development of resolutions to unknown or new issues. This is usually the final frontier in application support.
Ensure Your Support
Tiered support ensures that application performance is always monitored, proactive maintenances executed at defined times regarding continuous performance, performance through enhancements and code fixes, and measurement to enhance quality and marketability to the industry. For more information on MSO, contact our experts today.