From ambitious startup to formidable force, Perficient has come a long way in the past 20 years, and our performance and momentum have never been stronger.
We held our initial public offering on July 29, 1999 – at the time with only 19 employees. On May 22, our executive team celebrated our 20th year on Nasdaq with a return trip to Times Square to ring the Nasdaq Closing Bell. With more than 3,500 colleagues around the world, more than half a billion dollars in revenue, and strong relationships with Global 2000 and Fortune 1000 customers, the ceremony marked a significant milestone.
"There's much to celebrate," said Perficient Chairman and Chief Executive Officer Jeffrey Davis before ringing the Nasdaq Closing Bell. "And the best news is, we're just getting started."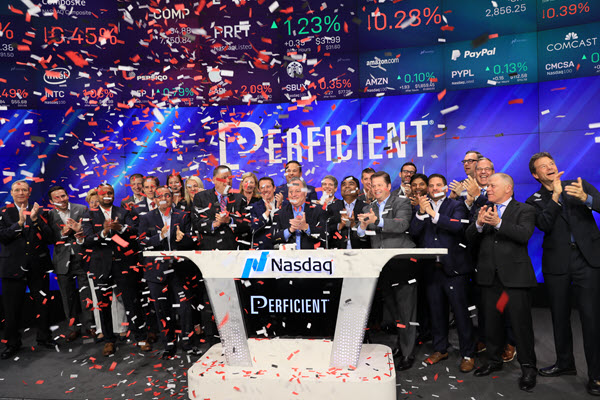 Watch the ceremony here:
During the ceremony, Davis (pictured below right) reflected on our milestones and thanked all involved in our successes.
"First and foremost, I'd like to thank our customers. The trust you place in us – we will never take it for granted or let you down," Davis said. "I want to thank the executives and leaders here today. Each of you have made incredible contributions to our business. I want to thank our more than 3,500 colleagues around the world. You are the reason we succeed. I also want to thank the equity analysts that cover our firm and the investors who demonstrate faith in our long-term growth story. And, of course, I want to thank the Nasdaq for our partnership."
🎉Leading digital transformation consulting firm @Perficient just rang the Closing Bell at Nasdaq in celebration of its 20 year listing anniversary. Congratulations! $PRFT pic.twitter.com/2OjBEwnwiu

— Nasdaq (@Nasdaq) May 22, 2019
Patrick Schwierking, vice president, Sales and North America East Region, at Perficient, also spoke to our achievements.
"As a leadership team, we're fired up to be here today celebrating 20 years of achievement with great prospects ahead," Schwierking said. "We're helping established brands and large tech companies deliver compelling front-end digital experiences that drive meaningful results in the form of attracting, converting and retaining clients via all digital channels. In parallel, we're helping companies modernize and optimize back-end technology and business processes to enable those highly personalized front-end experiences with technology from our key software partners.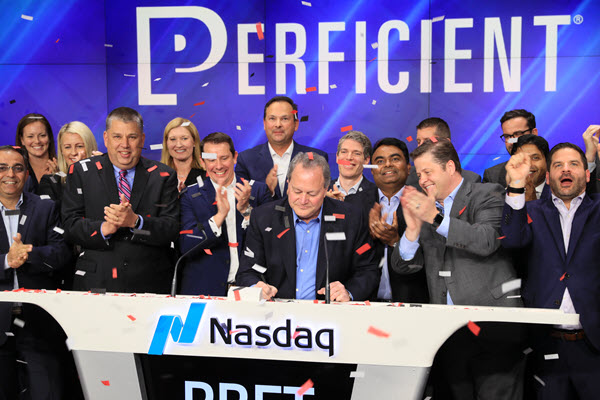 "We are passionate about helping our clients dominate digital which means expanding revenues, increasing efficiencies and ultimately delivering improved bottom-line results," Schwierking said.
Our colleagues who attended the ceremony said they were honored to be part of the big day.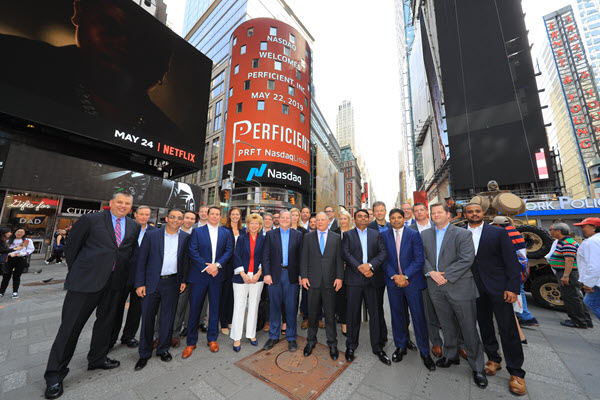 "Taking part in the Nasdaq Closing Bell ceremony was a celebration of our strong company performance through the years – a performance that continues to be rooted in an exceptional partnership between our customers, shareholders, and employees," said Kevin Sheen, Vice President, Global Delivery and North America West Region, Perficient. "For me personally, it was an honor and highlight in my professional career that I'll remember for years to come."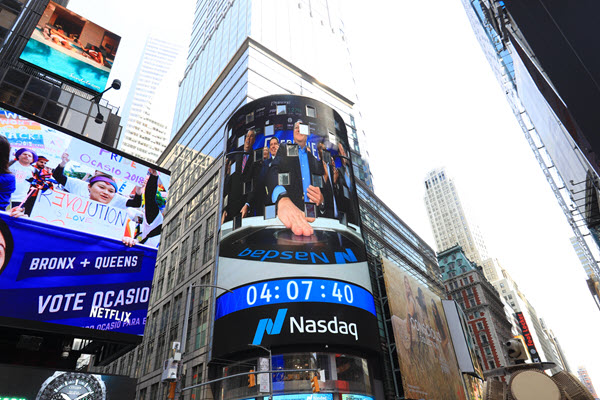 Vishal Rajpal, General Manager – Cloud, at Perficient, reflected on all the ways we've helped our customers succeed – and all the ways we will continue to do so.
"We were honored to ring the Nasdaq Closing Bell at a time where technology innovations are making a big impact to what the future brings for businesses all over the world," Rajpal said. "In the past decades, we have had great accomplishments helping our customers innovate and grow their businesses solving complex technology challenges. We are extremely proud of what we have accomplished for our clients, technology partners, and employees over the years. Our execution and thought leadership integrating and building complex solutions leveraging technologies from our technology partners like Pivotal, Amazon, Google, Microsoft, IBM, Red Hat, and others are key to guiding our customers into the future."
We look forward to a bright future ahead.
"I'm so proud of all we've accomplished," Davis said. "And as I mentioned earlier – the best is yet to come."
---
Connect with us on LinkedIn here and follow us on Twitter here to see all of our Nasdaq Closing Bell ceremony coverage!