Day one of Coveo Impact 2019 in San Francisco was brought to a close with the Coveo Community Awards this evening. These awards celebrate customers and partners that are progressing through the Coveo Relevancy Maturity Model and demonstrate a real commitment to leveraging the platform. As a Coveo Platinum Partner, Perficient is proud to be selected for the 2019 Coveo Accelerator Award.
This award is presented to partners that deliver innovative Coveo solutions and support shared customers' success. The award recognizes Perficient's exhibited deep knowledge and technical expertise, understanding of customers' business challenges, and delivery of value-driven business outcomes. The award criteria included: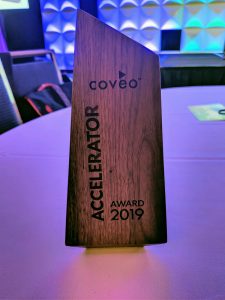 ·         Leveraging Coveo as a cornerstone of a digital transformation initiative
·         Innovative/creative application of Coveo
·         Speed and quality of implementation
·         Proven adoption within a customer organization
Throughout Perficient, and particularly within its dedicated Search, Sitecore, Salesforce, and Microsoft Dynamics practices, the organization is investing in the Coveo partnership by training sales and implementation workforces on how to best use and implement the platform, and on the value that Coveo brings to businesses everywhere. Perficient is also investing in IP on top of the Coveo platform, readying connectors for systems such as IBM Web Content Manger and Portal, IBM FileNet P8, Documentum, and online providers such as GetAbstract.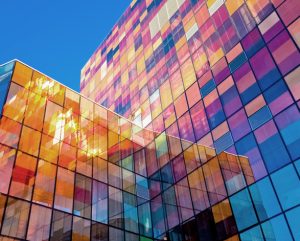 With some guidance, you can craft a data platform that is right for your organization's needs and gets the most return from your data capital.
Perficient's director of Enterprise Search and Content, Eric Immermann, accepted the award and shared his excitement on behalf of the organization.
"We are honored to receive this award that recognizes the breadth and depth of our expertise with the Coveo platform," said Immermann. "Consumers demand personalized experiences. As a Coveo Platinum Partner, we're committed to delivering innovative search technology solutions that enable our customers to provide relevant and meaningful interactions across all digital touchpoints."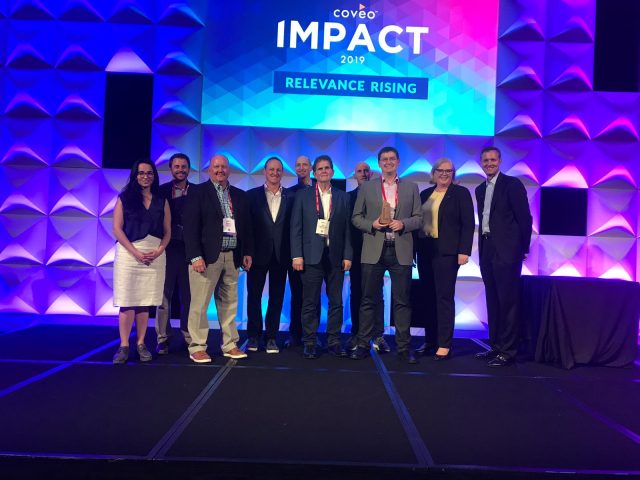 Perficient is also proud to be a sponsor of Coveo Impact 2019, exhibiting at kiosk #6 in the East Lounge. Stop by and meet some of our award-winning experts and find out how Perficient and Coveo's AI-powered search and recommendations platform can enable employee proficiency, increase customer satisfaction and drive overall business growth.