DevOps has come a long way in the past few years, evolving from a buzzword to a technical philosophy possessing a great deal of thought leadership. According to a recent survey of 300 enterprises by DigCert, adoption is occurring at an accelerated rate, finding that almost half (49 percent) of the respondents says they have completed DevSecOps, while another 49 percent say they are already working on it. Only 22% say that DevSecOps is going really well.
Such survey data is in line with research firm Gartner, who predicted several years ago that 50% of enterprises would adopt DevOps by the end of 2017. In our outlook here at Perficient, we're noticing more organizations warming to the necessity of DevOps, especially as customers demand more out of their services on the market.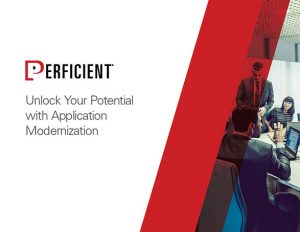 Application modernization is a growing area of focus for enterprises. If you're considering this path to cloud adoption, this guide explores considerations for the best approach – cloud native or legacy migration – and more.
Other insights from DigCert include:
Those that have achieved DevSecOps say it took them anywhere from 12 to 14 months to make the transition. Those that have not completed the transition are estimating it will take them seven to 11 months. Most underestimated in the transition is creating a culture conducive to both developers and IT.
Security is top-of-mind for numerous professionals, with 88 percent of respondents saying it is somewhat to extremely important to integrate security into DevOps. Many see a failure to adhere to security needs leading to increase costs, slower application delivery, and increased security risks.
A recommendation to invest in automation, integrate and standardize, and appoint internal evangelists who can help further optimize the DevOps process.
With these insights in mind, we anticipate a greater focus on security and altered timelines to ensure that expectations are continually met within the organization.
Adopt DevOps
Where do you stand on these numbers? If you're interested in learning more about our DevOps capabilities, reach out to a specialist at sales@perficient.com and download our DevOps guide below for additional best practices.