In today's world, an increasing number of shoppers are shifting their preferences from physical stores to online ones, such as mobile apps or websites. The growth of online shopping, accelerated by the COVID-19 pandemic, has led retailers to explore new avenues like eBay, Amazon, Walmart, Farfetch, and other marketplaces to sell their products and reach customers. 
While customers may visit a brand's commerce website, they often make their purchases through renowned marketplaces, both B2B and B2C-oriented. Examples of these marketplaces are Amazon and eBay. This preference is driven by the ease of use and familiarity these marketplaces offer. Consequently, integrating your brand's commerce store with these platforms becomes essential to tap into multiple selling channels. 
So, why is marketplace integration beneficial for your business? 
The Benefits of Marketplace Integration
Integrating with a marketplace offers several significant advantages. Firstly, it expands your audience reach and provides access to a wider customer base. Additionally, it allows you to leverage the existing infrastructure of the marketplace to manage additional orders seamlessly. At Perficient, we have successfully integrated different Order Management products with marketplaces like Amazon, eBay, Walmart, and Farfetch. This integration is achieved either directly using connectors or through third-party marketplace vendors like Channel Advisor, Vendornet, Mirakl, and more. 
Another key advantage of marketplace integration is the ability to utilize the established infrastructure of these platforms. Many marketplaces offer integrated payment gateways, shipping networks, and customer service systems. By integrating with these marketplaces, retailers can leverage these systems without the need to build their own. This not only saves retailers time and money but also helps streamline their operations. 
Below is what a typical topology with all key integrations for exchanging data across systems looks like: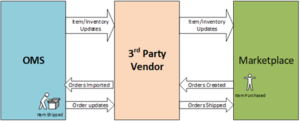 Let's

talk about each of these moving parts!
Integrating your retailer business with marketplaces involves several crucial moving parts. Let's walk through each of these integration aspects to understand their significance and how they contribute to a seamless integration process: 
Product Catalog Integration

: This integration is vital for retailers to ensure that their products are accurately listed on the marketplace. It involves synchronizing the retailer's product catalog with the marketplace's catalog, including product information, images, and pricing.

 

Order Management Integration

: After a customer place an order on the marketplace, the retailer needs to efficiently process and fulfill the order.

Order management integration

involves synchronizing the retailer's inventory with the marketplace and ensuring that orders are automatically received and processed within the retailer's system.

 

Payment Integration

: Connecting the retailer's payment gateway with the marketplace's payment gateway allows customers to make payments directly through the marketplace. This integration enables the retailer to receive payments directly into their account.

 

Shipping Integration

: By connecting the retailer's shipping carrier with the marketplace's shipping carrier, the retailer gains the ability to generate shipping labels and track shipments directly from the marketplace. This streamlines the shipping process and

enhances customer experience

.

 

Customer Service Integration

: Synchronizing the retailer's customer service system with the marketplace's customer service system is essential. This integration enables customers to contact the retailer directly through the marketplace's platform, facilitating prompt and efficient customer support.

 

Canceling or Refunding Orders

: Additionally, the order management system (OMS) can handle requests for pre-shipment cancellations and post-shipment refunds to third-party vendors. These requests are periodically processed with the marketplace to ensure appropriate refunds are issued to buyers.

 
Get Integrated with Marketplaces
With the right knowledge and functionality, these processes between systems can be synchronized and seamless, enabling retailers to unlock new growth opportunities and streamline their operations. To learn more about marketplaces and the benefits of integration, we invite you to download our comprehensive marketplace guide. If you have any further questions or need expert guidance, please don't hesitate to contact our team today.