Perficient colleagues around the world recently had the opportunity to attend a virtual Get to Know event with Autism Speaks through our Perficient Giving Employee Resource Group. As defined by Autism Speaks, autism, or autism spectrum disorder (ASD), "refers to a broad range of conditions characterized by challenges with social skills, repetitive behaviors, speech and nonverbal communication."
Autism Speaks is enhancing lives today and accelerating a spectrum of solutions for tomorrow. Throughout the presentation, Autism Speaks educated colleagues about their organization, elaborated on what autism is, provided facts and statistics about the changing dynamic of ASD, and discussed how Perficient colleagues could support the organization.
What is Autism Speaks?
Autism Speaks is an autism advocacy charity and the largest autism research organization in the U.S. They aim to improve communities and societies through research, advocacy, services, and support. Its mission is dedicated to promoting solutions, across the spectrum and throughout their lifespans, for the needs of individuals with autism and their families.
Founded in 2005 by Bob and Suzanne Wright, grandparents of a child with autism, businessman Bernie Marcus recognized the need for a powerful voice and donated $25 million to help financially launch Autism Speaks. Autism Speaks would later merge with three leading autism organizations to progressively advance research, expand direct funding and collaboration efforts, and continue immersing within communities.
The Autism Speaks mission aligns with Perficient's giving corporate philosophy, which aims to improve health and wellbeing, and is why the organization is one of eight supported through our Perficient Gives Charitable Match Program.
READ MORE: Perficient Donates $80,000 Through Perficient Gives
Why is this Work Important?
The prevalence of autism in the U.S. has risen exponentially since Congress passed the Children's Health Act of 2000, coinciding with researchers beginning data collection of ASD. In 2000, one in 155 children was diagnosed with autism. As of 2021, approximately one in 44 children were diagnosed, showing a 241% increase. The CDC also estimates that 2.21%, or roughly 1 in 45 adults, have ASD in the U.S. Autism has always been prevalent, but the Children's Health Act helped to increase awareness and advocacy, reduce the stigma, and enhance testing, all of which contributed to the rising number of diagnoses and improvements to early detection and treatment.
Considering the rapid growth the U.S. has seen, the more we understand autism, the better we're able to respond in a meaningful, productive manner for individuals on the spectrum. According to Autism Speaks, there are of autism. Level one is considered mild and requires support, level two is considered moderate and requires substantial support, and level three is considered severe and requires very substantial support. However, the spectrum of autism is extraordinarily vast, and as a heterogeneous disorder, no two individuals are affected the same.
The core initiatives of Autism Speaks are all created in an effort to better the community and society through:
Increasing global understanding and acceptance of people with autism
Being a catalyst for life-enhancing research breakthroughs
Increasing early childhood screening and timely interventions
Improving the transition to adulthood
Ensuring access to reliable information and services throughout the life span
One of many noteworthy projects Autism Speaks continues to work on is MSSING. The "I" is missing because the exact genetic component of autism is still unknown. This is a groundbreaking collaboration to create the world's largest genome sequencing database on autism with deep phenotyping. The goal is to provide the best resources to enable the identification of many subtypes of autism, which may lead to better diagnostics, as well as personalized and more accurate treatments.
Autism Speaks' efforts to increase awareness of ASD throughout the U.S. is not only benefitting communities, but also positively impacting workplace cultures and personal households. Autism Speaks has an evidence-based employment system, Workplace Inclusion Now (WIN), that enables employers to build and support inclusive workplace cultures through a comprehensive suite of resources. On a personal level, the developmental screening tool M Chat to allow for early childhood screening in any household. This tool evaluates children to see if a score is clinically significant, and if it is, the tool recommends further evaluation and local resources.
How You Can Help
Communities around the world have recognized the importance of increasing awareness and advocacy for ASD. Autism Speaks is a national organization that provides many resources for support, but also many opportunities to get involved in helping make a difference.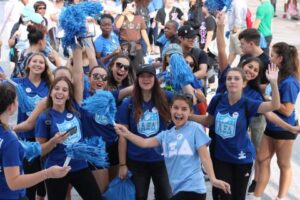 One way you can contribute to making a world where all people with autism can reach their full potential is through local volunteerism. This can include but isn't limited to event-based volunteering like committee participation or taking a position within an Autism Speaks regional or national board. Volunteers are also needed for the Autism Response Team (ART), an information line for the autism community. Members of this team are specially trained to provide personalized information and resources to people with autism and their families.
Aside from volunteering, you can support Autism Speaks' initiatives and campaigns for further federal and state advocacy, or even become an Advocacy Ambassador. To begin your personal journey to enhancing lives today and accelerating a spectrum of solutions for tomorrow, find your local Autism Speaks office or an international autism organization.
---
At Perficient, we continually look for ways to champion and challenge our talented workforce with interesting projects for high-profile clients, encourage personal and professional growth through training and mentoring, and celebrate our people-oriented culture and the innovative ways they serve Perficient and the community.
Visit our Careers page to see career opportunities and more!

Go inside Life at Perficient and connect with us on LinkedIn, YouTube, Twitter, and Instagram.