SCRUM DAY MN is a leading not-for-profit event in the Midwest where local Scrum practitioners gather to share ideas, lessons learned and inspire others who might be at the beginning of their Scrum journey. The conference offered multiple hour-long workshops, covering a variety of content, with one thing in common: hands on.
Throughout the day participants went from prioritizing an imaginary 'Alice in Wonderland' backlog to discovering their own strengths and weaknesses, and how that can impede or improve team collaboration.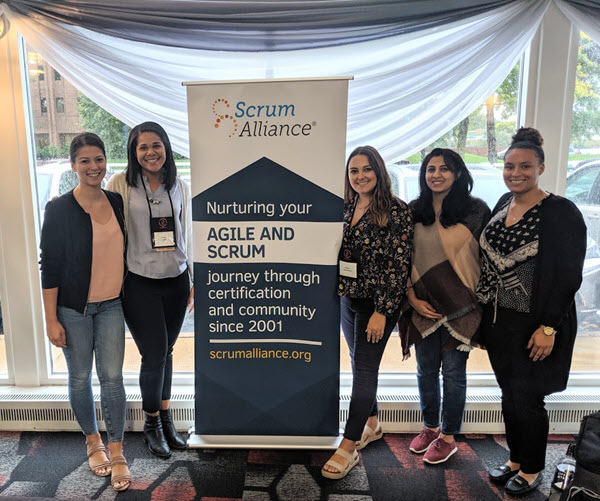 Keynote Speaker Review by Chloe Naumowicz, Associate Business Consultant
The keynote speaker, Tripp Crosby, comedian, content creator, and author of "Stuff You Should Know About Stuff" spoke on radical and incremental creativity. He emphasized the importance of allowing yourself the space to discover. Crosby shared that taking a pause to reflect allowed him to find new ways to live every day to the fullest, and have more, better ideas.
"Discussing Agile with Leadership" Review by Abigail Speller, Associate Business Consultant
Agile coach, Angela Johnson, discussed different ways to help leaders adopt Scrum or Agile without 'saying the "S" word'. She emphasized reframing the way we discuss Scrum and Agile to talk about the impact, rather than the framework itself.
Another suggestion was staying away from jargon that people aren't familiar with, and avoiding adjectives (such as 'pure', 'bad', etc.)
Lastly, to successfully drive the Scrum adoption, the speaker advised to stop judging, and instead start helping leadership in the adoption of Scrum or Agile. Saying things like, 'That's not Scrum' or 'Scrum says….' and 'You're doing it wrong' doesn't provide a path to normalcy, but rather puts people on the defense. Instead, we should be asking clarifying questions, and providing guidance and advice.
"How to Engage Teams in Sprint Retrospectives" Review by Tea Dejanovic, Senior Business Consultant
              More often than not, the question "What went well?" during the Sprint Retrospective is answered with crickets chirping. The session aimed to help participants convert crickets into conversation, and inspire teams to reflect in a fun and engaging manner. Before providing an overview of different retrospective methods, the presenter discussed some helpful do's and don'ts.
DON'T:
Either facilitate or participate, but not both
Avoid the blame game – instead, focus on how processes can be improved to serve the team better
DO:
Acknowledge things that are out of team's control that might have affected the sprint performance
Create action items, and revisit them at the start of the next retrospective
The sprint retrospective technique that stuck out the most to me was called 'Three Little Pigs'. Upon the start of the meeting, create three columns as follows and ask the team members to fill them in:
House of Straw: These are the items that could topple over at any minute, and are currently holding together by nothing more than sheer luck
House of Sticks: These are processes that work pretty well, but there is room for improvement
House of Bricks: These are items that our team does excellently and that invoke a sense of pride and accomplishment
Lastly, the most important take away regarding Sprint Retrospectives was to regularly create time to hold them. They are a crucial mechanism that allows the team to evolve and improve throughout the life of the project, and provide a chance for feedback in an open, honest, yet constructive atmosphere.
"Help Wanted: Seeking the Courageous" Review by Chloe Naumowicz, Associate Business Consultant
Of the 5 values of Scrum, courage is the base that makes the foundation strong. Speaker Kim Hauf asked the participants to think about what courage meant to us. Some suggestions were:
Vulnerability
Patience
Trust
Transparency
She shared examples of times where she needed to be courageous to enable Scrum and Agile in her company. Ultimately, the risks she took made her a better leader to her team, as well as gain recognition in the eyes of the company leadership. Risk, together with action yields courage.
When you're able to take the bold and honest route, it will trickle down and grow with others.
"I Know My Top 5 Strengths, Now What?" Review by Melissa Kelly, Associate Business Consultant
Teri Bylander-Pinke was highly engaging and offered various group exercises that allowed one to share their top strengths and learn those of others. During one of the exercises, we reflected on the following:
You get the best of me when…
You get the worst of me when…
You can count on me to…
This is what I need from you…
We discussed the answers with others in a speed-dating fashion. This exercise showed me how important it is to understand your teammates; their strengths, what motivates them, and what hinders them from excelling in their roles.  The exercise is based on Gallup's StrengthsFinder Assessment, which in the long run increases productivity and efficiency of teams, by maximizing on each individuals strengths. As a result, employees become more engaged with their peers, their tasks, and their projects.
"Skills to Become a Better Leader" Review by Saba Aslam, Associate Technical Consultant
Harvey Robbins presentation used basic principles of psychology to discuss different behavioral traits among team members. He outlined four distinct personality types that are the most commonly found in a workplace:
Analytical
Driver
Amiable
Expressive
Ultimately, a smart leader understands different personalities of their team members and leverages them to increase the productivity of the team as a whole.