"A walk in the park" isn't typically how one would describe climbing more than 100 floors of big city buildings.
But for Ian Linsell, a solution delivery director at Perficient, that's in some ways what the American Lung Association's Fight for Air Climb has become for him.
"…assuming that the park has lots of stairs – 2,340 to be precise," he added with a smile.
Challenging, for sure, but he and his colleagues in our Chicago office have had some practice. For the past three years, they've tackled the ascent up Chicago's four Presidential Towers and walked away a little winded but motivated to keep the tradition going.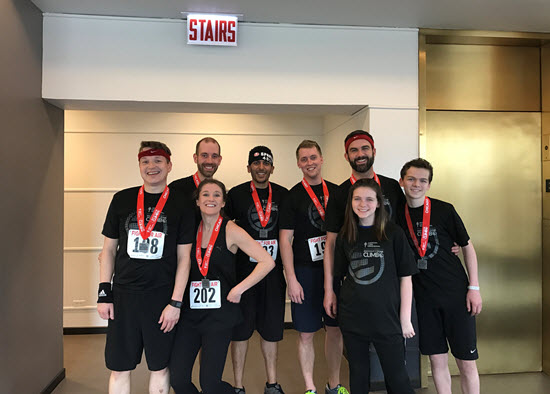 Our Chicago office has raised nearly $8,000 in the past three years through the Fight for Air Climb. This year, the team (pictured above) brought in a total of $2,146. The amount ranks Perficient at No. 25 out of 180 teams.
Our 2017 team included: Janne Pelkonen, Michael Buckman, Elizabeth Cahail, Brian Honaker, Ian and JoAnne Linsell, Vijal Patel, Matt McGillen and his daughter Ellie and son John.
The funds support the American Lung Association's mission of saving lives by improving lung health and preventing lung disease through education, advocacy, and research.
"Air quality affects everyone," Ian said. "As an avid cyclist I suck down lots of air, so air quality, reducing pollution, etc., are important to me. I also like the physical challenge of the event. It makes me feel like I earned the sponsorship money."
Janne, a senior technical architect, has also joined the Perficient team the past three years.
"Aside from the fact that it's an excellent cause, I participate because it gives me a personal fitness challenge and also an excellent opportunity to meet and interact with Perficient colleagues with whom I do not usually work," he said.
Vijal, a business operations manager, agreed. "It was a great experience and was even better that I got to share it with my co-workers," he said. "I've done different races in the past and am always looking for something different to challenge myself."


(Pictured above: some of the 2016 Perficient team)
Colleagues have brought their family members along as well over the years. Ian's wife traditionally managed his fundraising campaign and supported him on the big day. This year, she climbed right alongside. Together, they completed all four towers.
"The end felt twice as good this year," Ian said.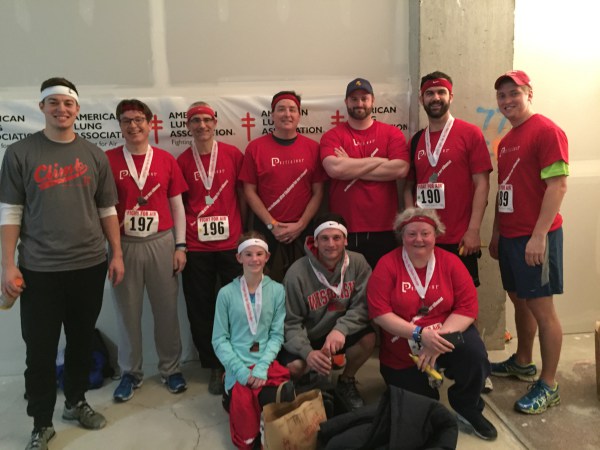 (Pictured above: the 2015 Perficient team)
The Fight for Air Climb has become a tradition for the team for all of these reasons and more.
"The event is well organized, with lots of supporters and fellow participants cheering you on, and you get to briefly talk to some interesting people between gasps for air," Ian said.
 Read more about how colleagues across all of our locations are making a difference in their communities.
---
Learn more about what it's like to work at Perficient here.
Follow Perficient's Life at Perficient blog on Twitter via @PerficientLife.
Connect with Perficient on LinkedIn here.