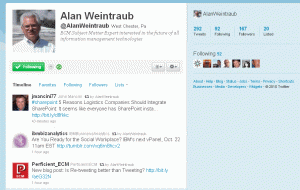 I have been using Twitter for most of this year to Tweet what I find to be interesting information.  (You can follow me at @AlanWeintraub). I am not one of those tweeters who tweets their every movement during the day.  I see the value of Twitter a bit different than most.
I feel that Twitter is one of the best methods to share an idea.   There are alot of smart people out there with great ideas.  When I see an informative tweet, I feel that my followers would benefit from seeing the tweet and reviewing the information in the tweet, which is usually contained in a link to an article or a blog.
Twitter may be the best example of "Whisper down the Lane", but with some better integrity.  If you have ever played the gane "Whisper down the Lane" (also called "Telephone" in some circles) you will appreciate the effect of repeating information from one person to another until it eventually reaches the last person in line.  The information that results at the end of the line is often completely changed from the the original piece of information.  This is due to our ability to remember exactly waht was said and passing it on to the next person exactly how we heard it.
When I re-tweet a Twitter message, I am insured that everyone who follows me will see the exact message that I read.  When my followers re-tweet the message to their followers, they will see the exact mesaage.  Soon the originator of the message, who may have had only a few followers, has now reached thousands.  To me this is a powerful communication mechanism that proliferates information much faster than we could have ever imagined.
So when someone asks you how many tweets you have created or how many people your messages have reached, tell them that it's not necessarily simply the number of original tweets you create that matter, but that it is how greatly your posts are re-tweeted that has a more significant reach for communicating your mesaage.
You can also follow Perficient on Twitter: Our main feed is @Perficient, and our ECM feed is @Perficient_ECM.