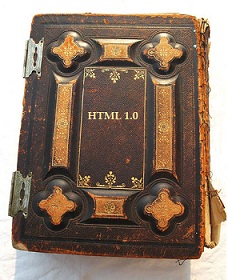 Or maybe the complete question is:  Since lots of SEO standards match HTML 1.0-4.0 standards why does it take additional work to optimize a web page after you go through all the trouble of creating it?
When you think about it, why isn't it already optimized?   For a large site with a few million pages this can be tons of re-work; maybe too much to even consider engaging without a compelling reason.  In today's world where we have advanced process management like Six Sigma telling us that a managed process costs us 75% more when that process is repeated for exceptions then why don't we do it right the first time?
To understand why things have developed this way we have to look back a few decades.
Remember back when you learned HTML?  I do.  I remember downloading HotDog from Sausage software and being very pleased that the installer finished as deafening alarms were ringing and our company was being evacuated for a bomb threat.
I spent the rest of that day building web pages on my laptop in a mall, a restaurant, and a friend's house publishing locally to Netscape.  If you're an old geek you remember being led around places while you were almost permanently tethered to your first laptop.  Life was simpler back then.
But why was it simpler?
Could it have been because publishing in HTML was like publishing in a modern word processor like MS Word, Word Perfect or Word Star?  When I started it was more like vi where I actually wrote source tagging.  So why do I remember that it was like using a popular document processor?  Maybe because it was so long ago, but regardless there may be more to this change in editing style.
I faintly remember that there was a time when you were compelled to adhere to HTML standards and then you suddenly did not.  I remember a page that I was working on fixing itself after I upgraded my browser.
That sounds suspicious.
What happened was that I forgot to close a table tag and the browser I upgraded from did not allow the table to render.  Curiously, once I upgraded the browser to the next available version it seemed that the sloppy tagging was no match for the browser and the table rendered as well as if there were no errors at all.
The fix was merely a by-product of the browser wars between Netscape and Microsoft who when fighting for market share appealed to webmasters by interpreting code that was falling farther and farther away from proper HTML standards.
Not only were sloppy tables rendering correctly but all sorts of things began to work by using less and less conventional coding.
It seems we have identified that the 'natural looking' evolution of poor HTML coding standards was not organic to technology at all.  It was driven by the browsers vying for market share.
I'm glad we're past that. But are we?
I'm going to be 40 this fall.  Go look at your webmasters and see if they look older or younger than 40, and here is why.
How can someone that didn't even see the evolution of the browser wars be expected to really understand HTML source code standards?  During the internet boom there was not enough time to publish everything.  So time spent publishing with good source code was considered unnecessary.  After all, since browsers didn't care and customers didn't care so why should editing tools or webmasters care?
Unfortunately, there was no money in good HTML source.  "Finish that page" meant "make it render and get on with the project".  No muss – no fuss and none of that extra stuff you don't see anyway.
Well guess what?  The unfortunate reality is that companies are only now compelled to repeat the process and it is costing more to do it now than the first time.  Six Sigma belts would call poor coding standards the exception to building web pages.  I call it the phenomenon of convention.  Regardless of what you name it the fact is that implementing good HTML coding standards today is re-work.  I guess when we thought there was no money in good HTML source we were wrong.
Who do we have to thank for this?  For me, I have to say thanks to the competition in the early 90's for browser market share.  If you are responsible for managing a multi-million page commerce site you should probably schedule to thank your SEO team before your competition has time to thanks theirs for implementing an effective SEO strategy.