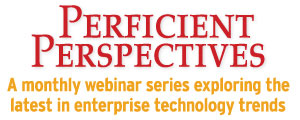 One of the biggest challenges faced by IT leaders today is spending a lot of time, money and resources trying to comply with government regulations and internal requirements, but yet still experiencing repeated non-compliance issues. On top of that, IT leaders often cannot determine why this is the case. It typically comes down to "culture" because cultural norms that naturally exist and evolve within an organization will trump IT framework every time.
Usually, IT compliance is goverened by committee: HR, Legal, Internal Audit, and IT. Any leaders in these functions can join Perficient's Amy Shavor, who leads the company's governance and risk compliance practice, for a free webinar this week to find out how IT can leverage a framework for enhancing culture within their business so that it will mitigate risk of business ethics violations.
This Thursday, May 27th, at 12:00 CST, join us for Perficient's free webinar on Managing Privacy Risk in the Digital Age.