Starting a BPM Project
So how do you start a BPM project?  There are many possible ways, from jumping in and doing to detailed, well thought out planning.  So when I posed the question to a LinkedIn BPM group, "When starting a new BPM project, what are the 3 key things to help ensure success?" I received some excellent, yet varied responses. So what to do with raw data to determine the value of the responses, both in terms of organizations and trends?  I used the results of to create a mind map as a method of organizing the data.
One of the key values of BPM is the ability to look at a group of business activities and determine their common groupings by the intent of the activity.  For example, in order to "bake a cake" I need to review a recipe, obtain raw ingredients, mix ingredients and bake the cake.  If I create a framework around this context, then other activities such as get eggs and get flour would be in the grouping "obtain raw ingredients", where add baking soda to flour would fall in the category of mix ingredients.  Other than making you hungry, hopefully this logical grouping example makes sense.  So, based on this context, I reviewed the responses to the above question and created a grouping of activities around "Plan BPM Project". The 3 main activity groupings identified were 1) Plan New BPM project; 2) Execute Project/ Program and 3) Monitor Project/ Program.  Then the specific responses to the questions I categorized in an Excel spreadsheet into the 3 categories and removed duplicates and some outliers that I could not determine fit into the 3 main groupings nor any other groupings. The result was an Excel spreadsheet of some great data, but being the visual person I am, I created a mind map from the data.  The advantage to the mind map is it validates/ challenges the groupings and it becomes easier to identify any holes in the logic.  The resulting mind map follows: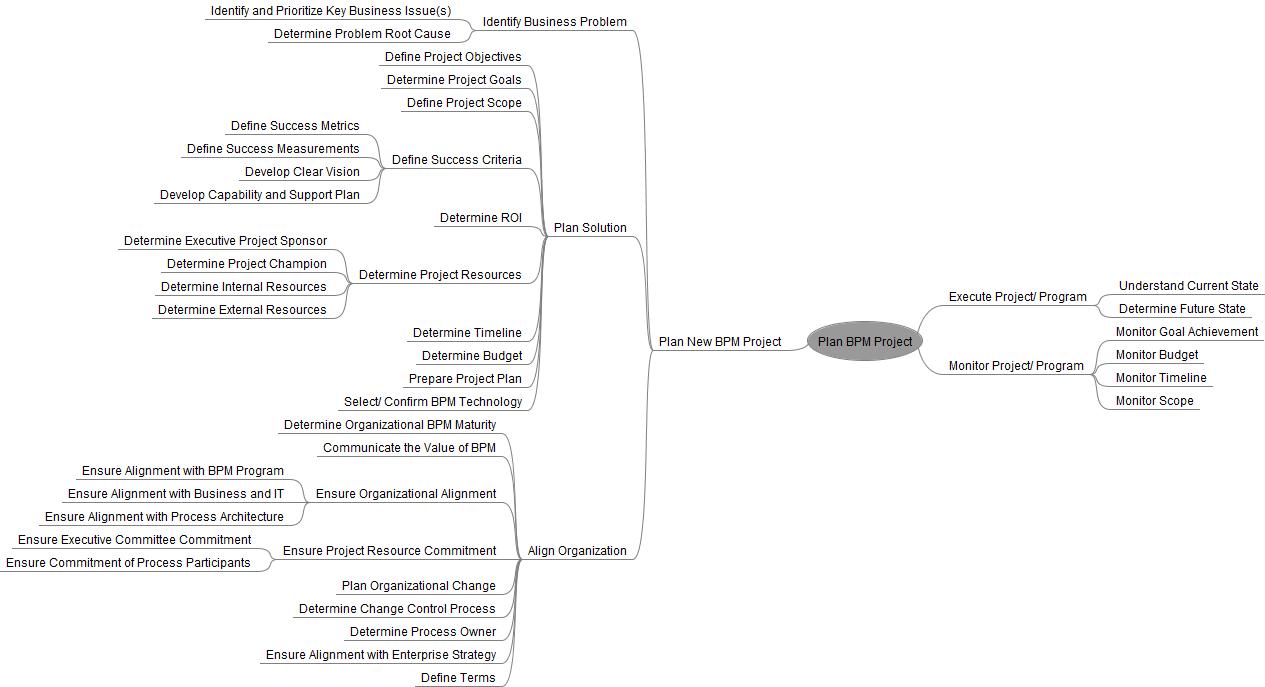 In any BPM endeavor, this is a great way to get started and create a "dart" board for Subject Matter Experts (SMEs) to review, critique and improve upon.  This was the next step in this process; I posted the above mind map for review.
The comments received were favorable, ranging from "Neat – this is very beneficial", to nicely done. No negative comments were received to my relief.  The bottom line is that there is commonality to starting a BPM project, or for that matter, any project. The bottom – bottom line is, although we sometimes think we are unique, there typically is commonality and BPM is a great way for a business to find that commonality to build upon.