At last month's Adobe Summit, Adobe officially unveiled and introduced the next generation of Adobe Experience Manager, AEM 6.3. There are a lot new and exciting things that the community is looking forward to in this new version. And this year, I am thrilled to have the opportunity to join the Adobe AEM Beta Program to preview and test the application. In case you missed Summit or aren't involved with the Beta Program, I've summarized all the new and enhanced features that you need to know (and likely care about) in Adobe Experience Manager (AEM) 6.3, which will become available to the general public next week, on Wednesday, April 26.
Projects, workflows and inbox (and collaboration)
NEW Master Project – Project team roles and permissions can be assigned to the master project and reused across multiple projects.
NEW Calendar View – Projects and tasks shown in a calendar view for better project management and scheduling.
Enhanced inbox user interface for greater collaboration and visibility into user's tasks and workflow.

Sites
NEW Experience Fragments – A set of content that can be reused across channels (owned channels and third-party touch points).
Enhanced Content Fragments – Enhancements include import plain text file, insert asset, summarize text with target number, rename/delete content fragment variations, add fragment to collection, asset card display, download content fragment, enhance the use of assets in content fragment.

Enhanced Touch UI – Sites editor, NEW Live Copy Overview, Blueprint Configuration Manager, Timewarp.
Enhanced Sites Template Editor – Consistent author experience with Sites, advanced policy configurations made available with Editable Templates.
Manage Publication from AEM Sites – Console for management of bulk un/publication.
NEW AEM Sites Activity Map integration – Display Adobe Analytics data directly on the AEM Sites page with different settings.
NEW side-by-side preview of page difference for Touch UI – Compare page versions, compare launch pages.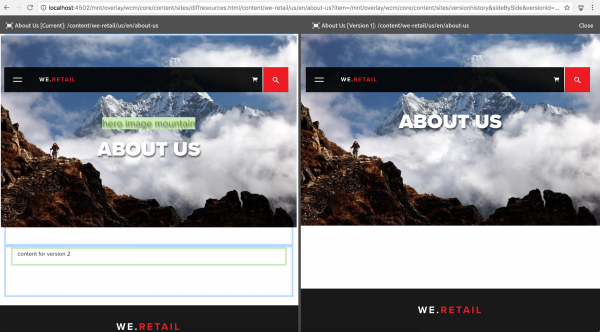 Assets
Enhanced Assets Search – New Search Boost to add keywords to the asset, multi-value search predicate, tag predicate.
New side-by-side comparison of images in Assets' Review Task.
NEW Check-in/Check-out – Let a user make changes to an asset while preventing other users from modifying the asset.
Enhanced AEM Desktop App – Sync Status console.
Smart Tags and Manage Tags console are available.
New create interactive videos – Allows user to create segments for the video asset and associate call-to-actions.
Enhanced Asset Annotation – Use different colors, print, generate PDF output.
New AEM Asset Template – Allows marketers to create brochures or other marketing materials easier when integrated with InDesign server.
Dynamic Media features available:- Color management, custom video thumbnails, non flash video player (using HLS technology, Apple's HTTP Live Streaming video delivery protocol), Dynamic Media Viewer enhancements.
Forms
New User Profile Integration – Automatically pre-fill adaptive form with user data.
Integrate with JDBC database and create form data model.
Enhanced Adobe Sign integration – Support anonymous and multi-user sign use-cases.
Enhanced Correspondence Management capabilities.
Platform
New Online Revision Clean Up – An addition to offline revision clean up with minimal impact to AEM performance, allowing you to keep a clean performant AEM instance.
Communities
NEW Featured Content – Allow community members to highlight content for blogs, forums, etc.
NEW Ideation Feature – Allow community members to create, view, follow, vote for ideas.
Prevent Spam and Flooding – Using contribution limits feature.
Enhanced Badge Management.
NEW Database Storage Resource Provider (DSRP) – Use a relational database to store user generated content (UGC).
Dispatcher Caching for Guest Visitors – Allow dispatcher to serve fully cached versions of a community site's pages.
Edit Community Groups from Author.
Use Livefyre components to embed UGC in experience.
Mobile
NEW AEM Mobile Content Services – Easier to request content that's managed by AEM, without deep knowledge of AEM's content repository (JCR) and web framework (Sling).
Model Management – Create and manage models, which describes the type of content and denotes what information will be available to the native application, entities, and spaces.

There truly are a lot of new and enhanced features that will come with Adobe Experience Manager (AEM) 6.3. With Internet of Things (IoT) devices become more and more popular, enterprises are looking to streamline digital experience across more than smartphones, tablets and desktops. CMS will need to not only support more types of content, but also deliver a fluid experience across different channels and devices easily. I am happy to see AEM 6.3 continues to empower the creation and management of digital experiences, backed by cutting-edge technology. AEM's user-friendly interface also gives you access to data insights and business intelligence – ultimately providing an integrative system for markers to manage content.
What feature are you most excited about? Anything that you were hoping to see that's not included in AEM 6.3? Drop us a line in the comments section below, we'd love to hear your thoughts.