Nearly two decades ago (has it already been that long?), I successfully transitioned my career which was steeped in financial services to a sole focus on the insurance industry. Throughout this period, my experiences within the insurance sector have spanned finance, strategy, operations, and consulting services. I firmly believe that this industry serves a noble purpose, safeguarding against risks that might otherwise jeopardize the well-being of individuals, families, and businesses.
ITC: Paving the way for the future of insurance
My excitement to attend the InsureTech Connect (ITC) event earlier this November was fueled by the anticipation of witnessing the convergence of like-minded individuals, discussing and debating the future of insurance.
During my career, I have witnessed the growth of friendships, the transformation of companies, and the ever-constant evolution of technology. Despite these changes, the passion for fulfilling the industry's purpose remains unwavering to my colleagues and I. Departing ITC, I am more inspired than ever about the prospects that are ahead for the industry.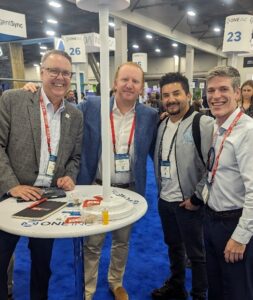 Leaving the annual gathering of insurance professionals, I reflect on a few key takeaways:
Data Fabric: While it may sound cliché, it is crucial to recognize that data is NOT the new oil. Unlike oil, data is a sustainable and renewable asset. The insurance industry relies on data—from valuing risks to managing and ensuring proper protection. Continued investment in data is essential not only for full understanding but also for knowing how to respond. Predictive analytics have the potential to transform our industry into a trusted partner, assisting insured individuals in mitigating and managing risks proactively.
Ecosystems: A connected ecosystem that integrates internal and external partnerships, processes, and technologies allows modern insurance operations to amplify their impact in the marketplace. Digital ecosystems can enhance speed, openness, value, and consumer focus.
Artificial Intelligence (AI): Undoubtedly, the hottest topic of the week was AI, specifically generative AI. Generative AI is poised to be revolutionary in our industry, offering decision-making capabilities and greater operational efficiencies; I'm excited about the transformative potential!
Being part of Perficient – a global digital consultancy transforming how the world's leading enterprises and biggest brands connect with customers and grow their businesses – magnifies my excitement toward the future of insurance. 
Perficient will actively collaborate with industry leaders in strategy sessions to chart the most efficient and successful path forward. Our team of subject matter experts and technologists will implement industry solutions, and we look forward to actively sharing those numerous successes in these dynamic and trusted spaces.
Perficient will champion your insurance practice!
Interested in how our insurance and financial services can benefit your business today? Contact us and let's work together to fortify your business against risks, streamline operations, and chart a course for growth.