Retail banks respond to the Federal Reserve's short-term interest rate adjustments with corresponding changes in lending and deposit rates. However, in the current rising interest rate environment in the United States since 2022, loan rates have adapted more rapidly than deposit rates.
Sir Isaac Newtown's first law of motion, which states that an object in motion will stay in motion and an object at rest will stay at rest unless acted upon by an external force, can be applied to retail depositors. When they need to change direct deposits, clear checks, or open new accounts at a bank, their funds often remain untouched. The challenge lies in gauging how rising interest rates act as an external force on these dormant funds.
This being the first blog post in a series of blogs by Perficient's Financial Services Risk Management and Regulatory Capabilities Center of Excellence (CoE), we will be investigating the deposit structures of non-client banks over time. This analysis helps both current and potential clients understand the resilience of different deposit types to rising interest rates.
Transaction Accounts
Regulators classify transaction accounts under the Monetary Control Act of 1980 and the Federal Reserve Regulation D for Federal Reserve requirements on deposit liabilities.
The Umbrella of Transaction Accounts
Demand deposits

Noninterest-bearing, payable immediately, or with an original maturity of less than seven days, without a notice requirement for withdrawal.

Negotiable Order of Withdrawal (NOW) accounts

Interest-bearing deposits with a notice requirement for withdrawal and transferability.

 Automatic Transfer Service (ATS) accounts

Automatically transfers funds between individuals' various accounts.

 Telephone and preauthorized transfer accounts
Deposit Balances Over Time
Data for the multi-state bank (as seen below) was obtained from US Bank Locations. This bank maintained consistent interest rates on transaction accounts without mergers or branch closures during the study period.
In table form, transaction account balances declined by almost 30% in the second quarter of 2022 as interest rates began to rise, later moderating in the latter half of the year. In the first quarter of 2023, these balances plunged over 40% due to reported U.S. bank failures but rebounded in the second quarter. Over the past 18 months, transaction accounts fell by almost 23%, showing they are not entirely inert.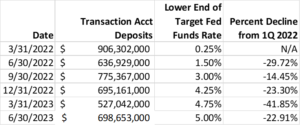 Presented graphically below, the reader can see the significant decline in the bank's transaction account balances during the time period analyzed.

See Also: FDIC's New Banker Engagement Site (BES): Improving CRA & Compliance Exam Communication 
Future Blogs
Perficient's Financial Services Risk Management and Regulatory Capabilities CoE will analyze balance trends for other deposit types using similar data from the same source and time period.
Unlock Financial Insights with Perficient's Expertise
If you're looking to delve deeper into the financial intricacies we've discussed, our team of financial experts at Perficient is ready to help. We can provide you with the comprehensive answers you need and guide you through the complex world of financial services. Don't hesitate to reach out and leverage our knowledge to make informed decisions. Contact us today and let's explore your financial questions together.
More Like This: 5 Major Advances in the Future of Banking, Financial Services, and Insurance (BFSI) Industry