Some colleagues certainly know how to brighten their careers by going beyond their role tasks and engaging in working social environments. Getting involved in the different initiatives, events, and activities their office coordinates to ensure a pleasant working day. Hugo Cardenas, who is based in Monterrey, Mexico, has always been recognized as the peer who spit-shines and brightens his career and his team´s. 
What is your Role? Describe a typical day in the life.
I am a Lead Software Developer. So, a typical day is, have a daily standup meeting, talking about what we did if we have blockers, then reviewing the code for enhancements/new functionality/bug fixing, while reviewing the code, ask the following questions: 
– Why are you not working?  
– How is that it works? debug, continue reviewing the code, ask the same questions again, and again, and again, and then OOOOOH THATS WHY!!! and proceed to fix/enhance the code (while not trying to break it).  
How do you Explain your Job to Family, Friends, or Children?
Software developer, I receive some requirements from the client, and then I translate what they want and need into code or words that the computer understands, so it can achieve what the user needs. 
How Have you Grown your Career with Perficient?
Learning and improving my knowledge on the new technologies we are using, innovating solutions, working with various clients from different backgrounds, from education, financial, medical, insurance. There is always something new and exciting to learn, new challenges to conquer, and ways to improve ourselves.
How Have you Personally Helped Advance Perficient's Business during your Career here?
Being client focused, always trying to fulfill our tasks in the best way possible, again teamwork is really important, working with the client and other colleagues to find the best approach, the best solution needed, delivering with quality, working together as one to achieve the goals and providing the best expertise. 
Whether Big or Small, How do you Make a Difference for our Clients, Colleagues, Communities, or Teams?
Always trying to give the best of me, something that I learned while working for an insurance client was their motto: "Honesty is the best policy." So, be clear when something is going wrong open up, we are a team, we will figure it out, this is not a "solo" mission, always giving a hand to help so we as a team can continue to improve. 
What are your Proudest Accomplishments, Personally and Professionally? Any Milestone Moments at Perficient?
Seeing everything we have been developing being pushed to production and have them live and that the real users are using it, because some implementations never pass the development phase sometimes. Every successful implementation on every different project is always something to celebrate. All the lessons learned, every person I have worked with is a proud moment. 
What has your Experience at Perficient taught you?
That we are not only the lone wolf employee that will survive on its own, because that's not how things work, we are a pack of wolves, we are a team, we help each other to grow. 
The lone wolf will be lost, while the pack survives. 
Why are you #ProudlyPerficient?
Because of the people, working with passionate colleagues, knowing that we can all work together, fulfilling and completing all the challenges that come in our way. 
Perficient Believes in a Strong Work/Life Balance. What is One Way you Accomplish This?
Even though I feel like I'm client focused, understanding that there will always be things to do tomorrow, focusing on the tasks that I'm able to complete today, so I can disconnect and enjoy life outside of work, understanding that life outside of work is essential for our health and wellbeing, and that will help us focus the next day, one day at a time.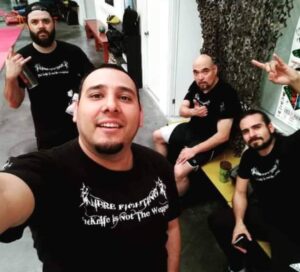 If you had to Define Yourself using One Perficient Value, Which Would it Be and Why?
Collaboration: Quoting Ned Stark "When the snow falls and the white winds blow, the lone wolf dies, but the pack survives". This is key in order for us to fulfill our goals, we are not only individuals trying to complete some tasks, we are a team of developers, BA's, QA's, Leads, this is only what the client sees, but we have also IT, HR, ADMIN, teammates that work together to fulfill our jobs, and not only focus on one task, we all work as a pack to fulfill our goals. 
More about Hugo Cardenas: 
He is a dedicated gamer, one of his biggest passions is grilling and smoking meat, he loves being in front of the grill, controlling and feeding the fire, either as a simple excuse to set up the charcoal and have some grilled hot dogs, or small steaks to make tacos, to a 12-hour slow and low smoke brisket. Just as he does with his projects as a Developer, he´s continuously working in improving, learning new recipes and techniques, and considering becoming an official Grill Master.  
Lord of the Rings fan, he possesses an impressive collection of swords. Hugo is a certified self-defense instructor; he has been training for 5 years and in repeatedly occasions has shared with his teammate's sessions, specifically oriented to women, to defend themselves with actual life techniques to help them feel safe, strong, and self-confident in public spaces.  
Hugo´s best piece of advice to colleagues who are starting their career would be: Give it your best shot, the professional journey is a constant path of learning and growing together with your team. Rely on them for help and you will all find growth while achieving your goals. 
IG: @JFire.Wd