Probably the most important realization of the automotive industry is that it is not just changing or even evolving — it is literally being redefined. The North Star has changed for OEMs from manufacturing to software and big data plays. These devices on wheels aren't just vehicles anymore. At least not in the traditional definition.  The Internet of Things (IoT) is making us smarter and changing everything, including altering our preferences, lifestyles, and priorities. It is changing the very civilization in which we live, making it critical for OEMs to create products that fit our new reality. The other end of that issue is what to do once these products start bringing up new challenges.
We're Not In Kansas Anymore
My first vehicle was not a brand-new vehicle — it was one I could afford — yet it was my prized possession purchased with hard-earned cash from my part-time jobs. It was lacking in most technology we think about today: a 1976 Buick Regal, and the most interesting thing about it was that it was bright red with a white top.
I loved the car and drove it everywhere until the engine blew at 97k miles — very different than the modern vehicles. It had air conditioning, but the windows were not powered. There was a basic AM/FM radio that I proudly replaced with a better mobile stereo I could take with me so it would not get stolen. This vehicle had no screens and was not connected to anything.  I changed the tires in winter so I can drive safer with snow tires.  I started the car with a key in the ignition. There are no cameras in this vehicle, so you had to turn around and look back to make certain you did not hit something when in reverse.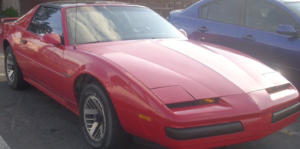 This car got me to my first job at a grocery store, started me on my college job at Commerce Bank, and got me through my first two years at college. Eventually, while in my second year of college, my 1976 Buick Regal died. Next, I bought a 1985 Pontiac Firebird, and the only upgrade was a CD player. Personalization was limited to my vanity plates, sports stickers on the dashboard, and fuzzy dice hanging from the mirrors.
Now, I drive a 2023 Ford Edge with a dashboard that has an Ipad-sized screen that basically runs the vehicle. I use Apple Carplay for my navigation, infotainment, and entertainment needs and have all my apps plugged in, so my hour-long commute is productive and enjoyable. I have a Blindspot Information System (BLIS) and rear back-up camera, so I am quite spoiled. I am very much looking forward to the next advancements where we will be replacing the mirrors in the vehicles with cameras and all of the parts within the vehicle will be connected.
Connectivity and IoT Enhances Commerce and Car Ownership
Modern vehicles are smartphones on wheels in which commerce is happening in new and exciting ways. Consumers can purchase what they want in the way they have become accustomed — through their smartphones. IoT-enabled in-vehicle infotainment systems provide services like music streaming, navigation, voice assistance, hands-free calling, and more. OEMs are developing Connect infotainment systems with cloud-based services such as improved navigation with 3D maps, free map updates, and an option to send destination instructions remotely to help connect their cars to the wider web and simplify car ownership.
IoT also enables predictive maintenance so consumers can solve issues with their vehicles before they become critical. This creates a safer vehicle for consumers as well as one that becomes much easier to maintain. IoT sensors gather real-time data on fuel consumption, engine temperature, fluid levels, run time, and more. This data is then analyzed to detect pre-failure conditions and alert the driver in advance. This approach to maintenance, compared to traditional scheduled check-ups, can help avoid unnecessary expenses and save time and effort while also helping prevent vehicle breakdowns.
IoT extends well beyond the vehicle itself, too. The entire network is connected so that the vehicle can react in real time to its environment. Semi-autonomous vehicles can take partial control of driving, braking, parking, or lane changing in response to the infrastructure and other connected devices and vehicles. IoT solutions and integrated in-vehicle cameras help smart vehicles calculate the safest and most efficient course of action to provide driving assistance and reduce the likelihood of road accidents.
The Big Data Issue
All the connected products that make up the IoT are creating a ton of data that helps consumers drive better, purchase better, interact with other drivers, and interact with infrastructure. A small example of this network is connected tires, where the product can provide data on driver habits, inform insurance companies to improve rates, and help ensure driver behavior is safe. Also, managing this data is important and there needs to be ways to prioritize, streamline, and monetize the tremendous amount collected from a connected world.
Big data analytics has driven the automotive industry to evolve rapidly over the past decade, especially when it comes to improving safety, reducing repair costs, extending uptime, and much more. It brings a ton of unique opportunities for experts in the field, helps to decide where to invest funds, recognize growth opportunities, predict return on investment, and handle unusual situations before they convert into problems.
This mass quantity of data, however, can become a huge issue for manufacturers who don't have the infrastructure yet prepared to handle it. The issue is not just storing this data, but sifting through it for valuable information, and then organizing and utilizing it in a way that improves business processes and the customer experience. This will continue to be an issue as connected products multiply and improve exponentially in the next few years.
Be Smart About Connected Vehicle Data
Partnering with a data-smart IT solutions consultancy is the first step to tackling the issue of data overwhelm that so many automakers are facing. Perficient not only has a published Strategic Position on connected vehicles, but on all kinds of data and IoT strategy that will give OEMs the foundation they need to tackle automotive's next big thing.
Create a sustainable competitive advantage by tapping into Perficient's automotive expertise.