This blog will discuss my experience attending the 2023 Workato Partner Delivery Bootcamp in Bangalore. This was the first time Workato has organized such an event for Strategic partners in India. As a Strategic Partner of Workato, Perficient was invited to join their event to discuss the roadmap, future statistics, and share strategies.
It all started with our aircraft's soft landing in Bangalore, followed by some heavy traffic. But that traffic didn't stop us from achieving what we planned and promised before leaving for Bangalore. Because once Roy T. Bennett said
Great things happen to those who don't stop believing, trying, learning, and being grateful.
This is what we felt like on the last day of the event.
Do you know why?  Let me share my experience of the why.
Workato Partner Delivery Bootcamp 2023
Workato conducted a four-day partner boot camp event to share upcoming plans, strategies, and many more. The event was not restricted to only planning, but they conducted sessions on different areas such as planning & design, development best practices, testing, deployment, and operational strategies. Their vision was to deliver integration more effectively and with clear development and deployment strategy.
This was the first time they conducted such a large-scale event for strategic partners in India. Workato invited more than 15 Strategic partners for the event. Sourabh Jain and I represented Perficient. Along with strategy discussions, they conducted a recipe-building session and a quiz related to the specific topic.
The Mysterious Workato
The event started with the welcome and introductions. The entire premises were set up and were completely boosted with positive vibes. All the Workato representatives came and had a conversation with us about our journey, stay, and experience in the integration field.
After interacting with all, the Workato team shared their agenda for the event for the scheduled four days. With that, the event began. They brought their experts there to demonstrate the topics, followed by the challenges and quizzes. They conducted a total of five quizzes, and Sourabh won two of them.
On the first day, we started with Workspace Management and the best way to structure your code and mostly to manage the code into your Developer org, followed by error handling and task optimization. On the second day, I learned more about the Architecture patterns, ETL/ELT, and APIM and HTTP connectors in detail. On the third day, we started with a very fun exercise: creating Bots and deploying those bots over other systems.
On the same day, they explained more about the troubleshooting & DevOps setup, followed by a deep dive into Workato SDK. All of this we covered in three days. On the final day, a hackathon showcased our capability and understanding. The hackathon was the only opportunity to showcase our skills and understanding, and yes… we did the same.
During these three days of events, we received ten badges for the representation of task completion.
The one who earned all nine badges was awarded one Super badge representing the Workato Tool expert.
No, wait, not expert! The Expert Chef.
Hackathon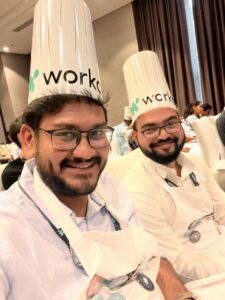 The day of the hackathon arrived. There were around sixteen teams, with 5-6 members in each team who participated in the Hackathon. However, a team competed with only two participants, and that was Team Perficient. Yes, we competed, and we WON because numbers didn't matter. On that day, we started building the code with all the best practices, and it took us around four hours to build the code and present the business requirement document.
In the first round of the presentation, we secured a place in the top four amongst all other fifteen teams. The first round was to filter the top four teams. As the competition moved forward, we presented our recipe to the main judges and all other audiences. It was a great presentation, and everyone appreciated the way we showcased what we built and how we followed all the best practices.
Amongst fifteen teams, we made it to the top four, and in the final showdown, we secured third place! We received appreciation not only from the Leadership team of Workato but also from the audience as well. Well…that was more than first place, but still, I think at that moment, there was major turbulence that we experienced about our feelings, that was mixed feelings. We were sad about the rank but happy to see they recognized our efforts and way of working. Everyone appreciated our presentation, demo, and interactions with us. They then asked us about the implementation style, steps, and use case.
At last, they distributed prizes and certifications to all the participants. So, was that the end of the event? Of course not!
There was one more event planned, the best event among all the four days of the marathon event. Happy hour!
Happy Hour
We interacted with all the representatives of other organizations, and they shared their stories about Workato practice and their way of working. I think interaction is a key aspect of sharing knowledge and experience and understanding different perspectives. We discussed their goals and roadmap with the Workato leadership team. We planned for a Workato in-person meetup at the Nagpur Perficient office. While interacting with them, we shared our thoughts about their product and our plan to expand our partnership with them.
This slideshow requires JavaScript.
What's Next?
As a strategic partner with Workato, we are planning to organize an in-person meetup at the Perficient Nagpur campus, where we will interact with different recipe builders, discuss their experience with development, and present a few use cases to the Audience.
Perficient + Workato
At Perficient, we excel in tactical Workato implementations by helping you address the full spectrum of challenges with lasting solutions rather than relying on band-aid fixes. The end result is intelligent, multifunctional assets that reduce costs over time and equip your organization to proactively prepare for future integration demands.