As India gears up to celebrate its 76th Independence Day on August 15, 2023, our workplace in Bangalore, India was filled with excitement and pride. This year's celebration holds special significance as it coincides with an engaging Townhall Meeting and a visit of India leadership team.
Colleagues came together in unity with tricolor dress codes, adorning our office with tricolor decorations and rangoli, symbolizing the rich cultural diversity that defines our nation.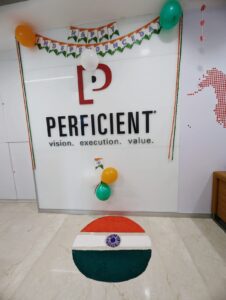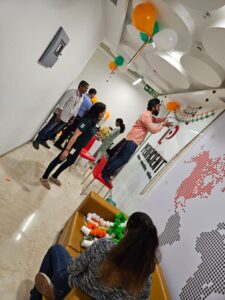 The morning kicks off with the town hall meeting where Sumantra Nandi (GM) shared insights and discussed the organization's achievements, challenges, and future endeavors. We had a great opportunity to get more elaborated insights from Parvez Maideen (MD) and Manivel Jaganathan (Director). Balu Muthaiah and Kundan Singh (CAM) gave the overview of successful deliverables and the respective COE teams got to interact one on one with them and benefitted from their expertise.
We also had Harry Singh (Solutions Architect, US) visiting the office from Oracle US Consulting, to attend business meetings and he too joined the celebration with us.
After the town hall, the management team treated us to a delightful feast featuring Biryani 😊. We extend our gratitude to the team for organizing it.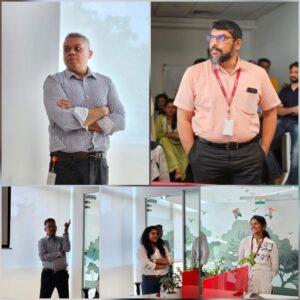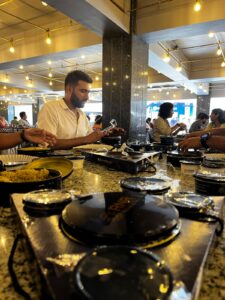 As part of the Independence Day celebration, we had a quiz contest planned and executed by Raksha Kiran, Kirana Pai, and Dhirendra Sadananda. The contest had various topics, from the freedom struggle to inspirational leaders, geographical knowledge, cultural landmarks, and sports excellence. Four teams participated in the game, with teams 3 & 4 ending up in a Tie situation. We distributed gifts to all the participants, acknowledging their enthusiasm and contribution to the event.
The day ended with all employees joined in unison, offering a heartfelt tribute to our nation by singing our national anthem.
Adwaith Kumar and Bijoy Daniel wonderfully captured all the beautiful moments. Thanking you both.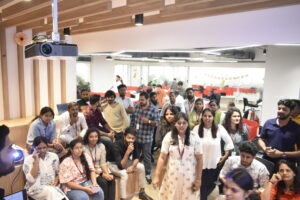 Conclusion:
It was a day where we not just celebrated a historic milestone but also reaffirm our commitment to a brighter future. As the tricolor flag flutter and the echoes of discussions linger, we remember that we, as a united workforce, continue to shape India's progress and our organization's success through our ongoing journey.