The June 2023 update for Oracle EDM (Enterprise Data Management) contains several new features that greatly enhance the current user experience within the solution. Continue reading below for an overview of the features which we are most excited about here at Perficient.
Security Enhancements – New Roles Provide Improved Segregation of Duties
Two new roles are now available for EDM. The Access Control Manager role permits the managing of groups and application role assignment for users. The Migration Administrator role addresses the ability to import and export migration snapshots as well as the cloning of environments. Many times organizations have strict policies to segregate these types of activities for all applications. Now, EDM provides that ability!
Additionally, EDM now contains a new Metadata Manager permission. This permission allows users to create and modify objects without allowing visibility to the actual data in the application. The permission can be assigned to users and/or groups at the application and dimension levels. Node Types, Hierarchy Sets, Custom Validations, etc. are all able to be managed by users who have this permission.
Downloadable Compare Results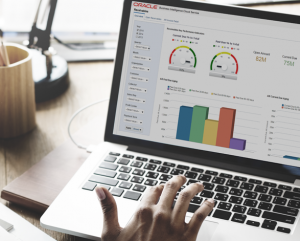 Explore key considerations, integrating the cloud with legacy applications and challenges of current cloud implementations.
The ability to quickly and easily compare data between different applications, time-frames, hierarchies, dimensions, etc. is a huge benefit of EDM. Organizations use EDM to compare to identify and troubleshoot differences as well as similarities quite often. Starting this month, the results of compares can now be downloaded to file for sharing with others… with the click of a button (see image below).
Extracts for Every User
Extracts enable users to retrieve data from a viewpoint into a formatted file or a global connection. They can be configured for any viewpoint and for any properties. Extracts can provide full data sets or incrementally between two different dates. EDM now offers the ability for any user (with the Participant permission) to create and run an extract for the viewpoint. No longer do users have to collaborate with Application Owners/System Admins to create simple report!
Require Request Reasoning
An organization's master data needs to be managed with scrutiny to avoid many pitfalls associated with unregulated data. It's not uncommon for organizations to require an explanation of the reasoning behind a request to modify master data. EDM's product development team understands this and has enabled a feature within EDM to help capture this upfront. EDM requests have a description field, which can now be configured to require input from users before submission of the request. The field can also be configured with default instructions to help guide users appropriately.