We are thrilled to announce that Perficient has been named a 2023 Top Workplace in both Cincinnati and Cleveland, Ohio! This achievement not only reflects our commitment to creating a workplace where employees thrive, grow, and feel valued, but it is a reminder of our commitment to excellence.
How We Won
Every year, both The Enquirer (Cincinnati) & The Plain Dealer (Cleveland) come together with employment research firm Energage to determine the top workplaces in both the Greater Cincinnati area & Northeast Ohio. This award recognizes leading companies in both regional and national programs across North America and recognizes the most progressive companies based on employee feedback gathered through a third-party survey administered by Energage. The survey collects feedback on 24 factors across seven key areas, encompassing organizational health aspects that revolve around workplace culture. By employing this approach, our recognition is solely reliant on the input gathered directly from our valued employees, guaranteeing the highest level of accuracy in the results. Perficient was 1 of only 214 companies that made this year's list in Cleveland and 1 of 144 companies in Cincinnati.
A Look at Our Award-Winning Team
Perficient's recognition as a 2023 Top Workplace serves as a testament to the strength of our company culture. Company culture plays a huge role at Perficient, influencing our core values, beliefs, and actions. We are immensely proud to say that a focus on cultivating a work environment that fuels collaboration, innovation, and pride, is key to Perficient's core values.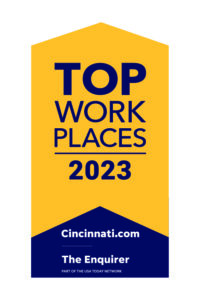 Our Ohio offices are no exception to this. Whether it's team-building adventures, social gatherings, or wellness initiatives, our employees find ways to strengthen bonds and add an extra sprinkle of excitement to workdays. The team has many plans this year to continue to build their culture and connect with their teammates. We can't wait to see what they do in 2024!
At Perficient, we continually look for ways to champion and challenge ou r talented workforce with interesting projects for high-profile clients, encourage personal and professional growth through training and mentoring, and celebrate our people-oriented culture and the innovative ways they serve Perficient and the community.
Learn more about what it's like to work at Perficient at our Careers page. See open jobs or join our talent community for career tips, job openings, company updates, and more!
Go inside Life at Perficient and connect with us on LinkedIn, YouTube, Twitter, Instagram, and TikTok.