Advances in technology are propelling consumer expectations and options for care. In this swirling sea of change, healthcare organizations continue to explore new ways to improve outcomes and organizational resiliency. One area gaining significant buzz (and a healthy dose of hesitation) is generative AI.
With its ability to analyze large datasets, identify patterns and trends, and surface new content based on insights that were previously unknown, this technology has the potential to streamline operations, reduce costs, and ease workloads for frontline workers.
The opportunities are vast. And generative AI's early excitement centers squarely on automation of time-consuming tasks, freeing up staff to focus on patient and member care. One exciting use case is the ability to capture details of a patient visit – whether in-person or virtual – and scribe encounter notes to the EHR. Generative AI enterprise search is also being explored as a clinician tool, enabling care teams to access critical medical information at the point of care. Additional promising use cases include patient communication and data visualization.
The important question on many healthcare leaders' minds right now is how to operationalize generative AI safely and equitably, and how to do so in ways that will generate return on investment and truly advance care.
A Generative AI Strategy for Healthcare Organizations
Developing a strategy is an important step for healthcare organizations that want to leverage this technology. However, it's important to not think of generative AI as the strategy itself, but as an enabler.
We work with healthcare executives at leading HCOs to deeply understand their business landscape and to identify value and outcomes that indicate success. Those insights are realized through a deeper understanding of user journeys – the series of experiences and engagement moments, which are enabled (or restricted by) by an organization's structures and business capabilities. With those understandings in view, HCOs are better equipped to consider the specific technologies that will power the value and the outcomes they seek.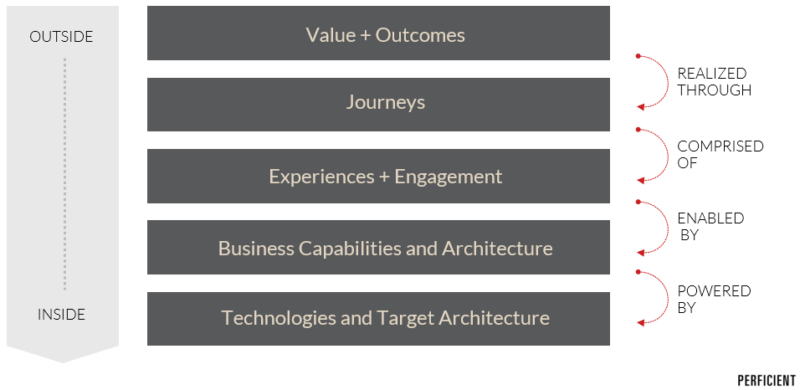 So a well-formed strategy aligns a) key business needs and b) organizational capabilities (i.e., people, technology, and processes). Generative AI's "superpowers" can then be matched and optimized to specific use cases, each with well-defined KPIs.
That means that, as generative AI use cases are considered and prioritized, healthcare organizations have a number of factors to consider:
Business needs: Generative AI is the shiny, new object that every industry is ogling with equal parts excitement and trepidation. According to Forrester, Generative AI quadruples enterprise AI use cases. So at the outset, the challenge for visionary CIOs, CTOs, and CMOs is to identify and prioritize use cases that will drive ROI and produce organizational and consumer value.
Inclusion and safety: This data should be high-quality and representative of the patient population. Additionally, healthcare organizations must consider data privacy and security, ensuring that patient data is protected at all times.
Resources and governance: Healthcare organizations should consider the staff, technology, and infrastructure that will be needed to implement generative AI and seriously weigh how intellectual property (IP) will be protected. Governance is critical, especially as AI is applied to clinical applications. Laura Craft, VP Analyst at Gartner emphasizes this, saying "because new AI techniques are largely new territory for most HDOs, there is a lack of common rules, processes and guidelines for eager entrepreneurs to follow as they design their pilots."
YOU MAY ENJOY: On-demand Webinar – Unleashing the Power of Generative AI and Experimentation
Expert Digital Health Services: Imagine, Create, Engineer, Run
Generative AI has the potential to revolutionize healthcare as we know it. Healthcare providers and payers can benefit from this technology in a variety of ways, including improved patient outcomes, reduced costs, and streamlined operations.
Our healthcare and data experts can help you identify generative AI opportunities and build a pragmatic implementation plan that holistically considers data, technology, and people.
We're committed to making the process of integrating generative AI as seamless as possible. To learn how generative AI can be leveraged for your company, consider our CX AI jumpstart.