What is Magento 2?
Magento (Adobe Commerce) is an e-commerce platform built on open-source technology that provides online merchants with a flexible shopping cart system as well as control over the look, content, and functionality of their online store.
Magento offers powerful marketing, search engine optimization, and Catalog management tools. It's open-source software, which is handy for online business.
Magento is a largely customizable E-Commerce platform available under both open-source and marketable licenses.
Magento 2 is presently the largest e-commerce.

Dashboard of Magento 2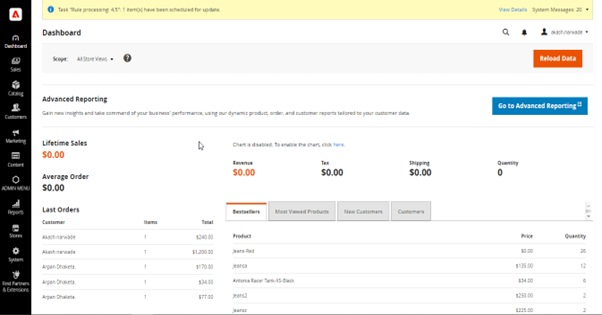 What is Salesforce? 
Salesforce is a U.S. software firm that provides CRM services.
They're a well-known software company that provides companies with tools to help them find more leads, win more business, and provide advanced service to their customers.
Salesforce is a popular CRM tool for support, deals, and marketing brigades worldwide.
They provide services that enable cloud-based businesses to communicate with clients and implicit clients.
Using the Salesforce CRM, companies can track the activity of customers, requests from customers, and numerous other services.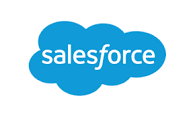 Dashboard of Salesforce CRM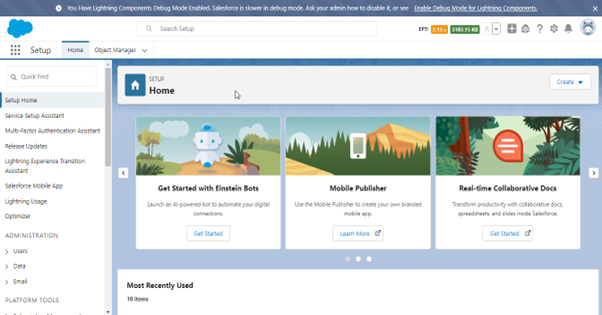 The Following are Advantages of Magento Salesforce Integrating are as follows:
Data Management: Collecting all the data together quickly is difficult if your e-commerce store interacts with customers through various media. But you can do the same in a shorter timeframe with Salesforce CRM.
Organized Customer Profiles:  Magento collect customer and order information. However, it falls short when it comes to structuring customer profiles, leaving vendors stuck while gathering information on a specific customer. Salesforce came into existence it creates and maintains a profile for each client automatically. 
Create an Email Campaign: Salesforce CRM can be used to build and manage an interactive product e-mail campaign that helps you achieve outstanding outcomes. It also helps build a visually appealing email template, track results, and discover relevant customer communications.
Real Time- Updates: Magento Salesforce integration enables Magento to deliver real-time data on, orders, prices, products, shipping, and many more. All information is automatically updated in Salesforce when an order is placed at the Magento front end. It also makes it possible for you to improve customer service.
Mobile-oriented, customer-focused: with the help of integration, we can get a new way to communicate with your eCommerce business. We can use mobile marketing to contact buyers via communication modes like SMS and push notifications.
Conclusion: 
Magento Salesforce integration empowers businesses to optimize their e-commerce and customer relationship management efforts, resulting in improved operational efficiency, enhanced customer experience, and increased revenue potential. By harnessing the strengths of these two powerful platforms, companies can stay competitive in the ever-evolving digital landscape.
Salesforce's technical features make managing and storing customer data on the Magento store easy. We may use this information to determine customer preferences to create social media, email, advertisements, and other marketing campaigns based on these preferences.
Stay tuned for Part Two of this blog, where we discuss the integration of Salesforce and Magento 2.
I hope it's useful. Happy Learning!!!