IDC Market Perspective: Experience-Led Growth, Generative AI, and Content Supply Chains
This year was the first time in three years that Adobe has been able to host not only Adobe Summit in-person again, but also the Analyst Day with its partners. Analyst Day is an opportunity for Adobe partners to chat with research analysts and share insights on Adobe's partner ecosystem. Our leadership had the pleasure of meeting with multiple analysts during the event.
Following Adobe Summit, an IDC market perspective on Adobe was published. In the IDC Market Perspective: Adobe Summit 2023: Experience-Led Growth, Generative AI, and Content Supply Chains, research analysts provide a point of view on the main themes from Adobe Summit 2023 as well as insights around the ecosystem of Adobe partners.
A Greater Emphasis on Partner Strategy
In this IDC perspective, Adobe's partners are recognized as being a part of what drives and multiplies the value of the underlying platform and native applications. Adobe's ecosystem continues to grow, and according to the report, "The ecosystem around Adobe's platform now includes technology giants…; services companies…; IT consultancies and systems integrators…; and digital agencies…, as well as regional partners such as… Perficient…"
According to the report, "Adobe executives were clear that in 2023 they want to build deeper engagement with their services partners and that they want this engagement to happen earlier in the customer engagement cycle. That makes good sense. Services companies — particularly those with strong business consulting capabilities — are key influencers and stakeholders when Adobe customers are considering, planning, and executing transformation programs. IT services partners can also strengthen Adobe's connection to the company's customers' CIO/CTO function, and specifically business consulting partners can strengthen its connection to customers' leadership suites and can help connect Adobe better to customers' core business strategies." 
As an Adobe Platinum Partner and 2023 Adobe Emerging Partner of the Year in the Americas, we have seen this emphasis on partner strategy in order to provide Adobe customers with more value and better digital experiences.   
A Strong Partnership Aiming to Serve Our Clients
A good business partnership relies on effective communication, trust, and aligned goals, as well as a mutual understanding of each partner's responsibilities and a willingness to work together towards shared success. At Perficient we are lucky to have built a strong relationship with Adobe over the last decade. A lot goes on behind the scenes to keep a well-oiled machine running including the rigorous skills testing, proven customer success on product implementation, and client references that are required to hold specializations of which to date Perficient holds 6 Specializations in: Adobe Analytics, Adobe Commerce, Adobe Experience Manager Run and Operate, Adobe Experience Manager Sites, Adobe Marketo Engage, and Adobe Target.  
2023 Adobe Partner of the Year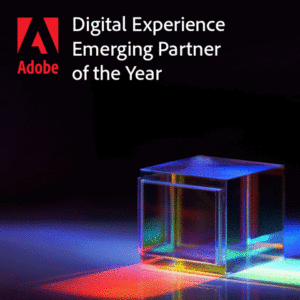 It is no secret that our Adobe practice has experienced significant growth, leading to record bookings in 2022. This year we are really seeing the synergy of the partnership manifest in some big wins and recognition for the team and their work over the years. At Adobe Summit 2023 we were thrilled to be recognized as the Adobe 2023 Digital Experience Emerging Partner of the Year for the Americas region by Adobe. Adobe's Digital Experience partner awards honor companies that have made leading contributions to Adobe's business and have had a significant impact on customer success.  
Tony Sanders, Senior Director, Global Solution Partners and Americas Partner Sales, Adobe, on the award, said, "This award is a significant recognition for Adobe partners, and it represents the exceptional achievement Perficient has made as an Adobe partner. Perficient has established itself as a leader in delivering end-to-end digital experience solutions by leveraging the full power of the Adobe Experience Cloud. We look forward to continuing our partnership in 2023 and beyond." 
Women in Digital
Beyond practice work, as Adobe notes on its 2023 Adobe Digital Experience Partner Awards Page, we at Perficient are "committed to elevating women through mentoring and networking demonstrated in our semiannual Women in Digital events and symposium every year at Adobe Summit, the longest running women's-only event at Adobe Summit." This event has become such a pillar of our partnership with Adobe as women take the relationships they make at these events out into the world, sharing in experiences. This year, over 80 women registered for our Women in Digital breakfast at Adobe Summit in Las Vegas. Now, we are so thrilled to be taking it across the pond for our first UK Women in Digital breakfast during Adobe Summit EMEA.  
Our Thought Leaders
As a Marketing Manager for Perficient I get to see a lot of the backstage operations of our partnership with Adobe. The dedication of our Perficient team both in their areas of expertise in house and on projects and their willingness to contribute is admirable. A fresh example that comes to mind from Adobe Summit was a blog Raf Winterpacht published around the Adobe Next-Gen Composability Announcement. On top of Raf's workload he was eager to write on this topic while it was fresh off the press- the blog was published within the same day of the announcement. This exhibits some of the talent, expertise, and eagerness we have behind our Adobe practice.  
All these small things add up to make our partnership what it is- a joint venture to bring the highest level of Adobe expertise and technical acumen to deliver exceptional customer experiences to you! 
An Adobe Platinum Solution Partner Ready to Work with You
As a Platinum Adobe Solution Partner with 6 Adobe Specializations, we care deeply about where you are on your Adobe journey. 
We are here to ensure end-to-end delivery and integrated solutions that tackle your ever-changing, increasingly complex business challenges. 
Contact our experts to learn more about our services.