Omniscript is a powerful Automation Tool that enables businesses to easily automate their workflows. It provides a simple drag-and-drop interface to build custom workflows without requiring any programming knowledge. Omniscript offers a range of Pre-Built Templates and Connectors that can automate various tasks, such as data integration, transformation, and validation.
This blog will introduce you to Omniscript and explain its key features and benefits.
What is Omniscript?
Customers may develop guided brand experiences tailored to their industry with clicks rather than proprietary code thanks to OmniStudio's drag-and-drop setup features. By deploying and upgrading these interactions across various devices and channels, they effortlessly match the demands of omnichannel service, boosting user productivity and enabling more self-sufficiency for partners, customers, and workers. Tools for interacting with other enterprise applications and data are also provided by OmniStudio.
Omniscript integrates with various systems, including cloud-based services such as Salesforce, Dropbox, and Gmail. This integration allows businesses to automate their workflows across multiple platforms, streamlining their operations and increasing efficiency.
The above image shows the working of Omniscript. Where you can see the drag-and-drop functionality. The properties of a particular item can be seen on the left side, where the user can customize it the way they like. Now let us build something on our own.
I constructed the layout below with the use of Omniscript's drag-and-drop functionality, which comprises of the following components. You will be able to find all these actions under the "Available Components". Simply drag and drop the items as shown and you will be ready with your first view made by Omniscript.
User Data – Step
FirstName – Text
LastName – Text
MoreOptions – Step
MoreData – Block
Email – Email
CurrentlyWorking – Checkbox
OrganizationName – Text
saveAction – DataRaptor Post Action
The output of the above data will be: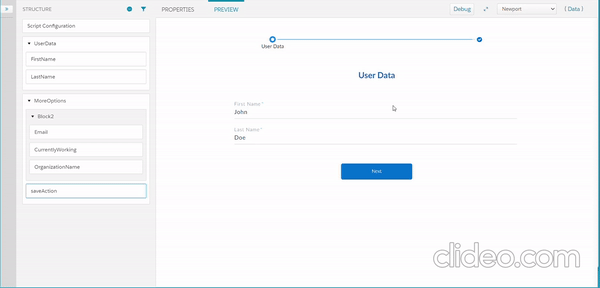 Key Features of Omniscript
Drag-and-Drop Interface: Omniscript provides a user-friendly interface that allows users to build custom workflows by simply dragging and dropping components into place.
WYSIWYG: Using "clicks, not code," the OmniScript Designer enables you to build an OmniScript's structure. What-you-see-is-what-you-get (WYSIWYG) editing is available using a drag-and-drop interface. It can also be considered as the advanced version of flows which we ues in salesforce.
Pre-built Templates: This program offers a range of pre-built templates that can be used to automate various tasks, such as data integration, data transformation, and data validation.
Customization: Omniscript offers a high level of customization, allowing users to create workflows that meet their specific business needs.
Benefits of Omniscript
Increased Efficiency: Omniscript streamlines workflows, automating tasks that would otherwise be done manually. This increased efficiency saves time and reduces the risk of errors.
Cost Savings: Automating tasks reduces the need for manual labor, saving businesses money on staffing costs.
Integration: Omniscript has ability to integrate with other tools and platforms. For example, it can be combined with data visualization tools such as Tableau and Power BI, enabling businesses to visualize and analyze their data in real time.
Conclusion
Omniscript is a powerful automation tool that offers a range of features and benefits to businesses of all sizes. Its drag-and-drop interface, pre-built templates, and robust error-handling capabilities make it easy to automate workflows, increasing efficiency and reducing costs. If you're looking to streamline your business operations and improve efficiency, Omniscript is definitely worth considering.