Salesforce is a leading customer relationship management (CRM) platform that has revolutionized how businesses manage their sales, marketing, and customer support functions. With the introduction of Salesforce OmniStudio, the company has further strengthened its position as a powerful, all-in-one solution for businesses of all sizes.
In this blog, we will take a closer look at Salesforce OmniStudio.
What is Salesforce OmniStudio?
OmniStudio, constructed on the Salesforce platform, has high levels of flexibility and can be modified to cater to the unique demands of businesses operating in different industries. It has various characteristics and functionalities that can support businesses in automating their operations, elevating customer engagement, and boosting productivity.
A significant advantage of OmniStudio is its powerful data management abilities. It enables businesses to gather, integrate, and evaluate data from multiple sources, providing a complete overview of their operations. This empowers businesses to make data-driven decisions more rapidly and efficiently.
OmniStudio also provides various automation tools that enable businesses to simplify their processes and decrease manual errors. It includes workflow, process, and document generation capabilities, allowing companies to automate repetitive tasks and free up time for more valuable activities.
Main Components of Salesforce OmniStudio.
Digital Experience:
The digital experience layer in Omnistudio provides businesses with the tools and features they need to create rich, interactive digital experiences. This layer includes two key elements:
Service management:
The service management layer in Omnistudio includes tools to manage and integrate with external services, APIs, and data sources. This layer includes a range of features, including Integration Procedures and Data Raptors. They are designed to streamline the integration process with external systems and data sources.
Developer experience:
The developer experience layer in Omnistudio is designed to provide developers with a range of tools and features to build, test, and deploy Vlocity as well as Salesforce components quickly and efficiently. This layer includes two key components:
IDX Build Tool
IDX Workbench.
OmniStudio also offers powerful analytics and reporting capabilities, allowing businesses to gain valuable insights into their operations and customer behavior. It provides various visualization tools, including charts, graphs, and dashboards, that enable enterprises to analyze their data and make informed decisions.
Getting Started with OmniStudio:
Step 1: Go to the Salesforce Omnistudio Registration Page.
Step 2: Once you're on the Omnistudio registration page, you must fill the registration form. This blog will also walk you through registering for an Omnistudio org.
Step 3: Choose a Username and Password. After you've filled out the registration form, you'll need to choose a username and password for your Omnistudio org.
Step 4: After you submit your registration, you'll receive a confirmation email from Salesforce. This email will contain instructions on how to log in to your Omnistudio org.
Step 5: Once you've received your confirmation email, you can log in to your Omnistudio org using the username and password you selected during registration. Once logged in, you can explore Omnistudio and build custom applications and workflows.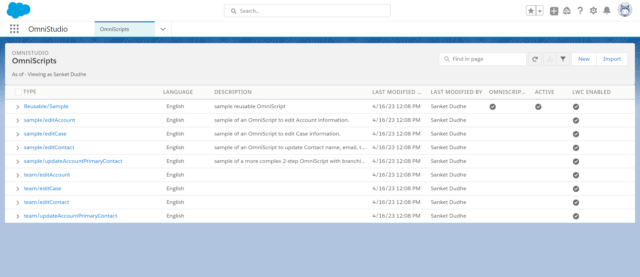 Conclusion
Omnistudio is a comprehensive platform providing businesses with the tools and resources to build, deploy, and manage digital experiences. The platform is designed to be flexible, scalable, and easy to use, making it an ideal choice for businesses of all sizes and industries.