Importance of a Quality Data:  
Many organizations, whether they recognize it or not, experience the effects of disparate data. High-quality data is the cornerstone on which success is built when a decision must be taken, or a plan needs to be put into action.
The Master Data Hub steps in at this point. No matter what system the data is coming from, Hub can make sure all the right information is tracked for each customer, avoid confusion from duplication, and more. You can access the appropriate data anytime you need it for collaborative decision-making, reporting, and sales efforts.
With the Boomi Master Data Hub, you can choose what kind of data you want to monitor. The bottom line is that Hub gives you access to high-quality information so you can realize business value.
What is Master Data Hub?
Master Data is any and all data about business entities, that is valuable to a company and its successful operation. This data must be consistent between all systems, groups, departments, and reports.
A master data hub system is a centralized data management solution that stores, manages, and distributes critical business data across multiple systems and applications. It serves as a single source of truth for all essential data elements, such as customer information, product details, financial data, and more.
Let's look at few of the many functions that Boomi Master Data Hub offers:
Quickly Model Master Data: A low-code, visual interface experience increases speed for matching and merging accurate data records throughout your business.
Collective Intelligence: Tap into the experience of the Boomi developer community by using the Boomi Suggest wizard to quickly add fields to data models.
Comprehensive Matching: Leverage built-in matching processes to help you create consolidated, error-free data records your business will trust.
Automatic alerts: Real-time notifications inform you when data processing is finished or if records have been isolated for further stewardship.
Using master data hub system record with the single source of truth about a business entity, such as a customer or product. Also, it contains validated and valued data about that entity called as Golden Record is created. "Golden Record" contains accurate data about each of your customer or product.
In this blog, we will explore the benefits of implementing a master data hub system using Boomi Master Data Hub and how it can help organizations improve their data management processes.
Life Cycle of Master Data Hub: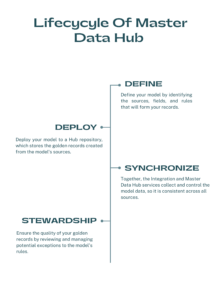 A Boomi Master Data Hub's lifecycle is divided into four phases: define, deploy, synchronize, and stewardship.
Let's dig deeper to gain a better understanding and practically see how to configure this in Boomi Atom Platform.
1. Define: Define your model by identifying the sources, fields, and rules that will form your records.
Steps to define Model:

Create your Hub repository:

Navigate to the Master Data Hub services in Atomsphere.
Repository tab is the default screen for MDH platform. Select Create a Repository
Dialogue box appears to select an Atom/Cloud to create your Hub repository on, and to name
Create Hub Sources:

Select the Sources tab and select Create Your First Source.
Next in the Create a Source Window, configure your source e.g., MYSQL, SFDC etc.
Create a Model:

Navigate to MDH platform select the Models tab and next, select the Create your First Model button.
In the Model Name field enter model name.
Next, select the Fields option in the Configure Model sub tab.
After adding fields apply Data Quality Steps and Match Rules according to your requirements and Save your Model.

Deploy: Once you create and publish a model, you can deploy it to a repository to create a master data domain hosted in that repository, which stores the golden records created from the model's sources.

To deploy a Model to Repository switch to Models tab in MDH Platform screen and select your Model and click on Deploy option.

Deploying a Model in Hub:

Select the Repositories tab and then select your repository.
From the Summary tab Select Deploy Your First Model.
Select Contact in the Model Name and recent version in the Model Version menu.

After successful deployment of Model, the summary screen will look like this.

Synchronize: Together, the Integration and Master Data Hub services collect and control the model data, so it is consistent across all sources. Leverage Integration to orchestrate data synchronization and design process flows to ensure data quality.

Navigate back to the Integration service by hovering over the Services menu tab and create a process using Master Data Hub services.

Stewardship: Ensure the quality of your golden records by reviewing and managing potential exceptions to the model's rules. Steward data as it flows into domains to resolve duplicates and fix data entry issues, as well as identify and correct inaccurate data.
By following these above steps, you can create a Golden Record in Boomi using Master Data Hub. This can help you ensure that your data is accurate, consistent, and up to date across all your systems.
Benefits of a Master Data Hub System:
Centralized Data Management: A master data hub system provides a single, centralized location for storing and managing all critical business data. This ensures data consistency and accuracy across different systems and applications, reducing the risk of errors and data inconsistencies.
Improved Data Quality: By maintaining a single source of truth for critical data elements, a master data hub system ensures that all data is accurate, complete, and up to date. This, in turn, improves the overall quality of the data, leading to better decision-making and improved business outcomes.
Increased Efficiency: With a master data hub system in place, organizations can eliminate redundant data entry and reduce manual data processing efforts. This, in turn, increases efficiency and productivity, allowing employees to focus on higher-value activities.
Faster Time-to-Market: A master data hub system enables organizations to quickly and easily onboard new applications, systems, and data sources. This allows organizations to rapidly deploy new business processes and services, reducing time-to-market and improving agility.
Improved Compliance: By maintaining accurate and up-to-date data, a master data hub system helps organizations comply with regulatory requirements and industry standards. This, in turn, reduces the risk of non-compliance and associated penalties. Implementing a Master Data Hub System Implementing a master data hub system requires careful planning and execution.
Conclusion
We choose Boomi because it enables seamless data integration and helps users to quickly find data and leverage the right data required to answer any business question. Boomi flow enables you to quickly build applications and create workflows that makes records housed in Boomi Master Data Hub more actionable.
References:
Why Perficient?
Perficient is a Boomi Select Partner with deep expertise in key technologies that support IT modernization. Our expertise, coupled with Boomi's innovative, cloud-native platform, delivers increased value, low cost of ownership, and drives better, faster outcomes for our clients. For more details visit- https://www.perficient.com/who-we-are/partners/boomi
Contact us today to explore options for elevating your business.