What is Flow Orchestration?
A new Flow feature called Salesforce Flow Orchestrator enables admins to connect several Flows and business processes across numerous users. Your current Flows don't need to be rebuilt to support the new feature because Flow Orchestrator was developed with them in mind and lets you utilize them in any new Orchestration.
The same Flow engine that drives the monthly billions of flows that are executed throughout Salesforce serves as the foundation for Flow Orchestration. However, it is employed to address a wide range of issues. The Flow Orchestrator is a tool that lets you orchestrate multi-user, multi-step, and multi-stage flows.
Access Flow Orchestration
Navigate to the gear icon on the home page.
Select setup and search for a flow in the Quick Find box, then select Flows.
Click NEW FLOW, All+Templates, then Flow Orchestration.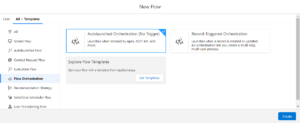 Orchestration Types
Autolaunched Orchestration (No Trigger): An autolaunched orchestration can be invoked by Apex, REST, Processes, and more.
Record-Triggered Orchestration: Whenever a specified type of record is created or updated then record-triggered orchestration gets run.
Two list views are included in Flow Orchestration for monitoring currently running orchestrations. i.e., Orchestration Runs and Orchestration Work Items.
Note: This list views can be accessible from the App Launcher.
Building Blocks of Orchestration
1. Stages: A stage collects connected actions and arranges them into logical phases. Stages are carried out in order, and only one stage can be active at once in an orchestration. You set up the requirements that must be satisfied for a stage to be deemed finished.
2. Steps: steps are grouped into stages and can be run sequentially or simultaneously. User participation is necessary during interactive steps. There is no user engagement necessary for background processes.
3. Flows: Every step needs a flow to function. A screen flow is run by an interactive step.  A background step runs an autolaunched flow. An evaluation flow can be used to initiate a step or to indicate the conclusion of an interactive step.
Flow Orchestration Work Guide
It is a Screen Component that can be added to the page from App Builder where a work item is completed.
A work item is created by an interactive step whenever it has been executed in an orchestration and assigned to a user, group, or queue. The orchestration then sends an email to all assigned users with a link to the desired record page.
Benefits of using Flow Orchestration
1. Increase efficiency and productivity: The amount of time between tasks and notifications is reduced via parallel work streams. When task assignments get automated, the right users get requests, allowing them to effectively perform and track all the work that has been assigned to them.
2. Reduce errors and save time: Users may finish their allocated tasks without wasting time transferring between tools, reducing the likelihood of erroneous or missing data.
3. Increase satisfaction for customers and employees: Monitoring tools support your team's proactive problem-solving. Also, it offers the required visibility for prompt and efficient action.
Conclusion
Flow Orchestrator allows you to keep monitoring and refining your orchestrations. Its no-code method allows you to orchestrate and transform Flows into steps structured by stages. It helps to streamline and optimize the execution of frequent and repeatable processes and thus to help data teams more easily manage complicated tasks and workflows.