At Perficient, our people are at the heart of what we do. We love what we do and where we work, contributing to our collaborative, open, and friendly culture. Our culture is one of the main reasons Perficient continues to be recognized as a "Top Workplace" in key markets across the U.S.
Perficient invests in its people and fosters growth for everyone at every level through a number of initiatives, these include our 2020 Make a December Difference campaign, Bright Paths Program, employee resource groups (ERGs), and Life at Perficient blog feed, just to name a few.
Join the Partner Marketing Team
"Collaboration within our Partner Marketing and Alliances team here at Perficient is second to none! I've had the unique opportunity to be part of both groups (marketing first, now alliance) and the sense of teamwork enables so many opportunities to crowdsource new ideas and to build, grow, and continually learn. Add in non-stop support from colleagues whenever you need it, and this is easily one of the best teams at Perficient." Angie Clark, Alliance Manager
Currently, we have an open role on our growing Partner Team for a Partner Marketing Coordinator supporting our Oracle, OneStream, Informatica, Databricks, and Microsoft partnerships. Read more about the role below, and submit your application today!
"Working at Perficient is more than just a paycheck or 'just a job,' it is a collaborative and living ecosystem where individuals are invested in and given the right set of circumstances to thrive. Every day is a new opportunity to embrace innovative ideologies, push boundaries and expectations, and create professional bonds with your coworkers. I've learned so much about the industry and myself while working here, and I can't wait to continue building my career on this foundation of collaboration and excellence." Tony Harper, Assoc. Alliance Manager
Partner Marketing Coordinator
We are looking for a highly detailed, organized, and driven Marketing Coordinator to support marketing efforts for our Oracle, OneStream, Informatica, Databricks, and Microsoft partnerships. In this role, you will work closely with subject matter experts across Perficient and our partner ecosystem to create client success stories, guides, blog posts, sales collateral, videos, and other forms of content.
You will help drive growth through the development and execution of initiatives such as content creation, demand generation, events, sales enablement, and partner communications. The ideal candidate will be a strong communicator and storyteller with the ability to multi-task and prioritize, while also building relationships with leadership and our partners.
If this sounds like the right fit for you, apply today!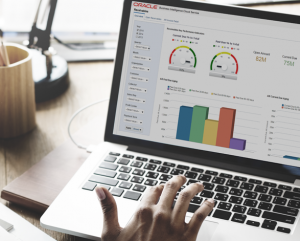 Explore key considerations, integrating the cloud with legacy applications and challenges of current cloud implementations.
About These Partners
Oracle: For two decades, we've provided Oracle solutions expertise in enterprise resource planning (ERP), supply chain management (SCM), human capital management (HCM), enterprise performance management (EPM), and analytics. Our business unit has 15 Oracle specializations, an education center in Houston, integrated IP assets, and best practices gained from implementing Oracle solutions within our own company.
OneStream: We're a OneStream Diamond Partner with nearly two decades of experience implementing CPM solutions. OneStream is built on the Microsoft stack – we're a two-time Microsoft National Solution Provider Partner of the Year, and an authorized OneStream Training Partner. We have specialized expertise in the healthcare, financial services, consumer goods, energy, and automotive sectors, delivering the full spectrum of project planning and OneStream process solutions.
Informatica: We're a Platinum Informatica partner ready to help our customers unleash the power of data to solve complex business challenges and become more agile and intelligent enterprises. We were recently awarded Informatica's 2022 Cloud Modernization Channel Partner of the Year award for our exceptional work and commitment to building a practice that delivers excellence using Informatica's cloud modernization solutions.
Databricks: Databricks is the first and only lakehouse platform in the cloud, combining the best of data warehouses and data lakes for an open and unified platform for data and AI. Our Databricks practice is growing, with a team of data and AI experts ready to help our clients transform.
Microsoft: As a Gold-Certified, award-winning Microsoft partner and one of just a handful of National Solution Providers, we are a recognized cloud expert that has taken more than 4 million users to Microsoft Cloud. Our team has capabilities and solutions across the Microsoft product suite, including Azure, Dynamics, Power Platform, and Modern Work.
"There's so much collaboration and teamwork not only within the partner marketing team but also the entire marketing department. This has been even more evident throughout the pandemic. While we're all working from home, we've managed to find ways to connect with each other, continue mindshare, and keep the culture we've built together alive." Meghan Frederick, Marketing Manager
More From the Team:
"In Alliances, we get to innovate and collaborate with our partners and our internal teams across the business to bring valuable solutions and offerings to our customers." Liz Stuart, Alliance Director
"I've been continually in awe of the support I've received since arriving at Perficient a little over a year ago. Our team is like none other I've experienced. They're welcoming to new suggestions and an open dialog on how we can grow and share best practices. The leadership support and feedback is collaborative and thoughtful. I'm also blown away by the culture of caring I've witnessed by every member of the staff I interact with. If being a meaningful and valued member of the team is important to you – you've found a home at Perficient!" Lindsey Lee, Alliance Manager
"We have an engaged, driven team. Every team member has a voice, the opportunity to grow their career in a variety of ways, and can see their impact on Perficient's business. We support, celebrate, and rally around our colleagues' success and growth, and seek out ways to better enable team members with the tools they need to be successful. I love hearing our team members share what they like about being here and that we are exactly who and what we say we are and are driving the kind of work culture we want to be part of." Liza Sisler, Director of Partner Marketing and Alliance
Ready to Grow Your Career?
At Perficient, we continually look for ways to champion and challenge our talented workforce with interesting projects for high-profile clients, encourage personal and professional growth through training and mentoring, and celebrate our people-oriented culture and the innovative ways they serve Perficient and the community.
Visit our Careers page to see career opportunities and more!
Go inside Life at Perficient and connect with us on LinkedIn, YouTube, Twitter, and Instagram.