If the benefits of headless CMS were convincing enough in the previous blog post that you decided to give, headless architecture a try, your next step is to find a good CMS platform.
Below are some great options to get you started. Let's examine them:
Sitecore 

–

 a fully functional CMS platform
Sitecore is an industry-leading CMS combined with deep data insights that enable personalized, real-time, omnichannel interactions, which helps brands deepen customer engagement and improve customer experience across channels. 
Sitecore is constantly evolving, providing users with new and innovative tools with each update, including three new products: Sitecore Search, Sitecore Connect, Content Hub One. The cloud-first digital experience platform also delivers shopping experiences through Sitecore Experience Commerce.
Sitecore Search is a new AI-powered search and discovery capability that provides marketers with a unified delivery system. Content Hub One is an agile, headless CMS that seamlessly combines content modelling, authoring, and consumption in one interface. Sitecore Connect is a technology stack optimizer that enables brands to seamlessly connect Sitecore products to their existing infrastructure.
XM Cloud
In addition to three new products, Sitecore is also further improving Sitecore Experience Manager (XM) Cloud. XM Cloud is a modern, cloud-native CMS that enables brands to manage, create, and deliver content faster than ever before. With this release, XM Cloud updates include innovations such as a new editing interface, native personalization and testing capabilities.
The products updates demonstrate Sitecore's commitment and innovative approach to solving marketing challenges in the face of evolving consumer digital behavior.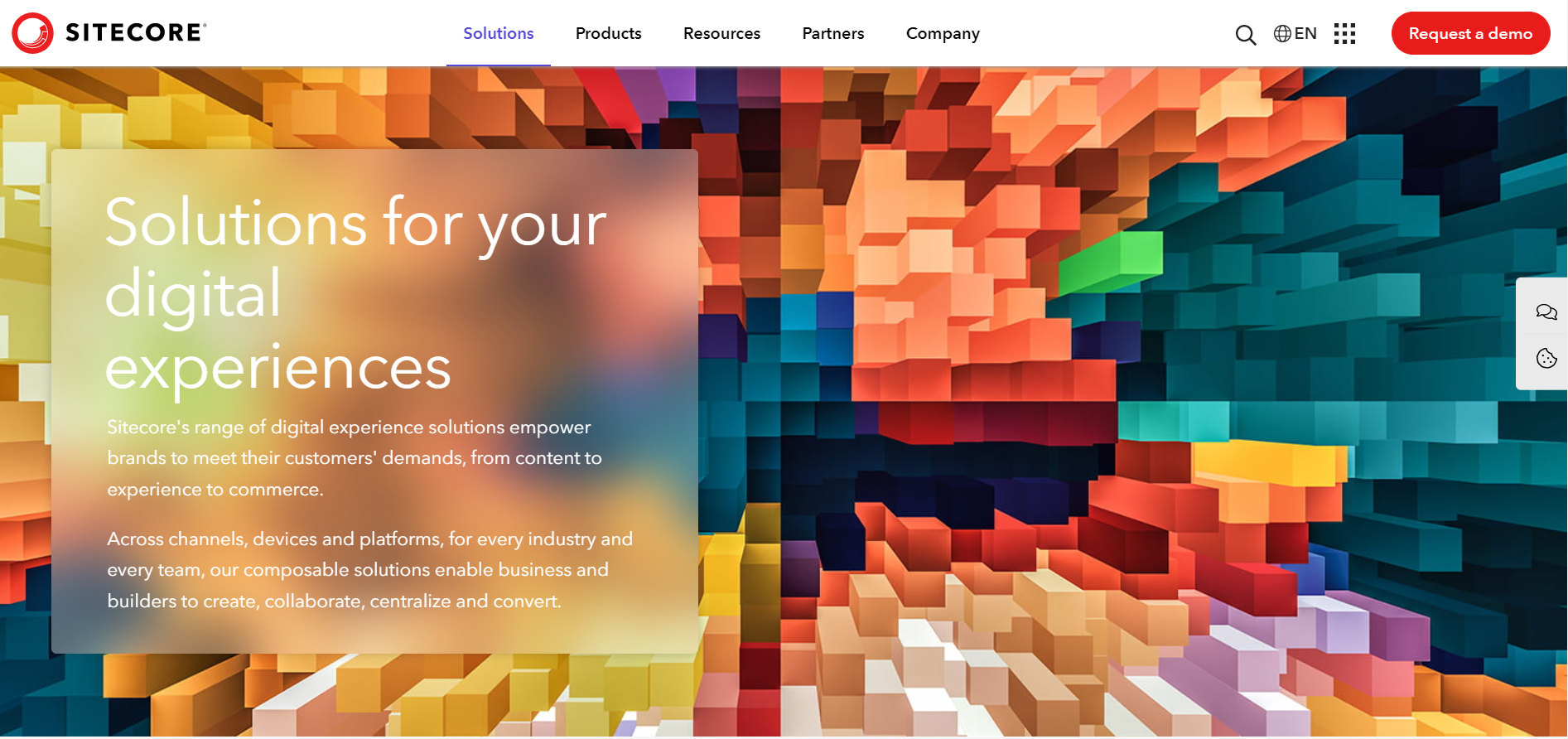 Bloomreach 
Bloomreach is the world's leading commerce experience cloud, enabling brands to personalize the customer experience. It offers a range of products that drive the growth of true personalization and digital commerce, including three digital platforms:
Discovery – provides AI-driven search and merchandising.

Content – provides a headless CMS

Engagement – providing leading CDP and marketing automation solutions.
These solutions combine the power of unified customer and product data with the speed and scale of AI optimization to deliver revenue-enhancing digital commerce experiences that convert across every channel and journey.
Bloomreach's commerce-centric platform runs on a headless commerce solution. Marketers can streamline and personalize commerce and content experiences with headless APIs for developer agility.
Bloomreach serves over 850 global brands, including Albertsons, Bosch, Puma, FC Bayern Munich and Marks & Spencer.
Contentstack
Contentstack is a revolutionary agile CMS which empowers developers and marketers to collaborate on content like never before. Together, they can orchestrate exceptional customer journeys and deliver dynamic digital experiences across channels, audiences, brands and geographies. Companies like Chase, Express, Holiday Inn, Icelandair, Mattel, McDonald's, Mitsubishi, Riot Games, Sephora and Shell trust Contentstack to power the content experiences that matter most. Contentstack is committed to microservices-based, API-first, cloud-native SaaS, headless, open and composable technologies.
Contentstack is an API-first headless CMS which provides everything for running your web or mobile property smoothly. Features include:
Versioning
Content Authoring
Asset Management
Customization
Enterprise Scalability
API / Integrations
User, Role, and Access Management
Flexible Navigation Structures
Contentstack is known for Care Without Compromise and boasts the highest customer satisfaction ratings in the industry. The platform offers integrations for Salesforce, Eloqua, and Marketo.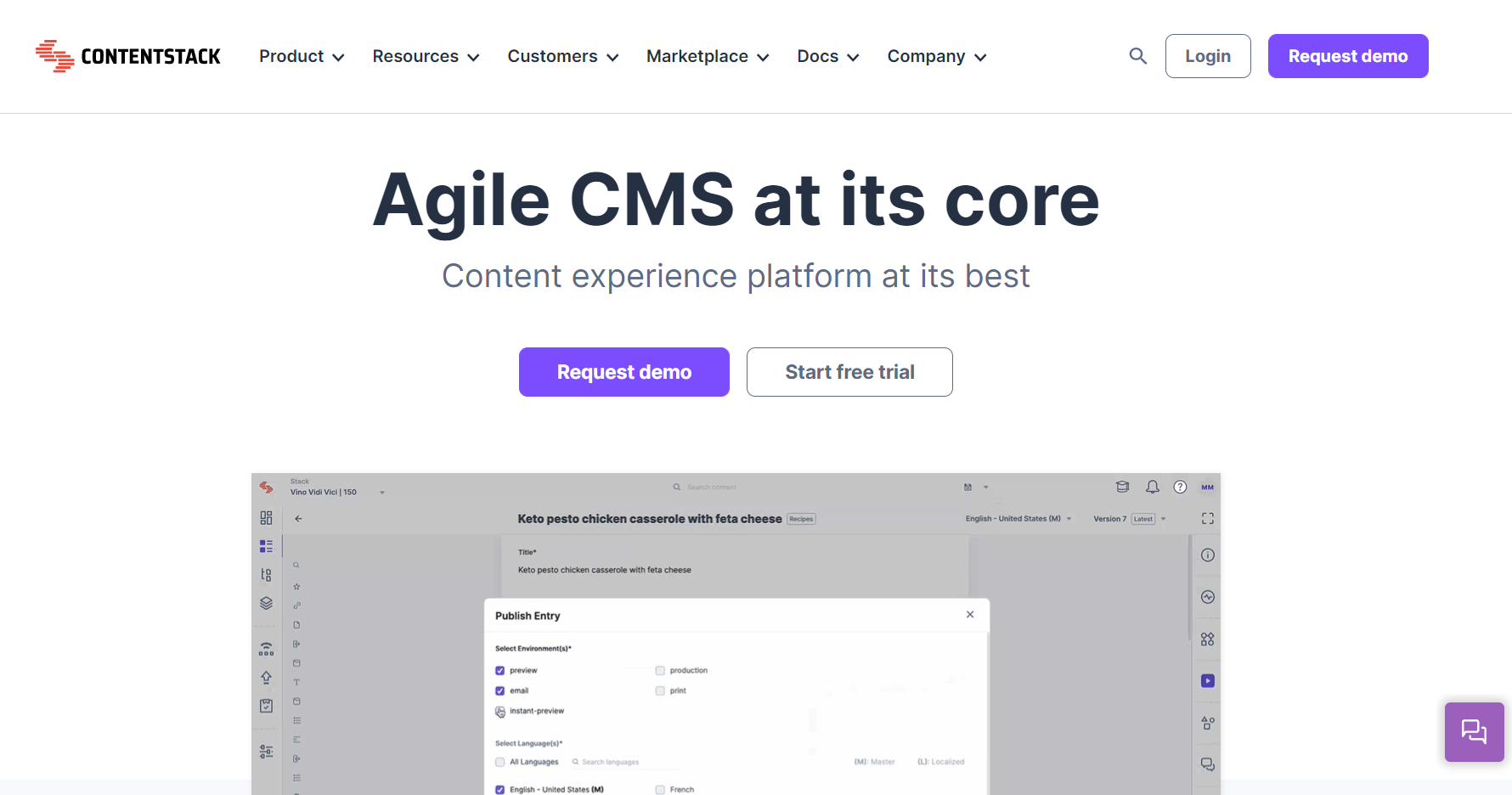 Contentful – API-First CMS Service
The leading content platform for digital builders.
Contentful is an API-driven CMS platform that provides a rich text editor and RESTful APIs for more efficient management of content and digital assets.
For API details, this service gives you control over your content through a decoupled architecture. Its robust caching methods are also integrated with external CDNs for improving loading speed.
For better productivity, with Contentful you can customize your UX to facilitate content creation. Another useful feature is the content modeling option. This allows you to design content for multiple channels and keep everything organized. Overall, Contentful offers some great features that help integrate tools to improve content creation and management.
This allows digital teams to quickly build the capabilities they need, whether by extending the platform or integrating with existing services.
Strapi
Strapi is the leading open-source headless CMS. It offers seamless content creation and delivery. This self-hosted content management system allows you to create websites without scripting skills. Strapi is 100% JavaScript and easily customizable, allowing developers to speed up their projects. At the same time, marketing teams can accelerate content delivery thanks to an intuitive user interface.
Strapi enables developers to build projects faster by providing customizable APIs, giving them the freedom to use their favorite tools. Content teams are using Strapi to autonomously manage and deliver all kinds of content to any channel, from CMS to websites, mobile apps, connected devices, and more. Loved by developers and supported by a global community of members and partners, Strapi has over 150,000 enthusiasts, over 700 contributors, and innovative developers from IBM, NASA, Walmart, eBay, Rakuten, Toyota, and more.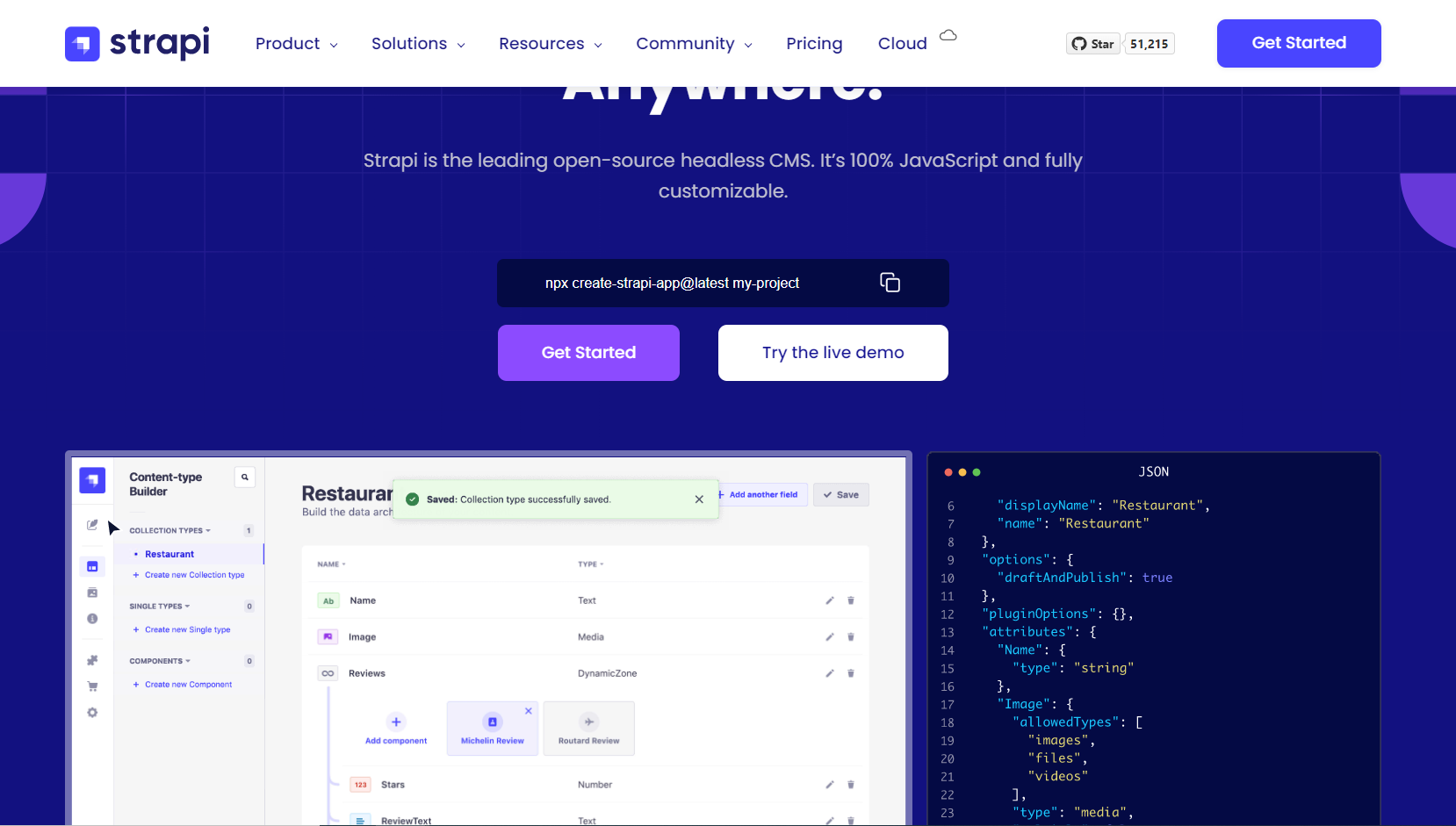 Prismic – SaaS Headless CMS Solution
Prismic is another headless CMS platform that offers a visual content editor for businesses, which enables developers and marketers to build and launch branded website pages faster and with optimal performance. It gives you the freedom to use your favorite tools, frameworks (Node, React, Next, etc.) and programming languages.
Additionally, you can design custom content types and create reusable fields (slices) that adapt to your design and personalize your experience. Prismic provides REST, GraphQL, and SDKs (software development kits) to get the most out of your software. A global content delivery network (CDN) ensures a smooth experience so you can focus on what matters most. To optimize images, the tool has partnered with Imgix to improve loading speed. Overall, Prismic is a great choice that offers numerous localization options and integrations with popular apps like Magento and Shopify.
Magnolia – Headless CMS Platform
Magnolia is an open-source CMS solution with an easy-to-use interface and various features for managing your content. This software gives content editors all the freedom they need to work independently from programmers.
In addition, the content creator can utilize the WYSIWYG (What You See Is What You Get) builder to modify SPA (Single Page Applications) built with Vue, Angular, or React. This allows us to modify our content to improve the digital customer experience.
Magnolia CMS also allows users to integrate the platform with their favorite tools via REST APIs. And to streamline your work, you can connect your system to external software such as marketing automation, e-commerce platforms, and analytics.
Iconic brands such as Atlassian and The New York Times, and new wave companies in industries ranging from automotive to telecommunications, have chosen Magnolia to be their DXP (Digital Experience Platform).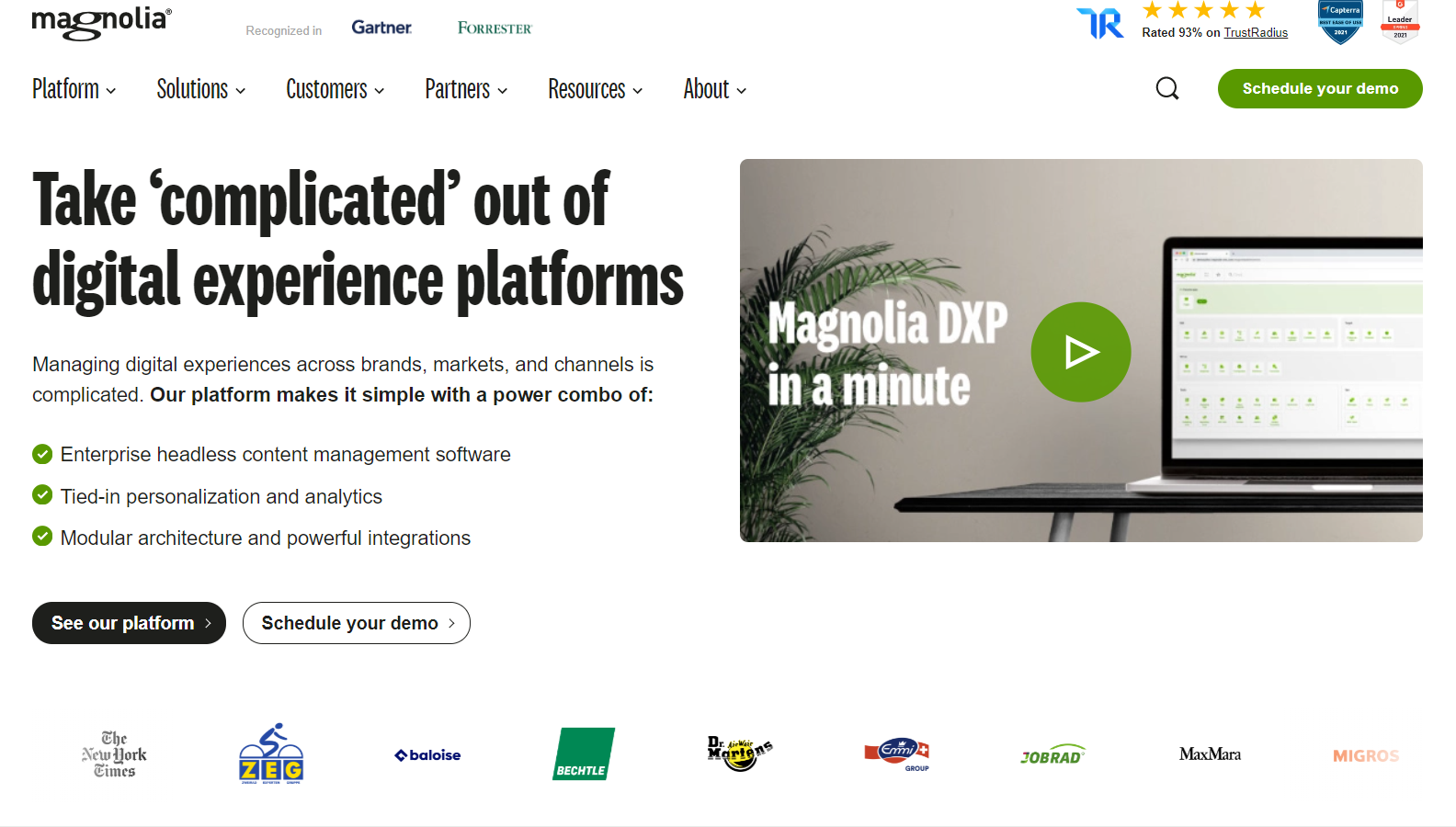 Agility – API-Driven CMS Software
Finally, we have Agility CMS.
Agility CMS is the first content management system that combines the power of an editor-friendly website management tool with the flexibility and scalability of an API-first architecture. Agility CMS enables businesses to create customer-centric digital experiences with the ease, speed, and flexibility they need to innovate.
As a Headless CMS, Agility gives you the freedom to use any programming language while yet gaining the flexibility, speed, and power that come from small, lightweight APIs.
With the idea that Page Management is of the biggest importance in any website project, Agility CMS integrates every component of Headless CMS that makes an omnichannel approach simple.
Agility is a unique CMS that allows both developers and marketers to express their creativity while reducing conflict between the teams.
The platform positions itself as a solution that offers the best of both worlds. Headless CMS functionality and content authoring tools. The software features pages, sitemaps, and module management tools to keep everything organized. Agility offers a range of development and publishing tools to keep everything on track, including content sharing, scheduling, and workflow management.